"Pitch-to-Pitch" Reader Contest: Vote Now!
We announced the Pitch-to-Pitch reader contest on August 1, and we've been sorting through the submissions since then. We've finally narrowed it down to the three best options, and now it's time for all you readers to vote for your favorite.
VOTING DEADLINE: Wednesday, August 17, at 2:00 p.m.
Not sure what we're talking about? The Pitch-to-Pitch contest is to determine which one of our awesome readers will throw the first pitch at Sheepshead Bites Night at MCU Park on August 19, when the Cyclones take on the Jamestown Jammers. We asked readers to give us a reason – any reason – why they deserved the honor. We were looking for memorable submissions that were funny or serious, heart-warming or absurd – and we certainly got a number of things that fit the bill. Here are the three best:
Joseph Brodoff (via Bruce Brodoff) – "My Dad's A Local Hero"
After my mom (Marilyn Brodoff) passed away in 2002, my dad spent a considerable amount of his time and money to create several facilities and programs that assist cancer patients at two city hospitals. He is still very involved in this and continues to improve and expand the program offerings – and he's earned some nice recognition and awards for his work, including being named a NY1 "New Yorker of the Week."
In addition to his work with Marilyn's Place and Learning Center, my dad serves the Sheepshead Bay/Southern Brooklyn community by writing and broadcasting an eight-minute news report on Kingsborough's radio station, WKRB, every Monday, Tuesday and Thursday at 3:30 p.m. He also volunteers two days a week at the Sunrise Assisted Living Center on Emmons Avenue; for the past nine years he's been conducting an afternoon current events/trivia discussion with the residents who care to participate. He spends many hours preparing for each session, and quite a few of the residents who attend his discussions are many years his junior. The residents really appreciate his commitment, and his efforts have been officially recognized by Sunrise managers and other corporate executives.
My dad turned 80 in February and is still going strong, doing good work and helping and inspiring others. Perhaps he's the hero you're looking for.
Click here to go to the poll and vote for Joseph Brodoff.
Boris Royzen – "I'll Do It In A Speedo!"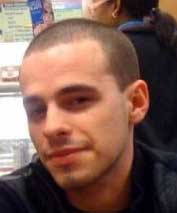 Secondly, I am a huge Sheepshead Bites fan. I read the site at least four to five times a day and it is my default page.
Thirdly – and this is a negotiable one – because I was on my high-school swimming team. I am willing to wear a Sheepshead Bites speedo, swim cap and goggle's while I throw out the first pitch. I have little shame when it comes to doing anything involving the Mets organization or with Sheepshead Bites.
Please, no Facebook pictures. While I have no shame, I have shamed my girlfriend many times and this may be the tipping point. Also, I will cancel my one and only weekend vacation this summer to do this.
Click here to go to the poll and vote for Boris Royzen.
Willie Simpson – "My Team Always Loses"
I remember the first baseball game I ever went to. My father took me to Shea Stadium, just me and him. It was "Disposable Kodak Camera Picture Day." I remember distinctly the photos I took, but never got the photos developed. I don't know what happened to the camera, which is a horrible shame because it is one of the greatest days of my life.
I remember being 9 years old in 1993, just finishing my first full year of real little league, fully understanding the rules and world of baseball, thus transforming my childlike fandom of the Mets into one where I could seriously follow the team.
It was kind of heartbreaking to realize that the Mets were terrible, and would be for a very long time. I remember that the Yankees suddenly got incredibly good when I was 12 years old. All around me I noticed the Yankee fans in my middle school seemingly spring from nowhere all armed with opinions and insults directed towards me for being a Mets fan. Mets fans at my school were few and far between, and most of them became my friends; in most cases, my best friends.
I remember getting an official Mets team jacket for my 15th birthday and wearing it to marching band camp one day. Our marching band included close to 150 people, and the director of the band, stopped the entire practice, barked into the megaphone that "The Mets suck, Willie." Everybody laughed, even though that was the year the Mets would reach the World Series. Sure, it was against the Yankees, and they'd lose horribly, of course. It's moments like these that probably should have ended my Mets obsession, but I was married to the Mets, and boy, were the Mets one embarrassing bride.
Despite the misery that has pervaded my life as a Met fan, nothing has brought me more joy and more sense of yearly renewal every spring than the Mets. I will be a Met fan forever, which goes hand in hand with me never sharing in any sort of victory in life. Winning a chance to throw out the first pitch of the Cyclones game, an experience I would treasure forever, might go a long way to balance out the decades of losing sure to come my way as I go to my grave a bitter baseball fan.