Pierozek: An Authentic Pierogi Shop Comes to Greenpoint
GREENPOINT — Alexandra Kucharski was born into a Polish family in Greenpoint. Her parents, who emigrated over 30 years ago, came with nothing but a suitcase to build the American Dream. They would send Alexandra to Poland over the summers to spend time with grandma, who fed her homemade pierogis that formed her love for the Eastern European dumplings.
"Pierogis have always been in my life and are my favorite Polish dish," she said. "[Grandma] made all of them, and I would eat them all summer."
Her husband and business partner, Radowslaw (or just Radek) Kucharski, came to America 16 years ago and worked in electrical engineering. Women in Radek's family also made pierogis at home, especially toward the winter holidays.
But Radek's heart was given to a shop called PierozeQ, now running for 20 years in his hometown of Czestochow in central Poland. The restaurant inspired their own joint, Pierozek, that opened as a sister business last Wednesday at 592 Manhattan Avenue in Greenpoint. The name means "little pierogi."
Alexandra's family used to own One Bedford right around the corner, a cozy brunch joint, where she worked for a couple of years to gain experience in the field. The family passed on the ownership and closed the cafe as they were prepping to open their new venture.
With other Polish competition in the area, the owners assure there's no other place focusing on classic pierogis in a restaurant setting.
"We are a real authentic pierogi shop," said Radek. "Pierogis are the perfect dish. Not only Polish people know what pierogis are."
The menu was inspired by the original location, who sent out two Pierogi makers to teach staff in the new Greenpoint location. "They're pierogi angels," Alexandra said lovingly. Most of the staff is local and Polish, with six older ladies producing all the dumplings by hand every day from 7 a.m. to 5 p.m.
"We want to make sure every customer has the best pierogi possible," Alexandra beams, as she smiles at her hard working staff, who make it possible. "It really feels like a family already. Everyone is so lovely and so hardworking."
The Ruskie pierogi ($10) filled with cheese and potato, and the sauerkraut and mushroom ($11) have been the best sellers during their soft opening. They also happen to be the owners' favorites.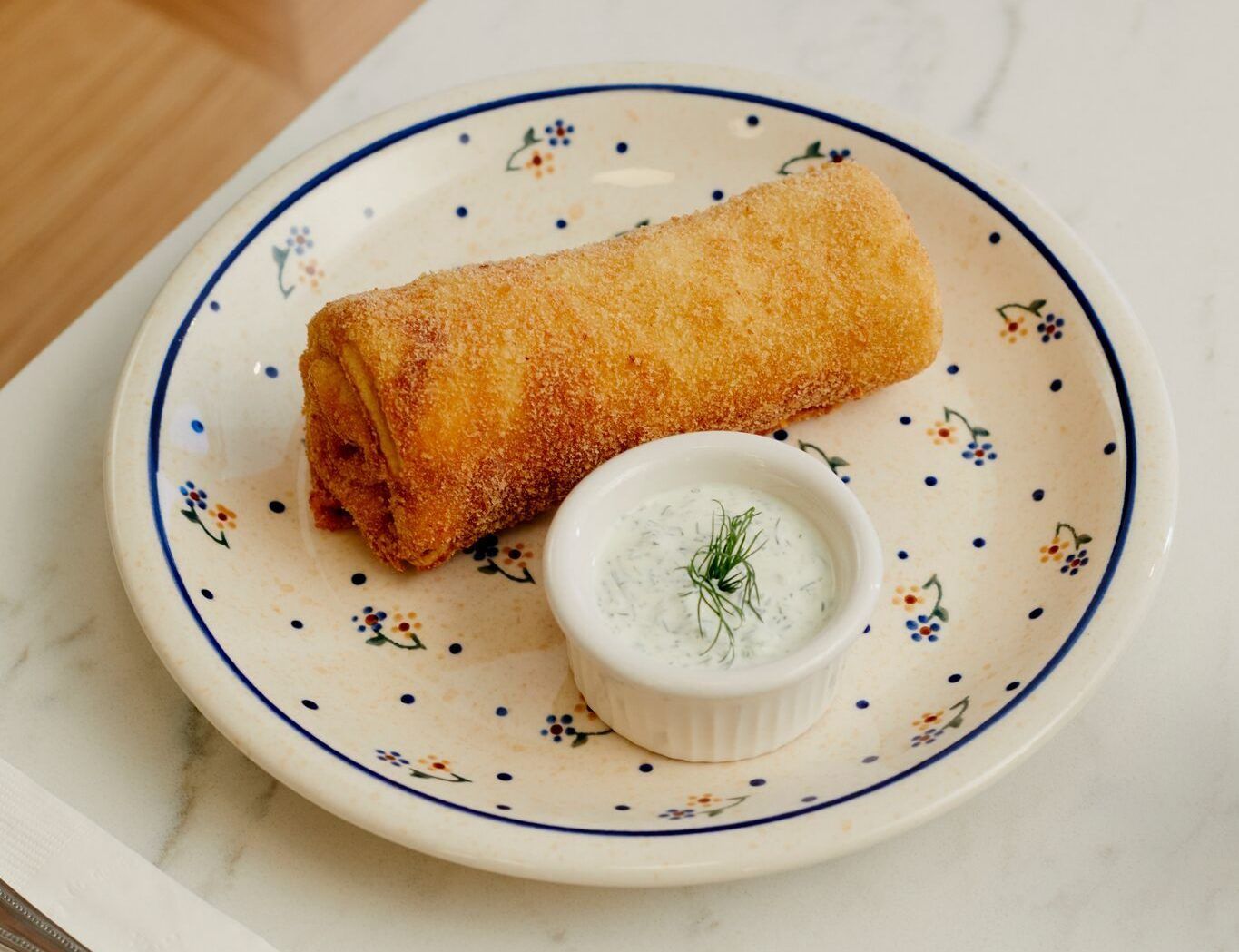 There are seven sweet and savory variations of hefty pierogis, including meat ($12), strawberry ($10), and cheese ($10).
You can also find Polish borscht ($5), a traditional beet soup, and have it served with ushki, "little ears," or simply mini-sized pierogis ($8), or alongside a meat-filled croquette ($10), served with sour cream-based sauces. Whatever variation you choose, the lush broth and filled-to-the-brim dumplings are a go-to in this suddenly harsh weather.
Ask for one of their five Polish vodkas to complete the experience. Radek recommends the caramelized Krakus Gorzka, for a smooth, sweet and smokey shot. "No chaser needed," he said with a big smile.
Serving Polish cuisine in a Polish neighborhood can be daunting.
"It's pretty high expectations, there's a lot of Polish grandmas and mothers here that cook really good Polish food," Alexandra lightheartedly chuckled. "There's a lot of Polish restaurants here, but a lot of families cook at home, it's not really known to go out and buy pierogi. It's really nice in the past week that we have had a lot of Polish customers, we feel lucky and honored."
Since their opening, they've been slinging around 2,000 pierogis a day and selling out. The restaurant has been going through 50 pounds of onions a day for caramelizing and topping the dumplings. The owners say the customers have been very understanding and patient as the new business forms.
While good food is bringing in the customers, the simple, yet beautiful design of the shop–inspired by the '70s era in Poland with a modern twist–invites to stay. Their carefully curated dishware is painted in a Polish folk art and was exported from the country. "We are detail-oriented," Radek boasts of the space.
"I want to make sure Poland still exists [in Greenpoint]," Radek said. "I want to make sure the taste and culture can still bring something cool to Little Poland."
592 Manhattan Avenue
(718) 576-3866
Instagram: @pierozekbrooklyn
Open Tuesday through Sunday from 11 a.m. to 7 p.m.