Photoville 2019: Festival Features Work By More Than 600 Photographers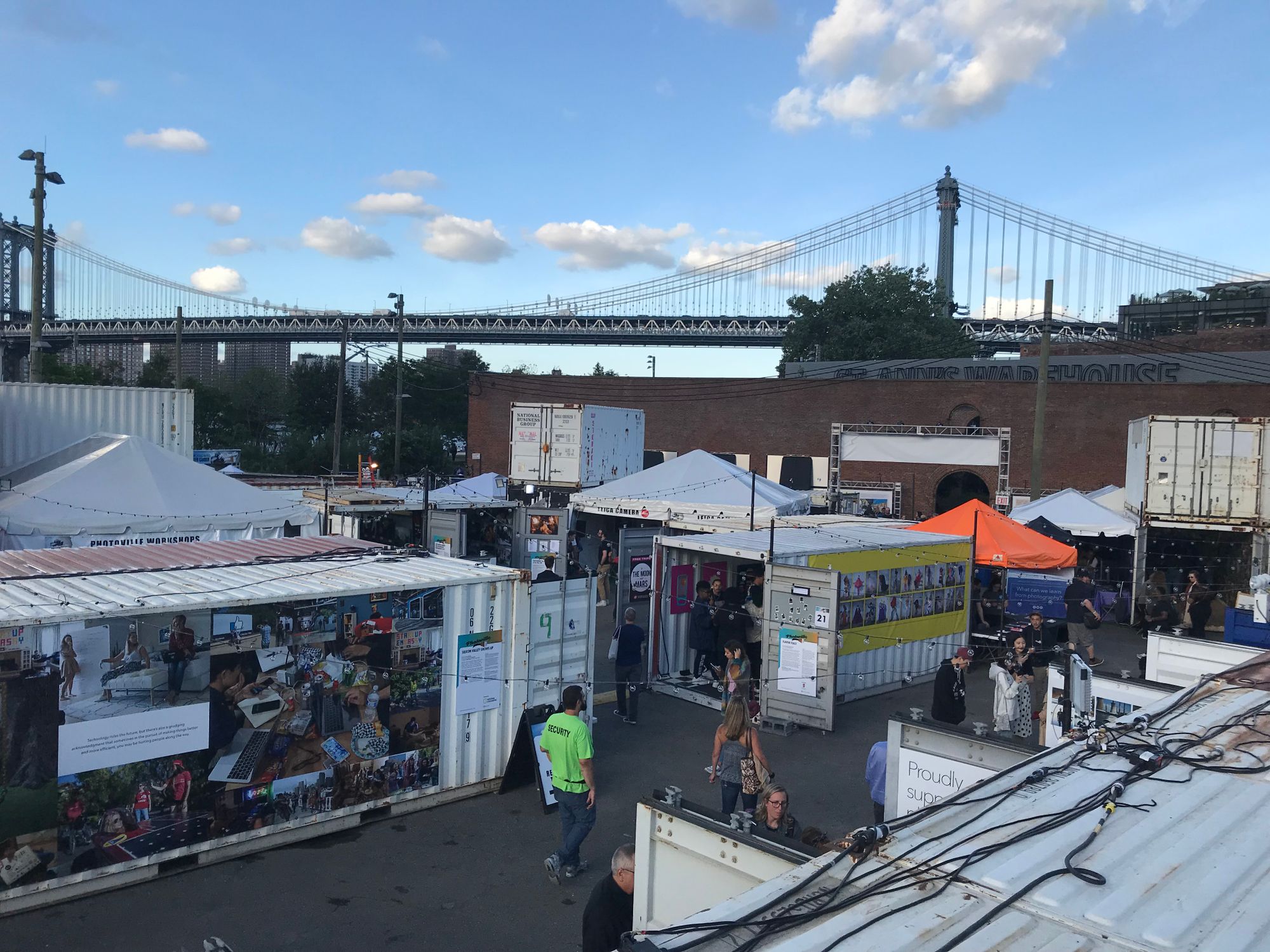 BROOKLYN BRIDGE PARK – United Photo Industries' popular photography festival, Photoville, returns to Brooklyn Bridge Park for an eighth year. Featuring more than 90 photography exhibits plus dozens of panels, workshops, demonstrations, and special events, part one of the fest took place last Thursday through Sunday with the second half taking place this week from Thursday, September 19 through Sunday, September 22.
The free outdoor festival is held each year in Brooklyn Bridge Park with exhibits presented in repurposed shipping containers. Along with United Photo Industries, a diverse group of cultural, educational, media, and non-profit organizations have curated work by hundreds of artists from around the world, presenting it in the makeshift galleries. Check out the full list of exhibits here.
This year's fest features a series of talks at St. Ann's Warehouse, a variety of workshops and discussions with experts from Leica and Adobe, and a Smorgasburg beer garden. During the opening night reception, Laura Romanous, one of the co-founders of Photoville, announced the launch of a new project, We, Women, dedicated to supporting women, transgender, and non-binary artists whose processes are rooted in community engagement and collaboration, according to Phoebe Sullivan-Bing, Operations Manager for the event.
With so much to see at the festival, Sullivan-Bing recommends picking up a map from one of the information booths and "walk[ing] into any container that you feel drawn towards." She also suggests borrowing a camera from the Leica-on-Loan program, attending one of the many walking tours on offer, or sitting in on a talk before heading to the beer garden. "Watch our nighttime programming as the sun sets over the Brooklyn bridge," she adds, "and of course, don't forget to donate on the way out." While it is free to attend Photoville, a suggested donation of $5 is requested at the gate.
Founded in 2011 by United Photo Industries (UPI), Photoville is "dedicated to promoting a wider understanding and increased access to the art of photography," Sullivan-Bing says. UPI constantly seeks unique ways to present photography to audiences around the world.
Photoville has grown over the past eight years, in the number of exhibitions being presented and in the types of exhibitions being presented, according to Sullivan-Bing. Photoville recently traveled across the country to present Photoville LA at the Annenberg Space for Photography.
Bklyner stopped by Brooklyn Bridge Park on Friday evening to check out the event. Outdoor installations, large-scale photo cubes, and stacked rows of shipping containers showcase fascinating photography collections ranging in subject from the environment, politics, war, entertainment, fashion, portraits, and much more. The event features visual storytellers from around the world and includes professional and non-professional photographers and students. See some highlights below and be sure to check out the event this week.
"It's going to be a beautiful week with some amazing talks and nighttime programming and exhibitions, you definitely don't want to miss a second of it," Sullivan-Bing said of the second weekend of Photoville 2019. Learn more at photoville.nyc.
Past Tense: DUMBO Before Instagram – Presented by The New York Times, this collection of photos culled from the paper's archive features DUMBO before its transformation into one of Instagram's most popular neighborhoods.
The Dark Truth Behind Wildlife Tourism – National Geographic presents this heartbreaking series by Kirsten Luce documenting the suffering of animals taken from the wild and forced to entertain tourists in Thailand, Russia, the United States, and the Amazon.
Looking Inside: Portraits Of Women Serving Life Sentences – This series shot by Sara Bennett features 20 portraits of women serving life sentences for homicide. Each portrait includes a statement hand-written by the incarcerated and notebooks are provided for visitors to pen messages to the women.
Growing Up Amelia – Robin Schwartz's photographs document her daughter Amelia's relationship with animals throughout the years, illustrating the "sameness of humans and animals" and demonstrating that "animals are part of our world, and humans are part of theirs."
Redefining Representation: The Women of the 116th Congress – Presented by The New York Times, these portraits of the 131 women currently serving in both chambers of the 116th Congress were taken by Elizabeth D. Herman and Celeste Sloman.