Photos: Space Shuttle Enterprise Tours Southern Brooklyn Waterfront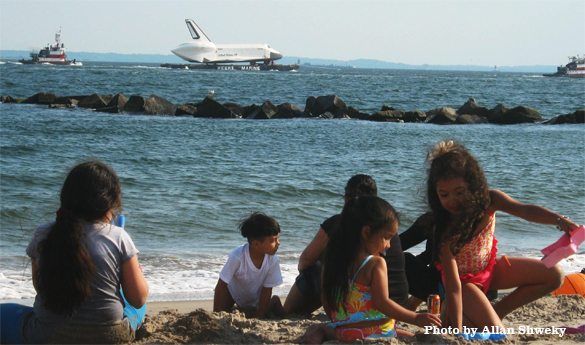 The Space Shuttle Enterprise made the journey from John F. Kennedy Airport to New Jersey by barge yesterday, giving Southern Brooklyn residents an unparalleled show of the historic spacecraft.
Tons of our readers took the opportunity to check it out, sending in dozens of dazzling photos as it made its way from the Marine Parkway Gil Hodges Memorial Bridge, around the Rockaways and passing by Manhattan Beach, Brighton Beach, Coney Island and under the Verrazano. It looks like we had readers at all points, documenting the voyage.
Bonus points, too, for professional spacecraft photographer (yeah, that's his job) and Manhattan Beach-native Ben Cooper, who runs his own website at LaunchPhotography.com. Cooper chased the Enterprise point-to-point, from Manhattan Beach to the Verrazano Bridge, capturing some crazy close looking shots with a lens bigger than his head. We had the opportunity to join Cooper for a few shots in Coney Island, where Bites super-reader Elina got us access to the roof of a local co-op. We got some pretty sweet shots from an exclusive angle – so thanks to Elina.
Tomorrow Wednesday, the shuttle departs New Jersey and heads to the Intrepid Sea, Air and Space Museum. It was rescheduled due to weather.
Without further ado, here are the photos: