Photos: Shell Bank Junior High Celebrates Ocean Week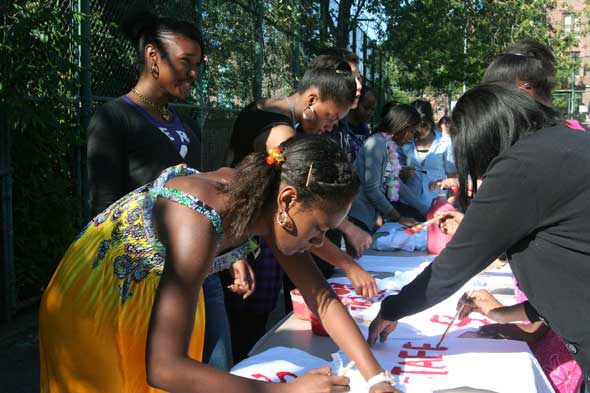 Students of Shell Bank Junior High School (I.S. 14) concluded the second annual Ocean Week celebration, capping the five day event with a marine biology festival on Friday.
This event was created to give students at the Bay-area school at 2424 Batchelder Street a more interactive way of learning about marine animals and habitats and their role in our lives. The festival, which also focused on recycling and preservation, was full of kids working together on many fun activities, including t-shirt screen printing using fish fossils, a refreshments stand with recycling incentives, sand and spin art, alongside a bunch of amusements.
"It's a celebration of our whole school, it's a celebration of our academies, we have three separate academies," said Vice Principal Teri Ahearn. "It's a really wonderful thing … [the students] really do deserve to be showcased and rewarded for the hard work that they've done all year."
Students organized the event alongside Principal Anne Tully, Ahearn, and other teachers and faculty.
"Our school has an aquatic theme. We have three academies; oceanography, technology, and law and each of them incorporate aquatics into their theme," Tully said, in between talking with kids, hanging up art to dry, and orchestrating the festivities. "This is really just a culminating festival for the kids, to celebrate all of the hard work that they have done."
Aside from the festival, Ocean Week hosted several other activities throughout the five school days. There was an innovation fair showcasing works that students had done, including PowerPoint presentations and movies about marine-related topics, like coral reefs; there was also a career day with different speakers that were key to each academy, such as oceanographers and scientists; one day featured a play, beautifully decorated with metallic sea creatures, mermaids, fish and even a giant octopus.
Two large mosaics with coral and a sting ray were also beautifully displayed in the auditorium. The pièce de résistance was  a huge sea mural that spanned the entirety of the main hallway. As one walks down the hallway, the marine life is accurate to the depth of the ocean as you descend deeper into the ocean. It was painted with bright vivid colors by some very talented students.
To help quench festival-goers' thirsts on Friday, the Recycling Club was selling ice cold bottles of water and juice pouches, with one thing on their minds: recycling.
"The bottles are for recycling," explained Debra Stewart, a paraprofessional at Shell Bank. "There is a company called TerraCycle that pays three cents for every pouch and then makea bags, backpacks and other things out of them. They recycle snack bags and cell phones and the school can register. They help organizations earn money while recycling."
The event wasn't without its celebrity, either. NBA Knicks shooting consultant Tim Sullivan was on hand to teach kids some sports science.
Sullivan said that he, "developed a curriculum based on the idea that kids want to play ball, kids want to dance, kids want to  experience different things and dream." Sullivan came out to celebrate Ocean Week and teach students and faculty his signature technique. "They don't always get to do that [dream], but the program that I developed, its goal is inclusion. Using alternative activities to make decisions, towards what they really want to make decisions towards for their future."
The rest of the festival was filled with sand art stations, carnival games, a bouncy maze, popcorn and cotton candy machines. But the fun distractions aside, the students were taking away a clear message.
"I learned that if we keep polluting the oceans, and contaminating them with garbage, and with boats making oil in the ocean, fish are going to die and at one point there aren't going to be a lot of fish," said smiling eighth grader Cynthia Ramirez. "It's going to affect the whole food chain."