Photos: Sheepshead Bites Birthday Bash 2011!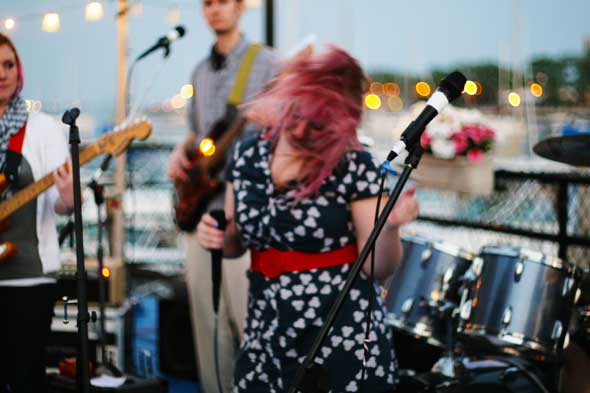 More than 300 people came to party on the pier at the Baron DeKalb Knights of Columbus Saturday night, celebrating the third year of Sheepshead Bites and the launch of Bensonhurst Bean, our new Bensonhurst news venture.
Bouncing back and forth throughout the night, there was one thing I heard from revelers over and over again: "I can't believe how diverse it is."
We had young and old, men and women, different races, nationalities and backgrounds. Gosh, there were even some liberals sitting with conservatives!
To me, this is no surprise. With 65,000 monthly readers, we represent the largest cultural cross-section of Sheepshead Bay that any group or publication can claim. And we work damn hard to get everyone working together on the one thing that unites us all: community. As heated as our comments section gets, as much ethnic tension there remains in Sheepshead Bay, we are more than pleased that everyone got a glimpse of what we see every day, that caring for your neighborhood and your neighbors knows no racial or cultural boundaries.
The other thing I heard over and over again, during the party and since, was, "When are you doing it again?"
Well, we're already brainstorming what to do next! With Saturday's success on our heels, we're hoping to plan a series of smaller events bringing together our readers. We had a ton of fun partying with all of you, and we're not ready to stop just there.
So there is one thing you can do to help out with that. Stop into the sponsors of Saturday's event – Bassett's Deli & Caterers, Cupcake Kings, Pinto's Novelty and the Knights of Columbus – and just thank them for what they did to help out. Letting them know their support is appreciated, whether you buy something or not, will help ensure that we continue to have what we need to keep organizing get-togethers.
Without further ado, here are photos submitted by readers nolastname, Randy Contello, Ariela Baranov, Texas and others. We received more than 1200 and whittled it down to just under 200, so our apologies if something you sent didn't get into the mix. We tried to include some from everybody.