Photos: Marine Park J.H.S. Holds Carnival Fundraiser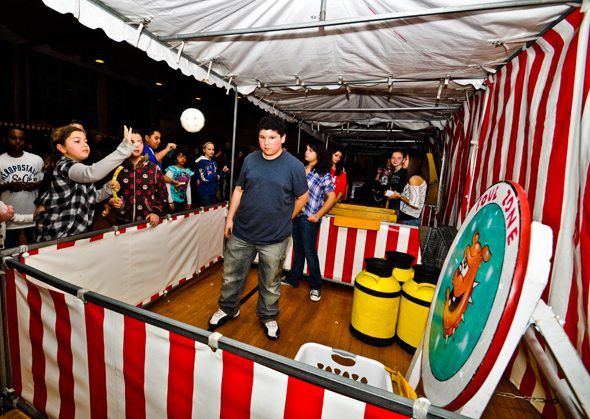 Hundreds from the Marine Park community braved torrential rains yesterday to enjoy I.S. 278's annual "Carnival," a yearly fundraiser held inside the school's auditorium at 1925 Stuart Street.
Marine Park Junior High School's teachers, students, parents and neighbors enjoyed hot dogs, popcorn and cotton candy, all for a good cause, while participating in game booths such as "Big Mouth," "Foul Zone," "Captain Hook," "Rainbow Roll," "Bash a Bully," "Ring Toss," and more.
The carnival helps raise money to make up for the Department of Education's tight purse, helping to pay for classroom supplies and more. The school's principal, Debra Garofalo, stated that one of the kids' favorite highlights of the Carnival — a booth in which students get to slam dozens of whipped cream pies into their teachers' faces — raised $700 alone.
Fallachi Entertainment's DJ Ross supplied the evening's music, game booths, popcorn and cotton candy machines, and giveaways.