Photos: Fire Rips Through Two Backyards, Garages Near Avenue U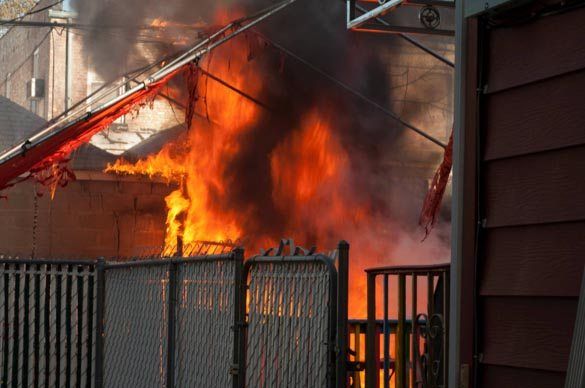 A fast-moving fire ripped through the backyards and garages of two residences near Avenue U before being squashed by local firefighters.
The fire began behind a daycare center at 2125 East 21st Street shortly before 4:30 p.m.. Within minutes, according to our tipster and photographer Randy Contello, who witnessed it, the fire had spread to the home's deck, a tent, and garage.
It then crossed property lines into the garage behind it, belonging to a property owner on East 22nd Street, and then into their yard.
Contello called 911, and reports that the FDNY was on-scene within two minutes. He said it took approximately five minutes to bring under control, although fire inspectors and others stayed on-scene until later in the day.
There were no injuries caused by the fire.
Contello reports that heat from the fire was enough to crack the glass of a neighboring house, and that the flames were visible above the house itself.