Photos: Fire Rips Through J&M Pizzeria On Avenue U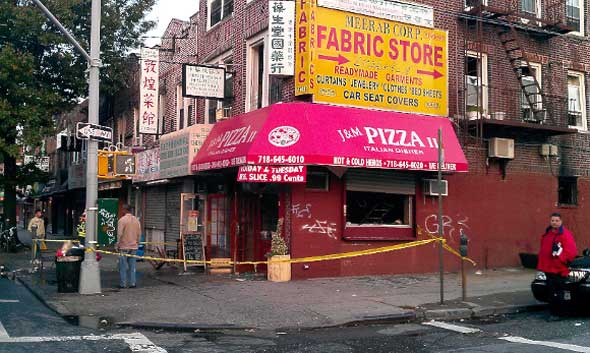 PayPaul sent in the photos and the following report, which seems to say it all:
Before 6:30 a.m. today there was a fire at the J&M Pizzeria on 14th Street and Avenue U. 2 Ladder trucks, 2 fire engines and a tanker truck were on the scene this morning with the addition of at least 2 more smaller fire vehicles, the Fire Marshall and 2 police cars. Residents on the second and third story of the building on that corner had their windows broken and I presume they were evacuated. It wasn't apparent if anyone was injured as no ambulances were on the scene. The restaurant was gutted and a Chinese Herbal shop was damaged.
We'll let you know if J&M will reopen anytime soon, but the prospects don't look too great right now.