Photos: Children Honored For East 14th Street Cleanup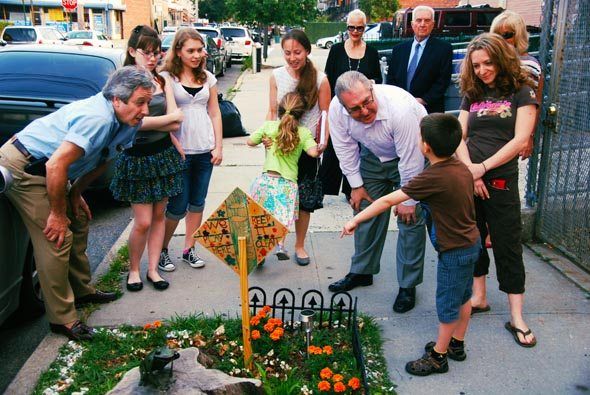 They say it takes a village to raise a child. Kids on East 14th Street are showing that it takes a child to clean a village. And then it takes a parade of local pols to properly honor those children.
State Assemblyman Steven Cymbrowitz, City Councilman Michael Nelson and Borough President Marty Markowitz cobbled together the dozen children who did what the Sanitation Department couldn't – clean up their block – and presented them with certificates recognizing their efforts on Friday. Parents on East 14th Street between Avenue X and Gravesend Neck Road organized the young do-gooders this spring to clear garbage and debris from the sidewalks, and post handmade anti-littering signs, and raised several hundreds of dollars to beautify the block.
Sure, some didn't appreciate the efforts, like one punk who took one of the wooden signs to task, but the local pols sought to hammer home the importance of caring for your community, and recognized them as models of good citizenry.
"It's a labor of love," Cymbrowitz said. "These kids realize it's up to them to save the earth. The fact that they're starting so young gives me hope we're going to make it."
"For all the bad examples out there, there are good examples like these wonderful children," Nelson added.
The parents raised $380 online to beautify the block once the kids took out the trash. With the funds, they planted flowers and garden decorations, installed baggie containers to encourage owners to curb their dogs, and installed ankle-high protective fences to keep the gardens clear. So far they say it has been a big improvement, and sent a clear sign to would-be litterers: not on our block.
And they didn't stop with that. Headed up by Yuliya Chernova and other local parents, they went to nearby businesses, like a hair salon on the corner of Gravesend Neck Road, that had been problematic. The sidewalk in front of the hair salon had been littered with cigarette butts, but after a visit from the parents the understanding owner joined the fight, and sweeps the sidewalk every day. They also approached an apartment building whose garbage overflowed into a yard that bordered the sidewalk, creating a visual blight. The superintendent keeps more of the yard clear now, but residents say it's still a problem since construction inside the building limits the amount of storage space available.
That's not the only thing left to be done on East 14th Street. Chernova took the opportunity to point out Sanitation-related problems on the block that even the superkids can't do much about.
A derelict house at 2348 East 14th Street stands in stark contrast to its newly renovated attached neighbor. It is the sorest of spots, with litter piled up in every crevice, garbage bags and broken glass in the driveway, and a family of stray cats hunting the rats it has attracted.
The group also requested litter baskets along Gravesend Neck Road, a request that Sanitation Department so far denied, she said, because they claim the baskets will cause more garbage.
East 14th Street's problems have never had the ear of a politician, though, and the revelation spurred Cymbrowitz to point out the importance of contacting community leaders with such quality of life complaints.
"If people don't complain to our office or the community board, we wouldn't know there's an issue," he said. "Now that we do, we'll look into it."
The pols said the city might be limited in what they can do regarding the home at 2348 East 14th Street, which city records say belongs to Victour Zaibak, but that they'll be placing calls with the Department of Buildings, Sanitation Department and Department of Health to see if it poses a hazard to neighbors and can be fined into cleaning up the lot. (Corrected)
And if the city continues to do nothing, Cymbrowitz said, they'll press the issue further.
"We will continue to pry until they do," he said. "We won't take no for an answer."
Chernova said having the politicians see the problem with their own eyes leaves her cautiously optimistic.
"I have no clue [if there'll be improvements," she said. "I'm new to all this. I've never dealt with local government. Hopefully, seeing it leaves a lasting impression."
Correction: The original version of this article provided an erroneous address on the decrepit house, and misidentified the owner as Ezra Kadeh. The correct address is 2348 and the correct owner is Victour Zaibak. Our apologies for any confusion.