Photos: 10,000 Attend 86th Street Festival For Food, Fun And Five-Dollar Sunglasses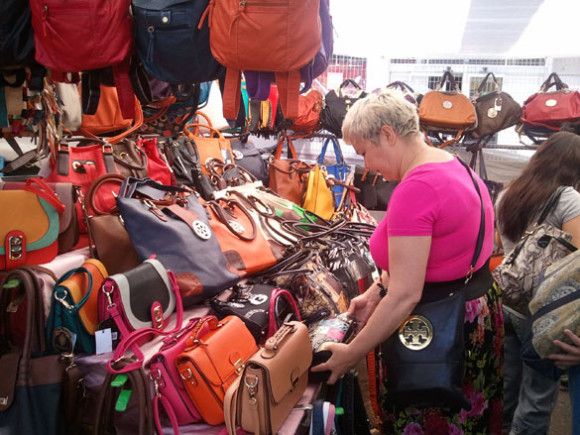 Amid Donna's Spicy Italian Sausage truck and the booth of "Interesting Items" stands Chip Cafiero, the organizer of the 86th Street Festival.
Stemming from a 35-year background in festival planning, Cafiero said that he would describe the rush of coordinating Bensonhurst's big event in one word: Juggle.
"It's a lot to put together. It always gets a little hectic," he said. "But I know what to expect."
The 86th Street Festival has been around for more than a decade. On Sunday afternoon, dozens of vendors joined together to showcase and sell their merchandise. Glass jewelry, five-dollar sunglasses, and bedazzled cell phone cases received the bulk of the attention.
Continuing from 11 a.m. to 5 p.m., on 86th Street between Bay Parkway and 19th Avenue, the festival encouraged a day of outdoor thrift-shopping with family and friends.
Cafiero estimated that close to 10,000 people participated in the day's festival.
"Last year was the first year we sold out," Cafiero said. "But it's different this year. The economy's different."
For Sunday's festival, it cost vendors $125 for a 10-foot booth and $200 for a 20-foot booth.
And while this event drew in vendors from across the tri-state area (with New Jersey at the lead), Chip's main disappointment was that more 86th Street stores didn't exhibit during the festival. There was minimal participation from Bensonhurst's retail stores at the event.
"It would have been a great way to encourage people to go in their stores afterwards, but most vendors just didn't want to do it," Cafiero said.
He maintained that the hardest part is always wrapping up. "People don't want to leave," he said.
If you missed Sunday's show, mark your calendars for the 3rd Avenue Festival on October 6. Cafiero insists it will be a homerun.
Below are photos from Elle Spektor and our readers: