Photo: Shades Drawn, Gates Down At Kruger's District Office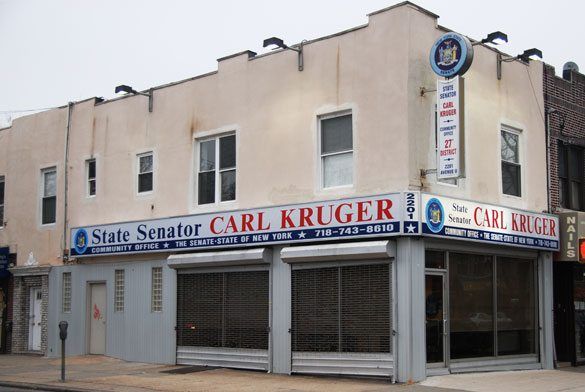 The shades are drawn and some of the gates are down at former State Senator Carl Kruger's 2201 Avenue U district office, just an hour-and-a-half after the disgraced pol resigned and pleaded guilty to four corruption charges this afternoon.
It's an unusual condition for an office with floor-to-ceiling windows, known for being brightly lit and with the innards on display – even at night. After all, it's one of the most lavish district offices in the State Legislature, so much so that it has sparked headlines for the expenses that have gone into it.
Last year, Courier-Life reported that the pol had spent $90,000 in campaign funds renovating the location, with such questionable expenses as:
More than $23,000 on office furniture
Nearly $1,000 for plumbing in his office bathroom
$288 on bathroom supplies
$540.65 on door mats
$4,700 for paint and wallpaper (two of the walls have floor-to-ceiling windows)
$4,844 on tiles (his office is carpeted)
$545 for landscaping (the office has no lawns or gardens)
$10,500 to a "New Jersey air conditioning and heating system company with two different addresses — one of which doesn't exist"
Meanwhile, across the street (and slightly down East 22nd Street), the Friends of Carl Kruger campaign office is looking, well, like it could use a friend: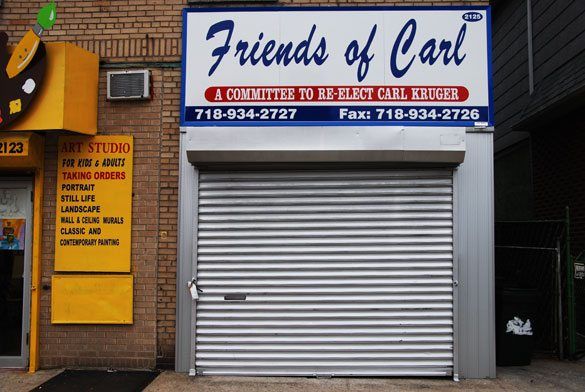 UPDATE (4:23 p.m.): Looks like it's not the only bit of Carl Kruger territory that's looking barren. Colin Campbell of TheBrooklynPolitics.com just tipped me off to the State Senate District 27 legislator page, which has been scrubbed clean of Kruger and now reads, "This Senate seat is currently vacant." You've never seen the state legislature move so quickly!
Clarification: The office is still open. People were inside working. But they clearly ain't looking for any attention right now.