Photo: Kings Plaza Diner Demolished, R.I.P.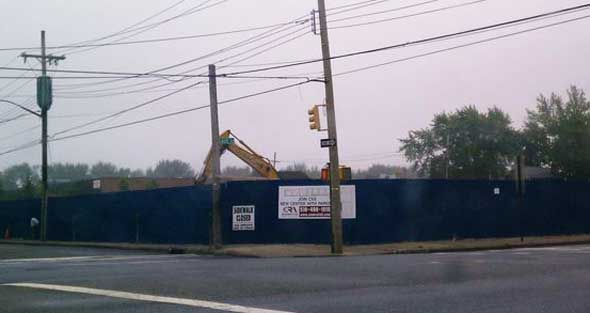 Oh, Kings Plaza Diner, we hardly knew ye.
Wait, that's nonsense. We knew ye quite well, actually. All those late night burgers with high school pals. The Sunday brunches to cure the ol' hangover. The business meetings and old-friend reunions. The eavesdropping – and relentless mocking – of our fellow patrons… gosh, I'll miss you.
Kings Plaza Diner, the last of the quality greasy spoons in Southern Brooklyn. And now, you've abandoned us. Shuttered in October, you've left us with just an empty husk at 4124 Avenue U, a hallow building serving as a reminder of Brooklyn's past of formidable diner culture. I emphasize: Brooklyn's past.
And now we don't even have that husk. In just one day, Thursday, the entire structure was demolished, making way for a CVS. Reader Janelle F. shared this photo with us on Facebook, taken by her "shy friend" who captured the tail-end of the elimination of an icon of the local streetscape.
Let us commiserate. Let us reminisce. What will you miss most about Kings Plaza Diner?