Photo: BIG Garden Sites Looking Spiffy For Spring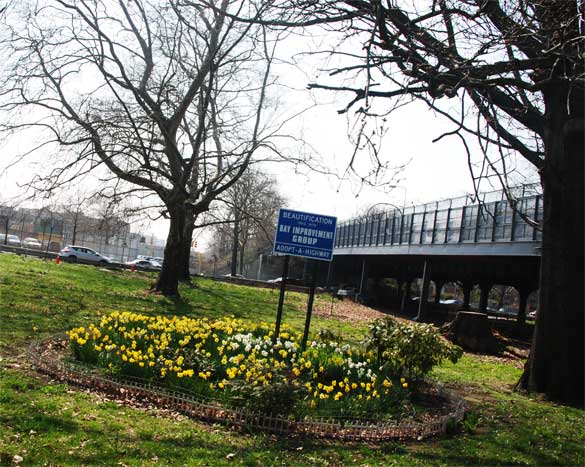 We got a note from Bay Improvement Group President Steve Barrison telling us to check out their various gardens throughout the community, including the one above on Voorhies Avenue, across from the rear entrance to the train station.
Lo' and behold, we got there and hundreds of fresh daffodils have been planted, providing a colorful greeting to those entering the community using the Belt Parkway or the subway.
According to Barrison, this site in particular was established as a September 11 tribute.
Bay Improvement Group is always looking for volunteers to help them keep the gardens clean and full of fresh, healthy flowers – especially during the spring and summer. They usually meet on Sunday mornings and ply their volunteers with tasty bagels and fresh coffee.
So if you've got some free time on Sundays, want a greener thumb and a pretty community, contact bayimprovementgrp@gmail.com or (718) 646-9206.