Pet Spotlight: Maxi the Labrador and Pit Bull Mix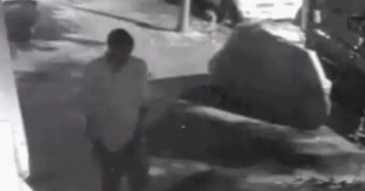 Maxi is a 2-year-old half black Labrador and half Pit Bull mix who we found playing on a sunny day in Fort Greene Park.
Justin Farkas and his mother, Annette, rescued Maxi from the Clinton Hill Animal Shelter. They originally went into the shelter searching for a german shepherd, but after they spent some time with the shepherd they planned on bringing home, they found it wasn't the dog for them. While looking around they saw Maxi and were drawn in by his fun, friendly disposition.
"His tail was wagging from the minute we found him," Annette said.
The family doesn't know much about Maxi's past, but said the birthday the shelter had registered was August 2012, when the dog was impounded. Maxi was found in a small area of Kentucky as a stray, underweight by 10 pounds, but surprisingly well-trained.
Maxi is a good dog, but has trouble with abandonment, his owners said. Car rides to new places and changes of scenery have made the dog anxious. On several occasions he has even been nervous enough to become incontinent, a very uncommon event for the well-trained pooch.
Here's hoping some rest and relaxation in the nabe, as well as a loving family, will help Maxi overcome his anxiety.
Do you have a pet you'd like to see spotlighted on The Nabe? Send us a photo and short description of your pet at TheNabe@TheNabe.me.