"Permanent Record" Website Dedicated To Cataloging Girl School's Report Cards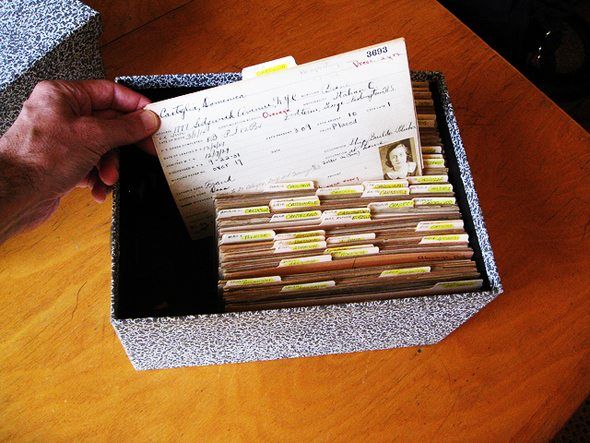 Forgotten-NY's Kevin Walsh, for the second time in less than a week, has pointed me, by way of a Facebook post, in the direction of a really unique website that is a touch on the esoteric side and also functions as a fascinating research tool, particularly for armchair genealogists wishing to learn more about their ancestors' youth.
The name of the site, Permanent Record: Untold Stories from a Stash of Depression-Era Report Cards, which was founded by Paul Lukas, who describes himself as "[V]ery fond of found objects and odd ephemera. Like, say, a discarded file cabinet full of old report cards," is fairly self-explanatory:
Fifteen years ago I came upon a discarded file cabinet full of incredible 1920s and '30s report cards from a defunct girls' vocational school. I took as many of the cards as I could carry and then spent the next decade-plus wondering what to do with them. At some point in 2009 I decided to track down some of the students — or, since most of them were likely deceased, their families — and see how their lives had turned out. I've spent much of the past two years doing that. This has led to, among other things, numerous instances of calling people up and saying, "Hi, you don't know me, but I have your mother's report card from 1929. Would you like to see it?"
Lukas' compilation of report cards belonging to 395 students from the Manhattan Trade School for Girls included the names and addresses of a few then-much-younger ladies, born around a century ago, specific to our area, with some girls hailing from Sheepshead Bay, Seagate, this end of Ocean Parkway, Gravesend, and more, with many other addresses also specific to the areas covered by our sister site, Bensonhurst Bean. The girls are listed alphabetically by last name, and the list also contains their addresses, dates of birth, and the dates they attended Manhattan Trade.
A five-article series about Permanent Record will be running on Slate during the week of September 19, which Lukas says "will tell the stories of some of the students whose report cards I found, the remarkable school they attended (it was called the Manhattan Trade School for Girls), and my own experience connecting the dots between the cards and the students' families."