Percolating in South Slope: Your Go-To Guide for Coffeehouses, Part Deux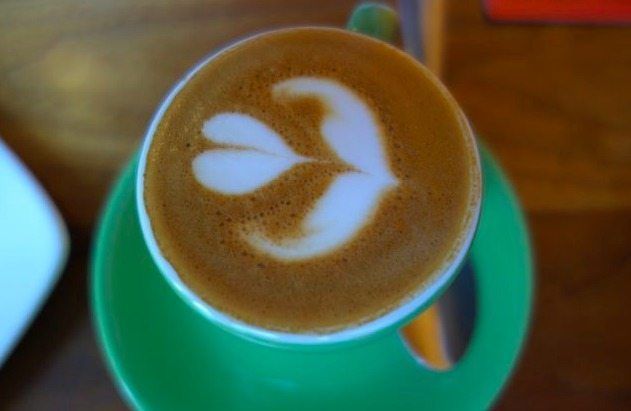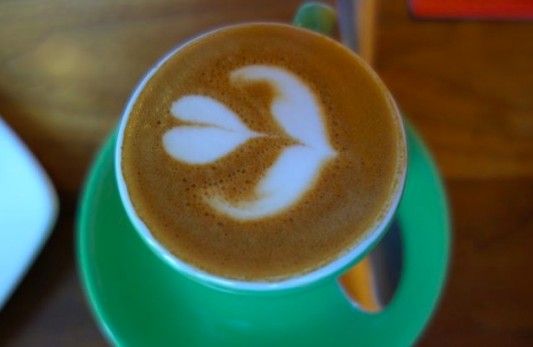 We know that you've all been on the edge of your seats, waiting for Part 2 of our energizing round up of coffeehouses in South Slope. A lot of walking was required; a great deal of coffee was consumed, and a slight twitch was developed from too much caffeine. But here it is–the remaining roster of distinctive, dynamic and top-notch coffeehouses our town has to offer.
Couleur Café, 435 7th Avenue (14th & 15th Street), (718) 788-6600
Best place to enjoy lunch with a friend
The sweet aroma of something delicious baking greets you upon entering the spacious, bright and welcoming Couleur Café. Serving up an authentic French menu with dishes ranging from a flaky croissant with homemade rosemary & honey jam ($3.95) or blue cheese, walnuts & caramelized onions ($8.95) to a crisp Salade Nicoise ($9.95) or my personal favorite: melt-in-your-mouth Croque Monsieur ($9.95). A great place to bring the kids for lunch, Couleur also offers a full children's menu with classic sandwich favorites and pastry treats for dessert. Although WIFI is available, this is not the ideal spot to linger with a single cup of coffee; during rush periods, seating is for diners only.
Forty Weight Café, 492 6th Avenue (12th & 13th Street), (845) 642-1580
Best Pour Over Coffee
A coffee bar by day; a neighborhood restaurant by night, Forty Weight Café sits enclosed behind wrought iron gates on a quiet corner of 6th Avenue. With a gleaming hardwood bar, exposed brick walls, a crackling wood-fired oven, and WIFI, this cozy café is becoming a home away from home for nearby locals. The flagship location of Forty Weight Roasters, owner Matt Marks offers a changing weekly menu of unique and diverse French press and pour over brews to keep serious coffee drinkers on their toes. A cup of Joe comes with a coffee lesson if desired, as the highly trained baristas love to share their knowledge of the product they so proudly serve. Pastries are available compliments of Colson's Patisserie, and Sweetwater's—their partner restaurant—is open for lunch. The vibe is laid back, the music is good, the seating is comfortable, and the service is both welcoming and unassuming. The coffee is unforgettable.
Photo via Forty Weight Cafe
Has Beans, 620 5th Avenue (17th & 18th Street), (718) 499-3828
Best place to play games
A true Mom & Pop joint, Has Beans offers everything from fresh coffee, croissants, scones and vegan muffins (courtesy of Red Mango Bakery), to coffee paraphernalia, pizza, and Pabst Blue Ribbon cans. Serving South Slope for 9 years, Has Beans provides WIFI (including two computer booths for non-laptop-toters), comfortable seating, games, books, and occasional live music in a laid-back, old-fashioned, and somewhat offbeat atmosphere. Whether lingering on your laptop, playing a game of Trivial Pursuit with a friend, or stopping in for a sandwich, Has Beans fits any mood.
Gather, 341 7th Avenue (9th & 10th Street)
Best gourmet take-out
At recently opened café Gather, everything is made from scratch everyday. Fresh, healthy, homemade, happy—Gather is a welcoming and bright space with unbelievably delicious sweet and savory food and an outgoing staff. Although the Intelligentsia coffee is top-notch, strong and, according to baristas—the best in South Slope—the focus here is the food. A great place to grab lunch or take out dinner, Gather offers nourishing soups, sandwiches, proteins, salads and sides (including Mac & Cheese—yes!) made with seasonable and sustainable ingredients. And—get ready for this, South Slope—they sell great baguettes! Free WIFI and outlets are available if you'd like to savor a cup of afternoon tea with your laptop, however seating is limited.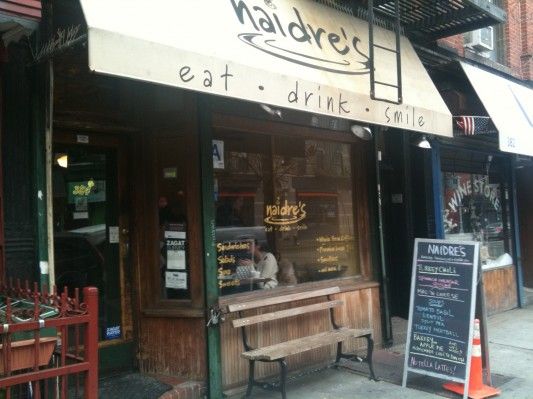 Naidre's Cafe, 384 7th Avenue (11th & 12th Street), (718) 965-7585
Best Vegan Options
An institution in South Slope, Naidre's has been open for nearly 12 years serving a fresh homemade menu and Counter Culture coffee. Owner Janice Pullicino can be found in the kitchen on most days, creating her menu from scratch with the freshest ingredients and in-house roasted meats, while offering specials based on customer requests. No one feels left out at Naidre's, as the menu specializes in vegan and gluten-free soups, salads, sandwiches (a gluten-free roll is available) and desserts. Her gluten-free peanut butter and jelly cookie is a crumbly, nutty, sweet and fruity mound of goodness. More conducive to enjoying a meal than hanging out on your laptop for hours, Naidre's is perfect for a healthy, invigorating meal.
Have we left anyone out, South Slope? Please write in!