Pera Cafe Lounge Coming To Emmons Avenue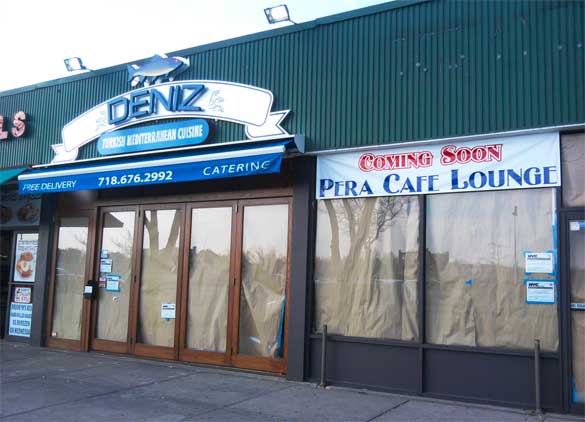 It's really hard to keep track of what's going on 2255 Emmons Avenue. In two years it has been home to three Turkish restaurants – and soon it'll have a fourth.
Pera Cafe Lounge will soon open at the location, following the short-lived Deniz Restaurant (so short-lived that we're not sure if they were ever even open). Before Deniz it was Lara Turkish Cuisine, which opened in April 2010, just months after the longer-lived Bay Shish Kebab closed.
We have not confirmed it yet, but we've heard that Pera will be operated by the owners of Deniz, and will be a hookah lounge – so there's no change in ownership, just direction.
UPDATE (3/29/2012): The owner just chimed in in the comments section, noting that it will not be a hookah lounge. He wrote:
Hi you all my I am the owner of Pera cafe longe we will be open late of April and it just will be cafe lounnge with full bar we don't do hookah thanks you all I look forward see soon with a taste of Rurkish culture at Pera cafe lounge