Pedestrian Struck Near Sheepshead Bay Road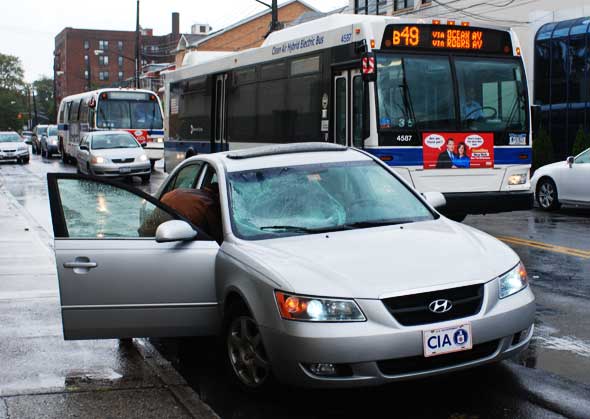 A pedestrian was hospitalized after being hit by a car a few minutes before 2:00 p.m. on East 14th Street, just off of Sheepshead Bay Road.
The driver of a silver Hyundai told Sheepshead Bites that a pedestrian ran into the street, attempting to avoid a car pulling out from the curb, when he hit him. The accident sent the pedestrian off to the hospital in an ambulance, and the car's windshield on the passenger side was broken. The driver said he swerved to clear the pedestrian, who was looking in the opposite direction, but wasn't fast enough.
Paramedics at the scene said that the pedestrian was in stable condition and they expect a full recovery [UPDATE: Readers who say they know the pedestrian are reporting that his injuries are more serious than initially reported. A co-worker says he has bleeding to the brain, and a broken shoulder and neck.].
The driver stayed at the scene of the accident, and no charges are being filed against him.