Peace, Coffee, And Good Food At Brunswick Cafe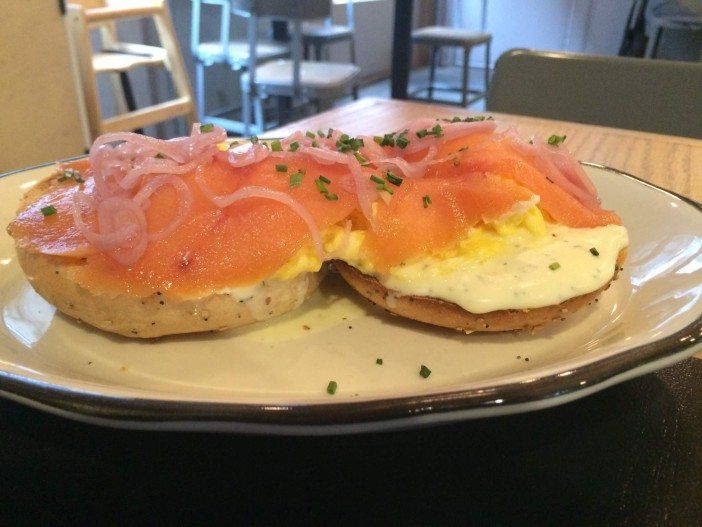 It's part good food. It's part good people. And the place is just so comfy.
Okay, maybe it's also because the timing of the tunes was spot on. Good coffee was served while the music of Yo La Tengo, tUnE-yArDs, and Real Estate floated by.
The Brunswick Cafe at 240 Prospect Park West (between Windsor Place and Prospect Avenue) opened in September 2014, and there's a lot to celebrate as they mark their first anniversary.
The cafe is named after a suburb of Melbourne, Australia and is one of three in the city. The other Brooklyn outpost is in Bed-Stuy (144 Decatur, with entrance on Marcus Garvey Blvd) which opened in April 2014, and the third location on the Lower East Side (23 Clinton Street) opened this past April.
Owner Alex Hill is also known for his Milk Bar (620 Vanderbilt Avenue, Prospect Heights). And Ditmas Park residents may recall him as former owner of Cafe Madeline (1603 Cortelyou Road), which he reportedly left in frustration.
But all seems well over here at Brunswick, where you can order food and linger for a bit.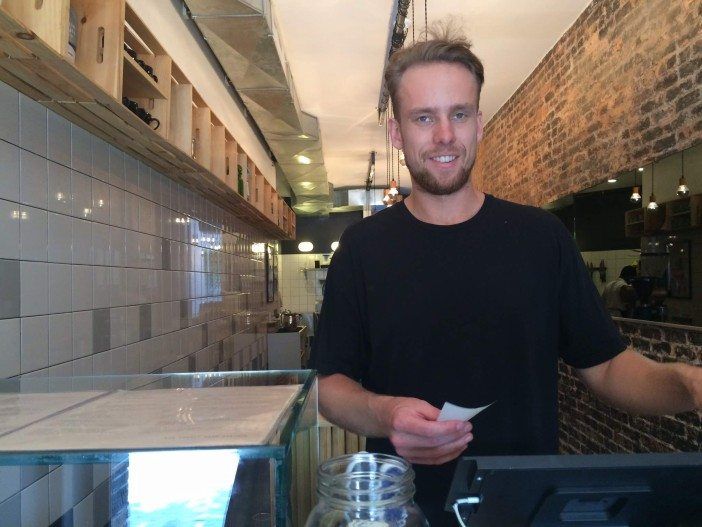 The Salmon Scramble ($12) is strongly recommended. Served on a toasted everything bagel, it includes three scrambled eggs, smoked salmon (a healthy portion, too), preserved lemon and dill creme fraiche, and pickled shallots. The dill complements the salmon very well, and you'll need a knife and fork for this one.
Erica Brentan, a self-proclaimed regular, sat quietly finishing her coffee and working on her laptop. "The employees are super-friendly — it's a warm atmosphere. I like being able to sit here and do my work," she said.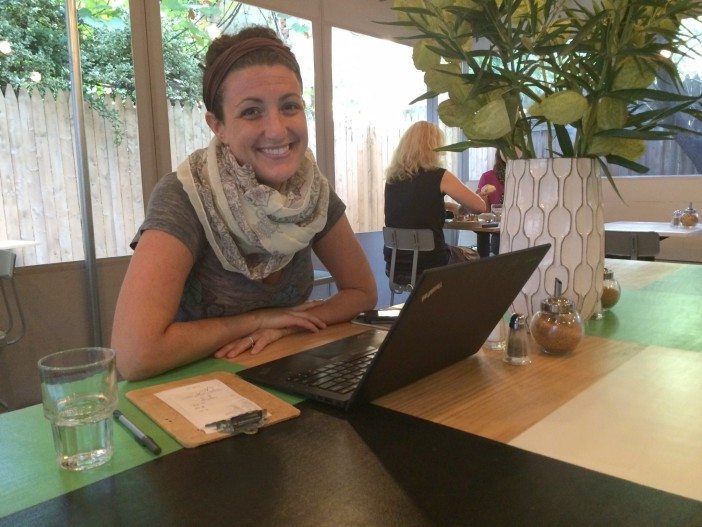 Erica's familiarity with the menu allows her to offer a lot of recommendations. "The Avocado Toast [$11, add $2 for a poached or scrambled egg] is delicious."
She's also a fan of the Granola and Yogurt ($10) which is served with a berry compote.
Chris Lamont is a friendly and knowledgeable waiter. He recommends the Banh Mi ($11). You're given a choice of marinated pork or chicken, and it's served with pickled daikon and carrots, cilantro, cucumber, and sriracha mayo (with or without jalapeños). "I eat one almost every day," he said.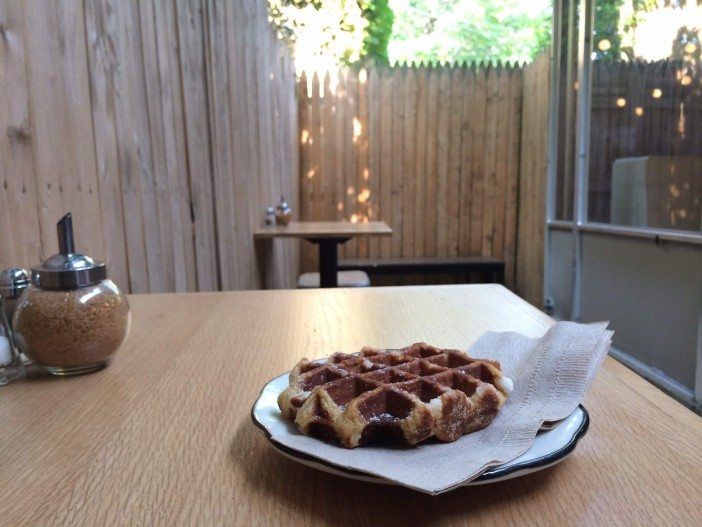 The Belgian Waffle ($8) is another well-known Brunswick staple, served with mascarpone and mixed berry compote. Take it outside into the small outdoor garden seating, and you'll enjoy a peaceful meal.
Brunswick Cafe will become one of our new haunts. And we won't be surprised if you do the same.
The Rundown: Brunswick Cafe
Where: 240 Prospect Park West (between Windsor Place and Prospect Avenue)
Phone: 718-788-1237
Hours: Weekdays, 7:30am-6pm; Saturdays & Sundays, 9am-6pm
Outdoor Seating: Yes, they have a small outdoor garden. Two tables and a bench, so you just need good timing.
Who To Bring: Come with a few friends or alone with your laptop (or you're dog-eared book!). There's a communal table for six in the back room.
Kid Friendly? Yes. High chairs are available, and the waitstaff are nice about it.
Remote Workers: They've got free wifi, but outlets are not the easiest to come by.
Best Bites: The Salmon Scramble ($12), the Belgian Waffle ($8), the Cuban Panini ($12), and try the Banh Mi ($11).