Pathmark To Close, 100 Workers Face Job Loss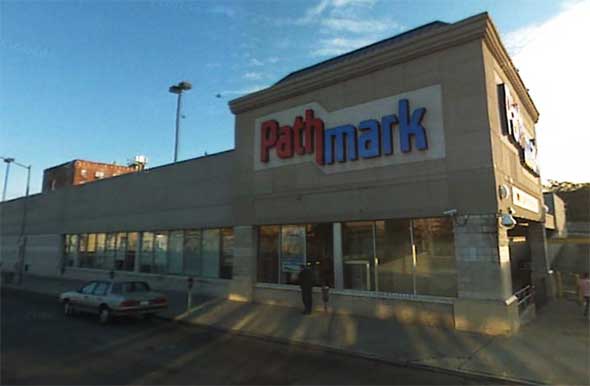 Say it ain't so.  Pathmark supermarket on Nostrand Avenue is going to close. But don't despair – politicians are looking to work with the property owner to get a new supermarket in that location.
Pathmark's owner, A&P, filed for bankruptcy protection last December, and on Tuesday morning, A&P officials broke the news to the United Food and Commercial Workers Local 1500 that the Pathmark at 3785 Nostrand Avenue – which employs about 100 people – will close its doors for good.  That's just one of the 32 A&P-owned stores that will be closing, officials say, but the only one in New York City. A&P is cutting all these stores in hopes that doing so will stop the financial bleeding from their current $3.2 billion debt.
There's no doubt that losing Pathmark would create a huge hole in the Sheepshead Bay food shopping area, as it's the closest supermarket to thousands of Plumb Beach residents and neighbors in the southeastern pocket of our neighborhood.
But fear not – where there's a food issue in Brooklyn, Borough President Marty Markowitz is on the case.
"When supermarkets close, our residents—especially seniors—are forced to travel greater distances, often at greater expense, to provide for basic needs for themselves and their families," he said in a press release.
Markowitz also said that he plans on finding a solution to that problem.  "I am interested in working with the property owner and other stakeholders to identify a supermarket retailer to replace Pathmark and provide the residents of Sheepshead Bay and surrounding communities with the access to the fresh food they deserve."
A&P owns other well-known supermarkets such as Waldbaum's, Best Cellars, The Food Emporium, Super Fresh, Food Basics and, of course, A&P – which might be why they chose to close the location. Two out of the three closest supermarkets to this Pathmark are owned by the same company (Food Basics and Waldbaum's).
So if Markowitz succeeds in pulling in a new supermarket, what would residents of Sheepshead Bay like to see? Personally, I'd get a kick out of a Whole Foods right next to the projects. Just sayin'.