Participatory Budgeting Results Are In! The Winners Are…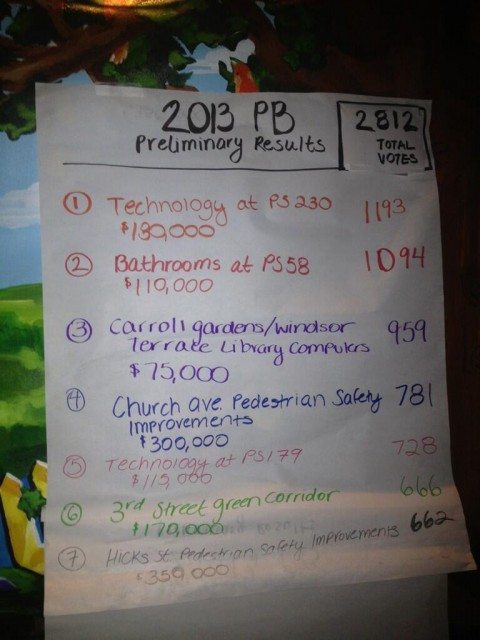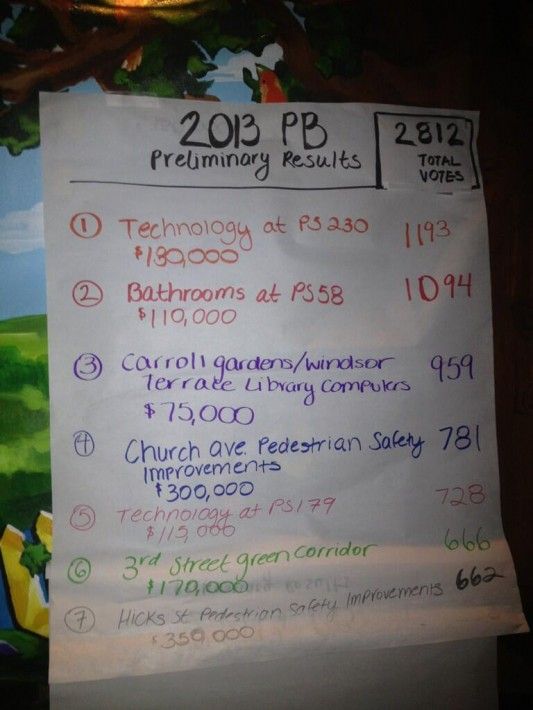 Residents from across the 39th District made their way to the polls this weekend to decide how our community would spend one million dollars. Knocking last year's participation numbers out of the park, 2,812 neighbors placed their votes, the results have been tallied, and the winners are:
1. PS 230: Help Kids Connect and Learn With Technology – Install 34 Smartboards w/supporting MacBooks in high-needs, diverse (25+ home languages) school serving 1,300 students – $180,000.
2. Renovate 8 Bathrooms at PS 58, The Carroll School – Provide healthier environment for generations to come by replacing fixtures & flushing mechanisms. Last renovation: 1954 – $110,000.
3. Computers for Carroll Gardens/Windsor Terrace Libraries – 29 new adult & preschool computers at these branches to support community needs for internet access & computer literacy – $75,000.
4. Church Avenue Pedestrian Safety Improvements – Extend sidewalks and reduce crossing distances on Church Ave at Coney Island Ave and McDonald Ave intersections – $300,000.
5. Technology Upgrade at PS 179 – 27 SmartBoards for high-needs school to aid learning for English language learners, special education and gifted students – $115,000.
6. 3rd Street Green Corridor: New Trees, Less Runoff – 10 trees with enhanced pits will improve storm drainage, and add shade and beauty in Gowanus from Bond St. to 3rd Ave – $170,000.
Pedestrian safety improvements to Hicks Street came in a close 7th, and Council Member Brad Lander mentioned the project via Twitter last night.
Congratulations to all of the winners, and if your project didn't receive the necessary votes, don't give up just yet. As we saw in 2012, funding can come from a number of different sources, and you never know what you can accomplish until you get out there and try.
Image via Brad Lander