Parking Wars: Can School Buses Park On Your Block Overnight?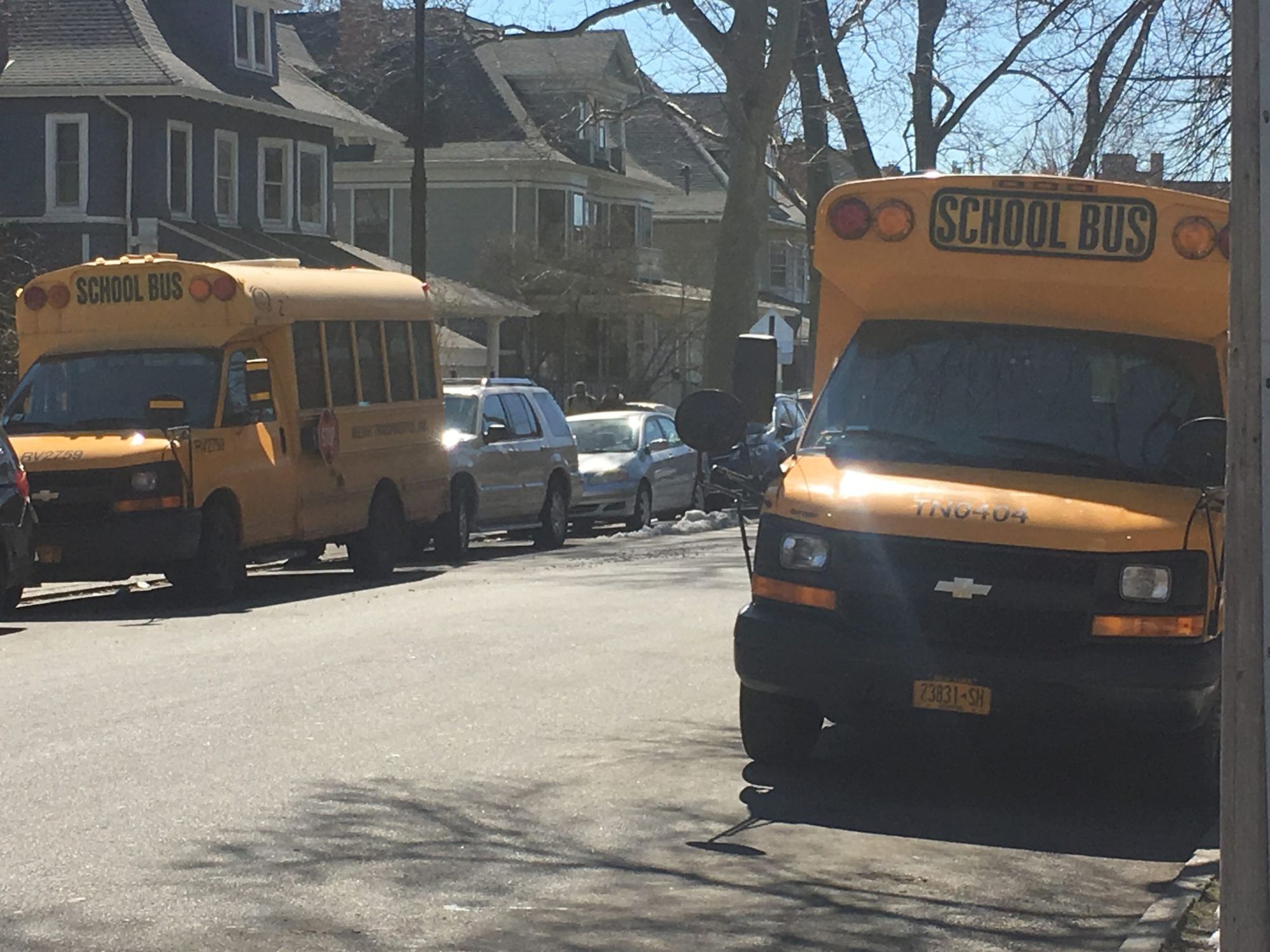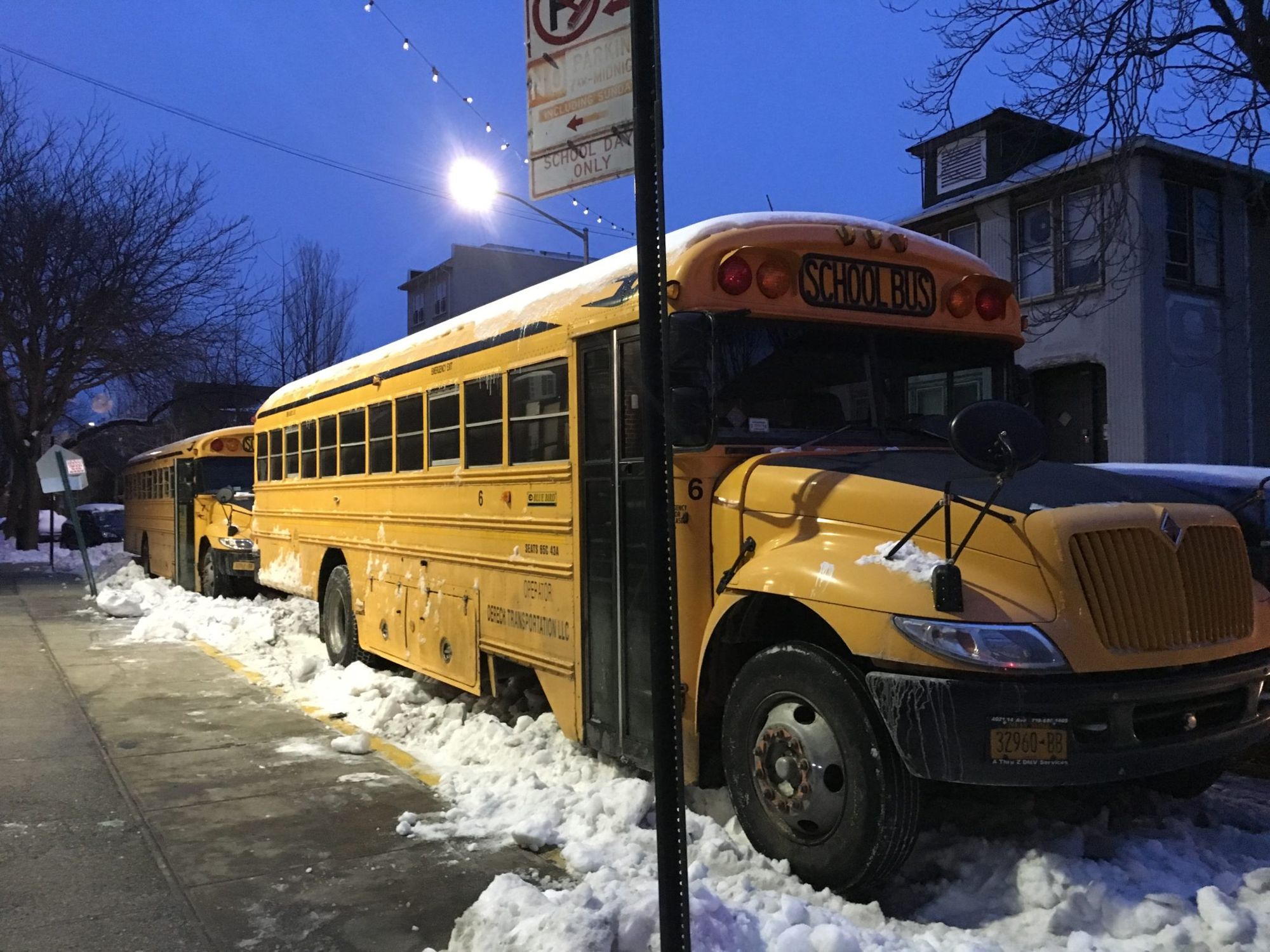 It's a sight so common on our streets that we often don't notice: armies of school buses parked on residential blocks on nights and weekends — when commercial vehicles are normally banned.
But for some neighbors, it's more than an eyesore. Perpetual fleets of buses clog traffic, spew smog into the air from minutes of idling, and eat precious parking spots. We've heard it from readers spanning Queens to Bergen Beach, as local politicians spin their wheels to balance the needs of schools and (a growing population of) residents alike.
This problem is compounded in Borough Park, where at least 300 privately-run Yeshiva buses have led to a sharp uptick in traffic congestion. In 2016, Isaac Kohn writes in The Yeshiva World:
"[yellow school buses] park everywhere they can, which is against the law and steals parking spaces from tax-paying citizens…So why are our politicians silent? Why isn't the police department enforcing the law?"
But what exactly is the law?
Despite the cries of foul play, here's what we found: Though charter buses (and commercial vehicles) are prohibited — school buses (owned, used or hired by a public or private school) are legally allowed to park on residential streets on nights and weekends only if the spots are "in front of and within the building lines of the premises of the public or nonpublic school." [emphasis added], according to the New York City Department of Transportation Traffic Rules, 2017 34 RCNY 4-08(k)(6).
[We reached to the NYC DOT to clarify that language, but haven't heard back as of publication].
When talking to the organizations that directly deal with this law, we found that the term 'within the building lines' had slightly different interpretations. Reps from Community Board 14 in Ditmas Park said that buses can legally park in any spot adjacent to the school property — which can include blocks directly across from the school, depending on its street placement (see diagram below).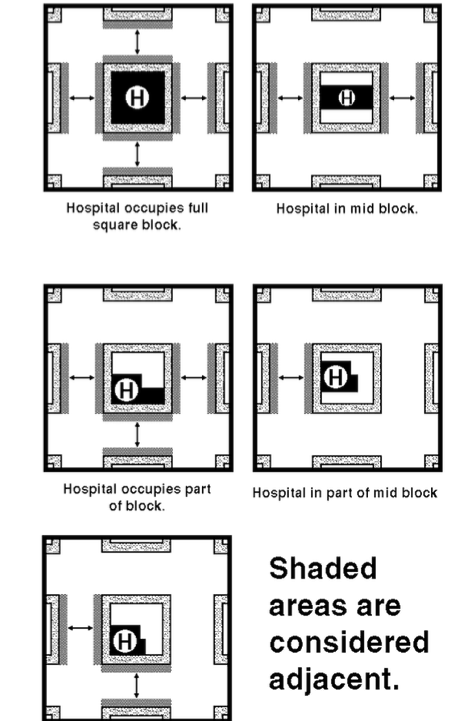 A manager at a private school bus company said, however, that he considers only spots "next to the front of the school" to be legal spots. But, he said, the real issue is that there just aren't enough parking spaces for buses at all.
When NYPD Traffic Enforcement gets a call about a school bus parked on the street, they'll send a supervisor to investigate, said Traffic Enforcement police sources. They do see illegally parked vehicles and issue tickets accordingly, but if the bus is parked near a school — or within "about a half block radius of the school" — then they're home-free.
But no matter how you interpret it, the traffic law fails to account for the fact that schools are often on residential blocks, in a city Senator Simcha Felder characterized as "every spot being used to develop residential real estate."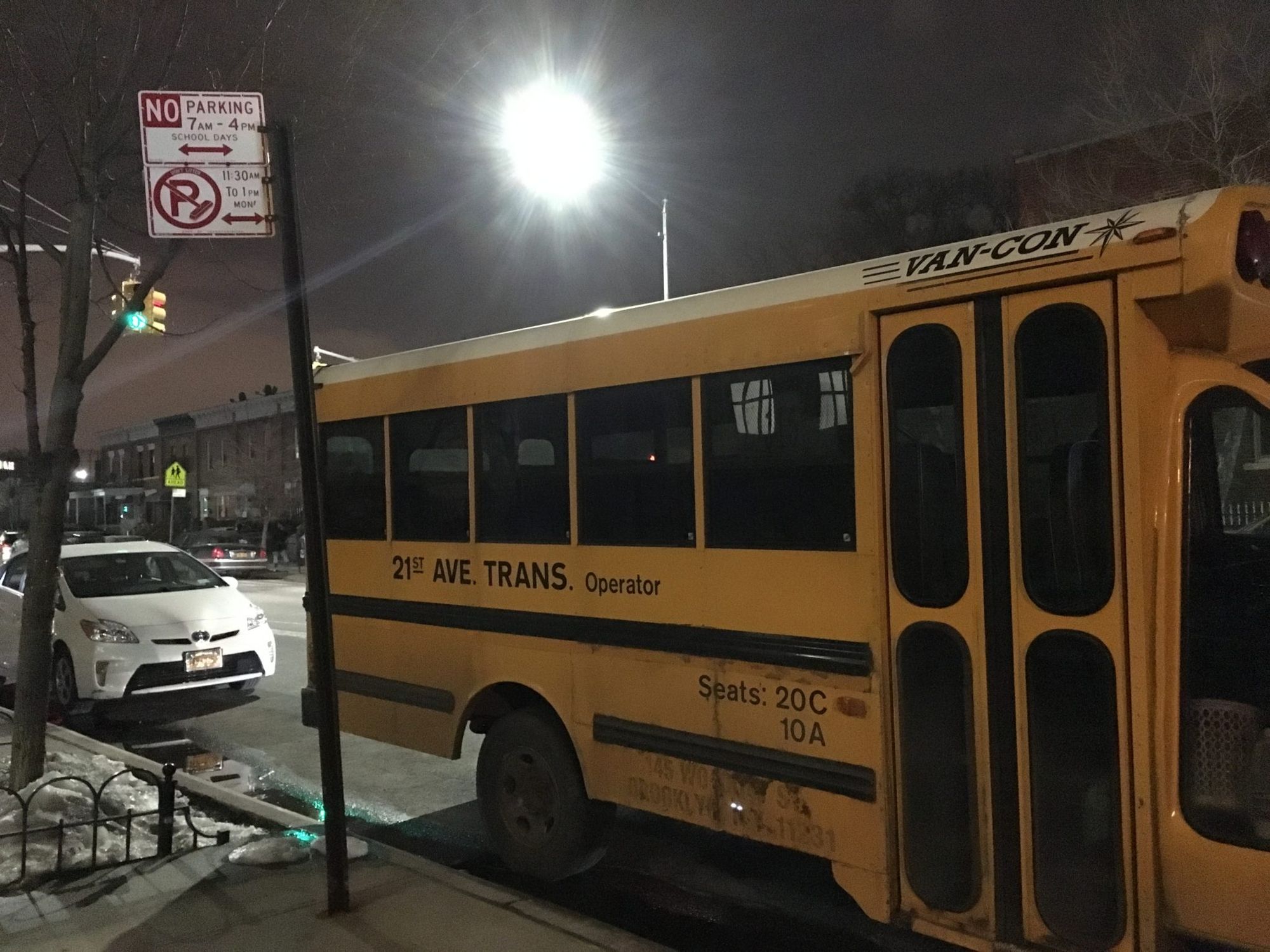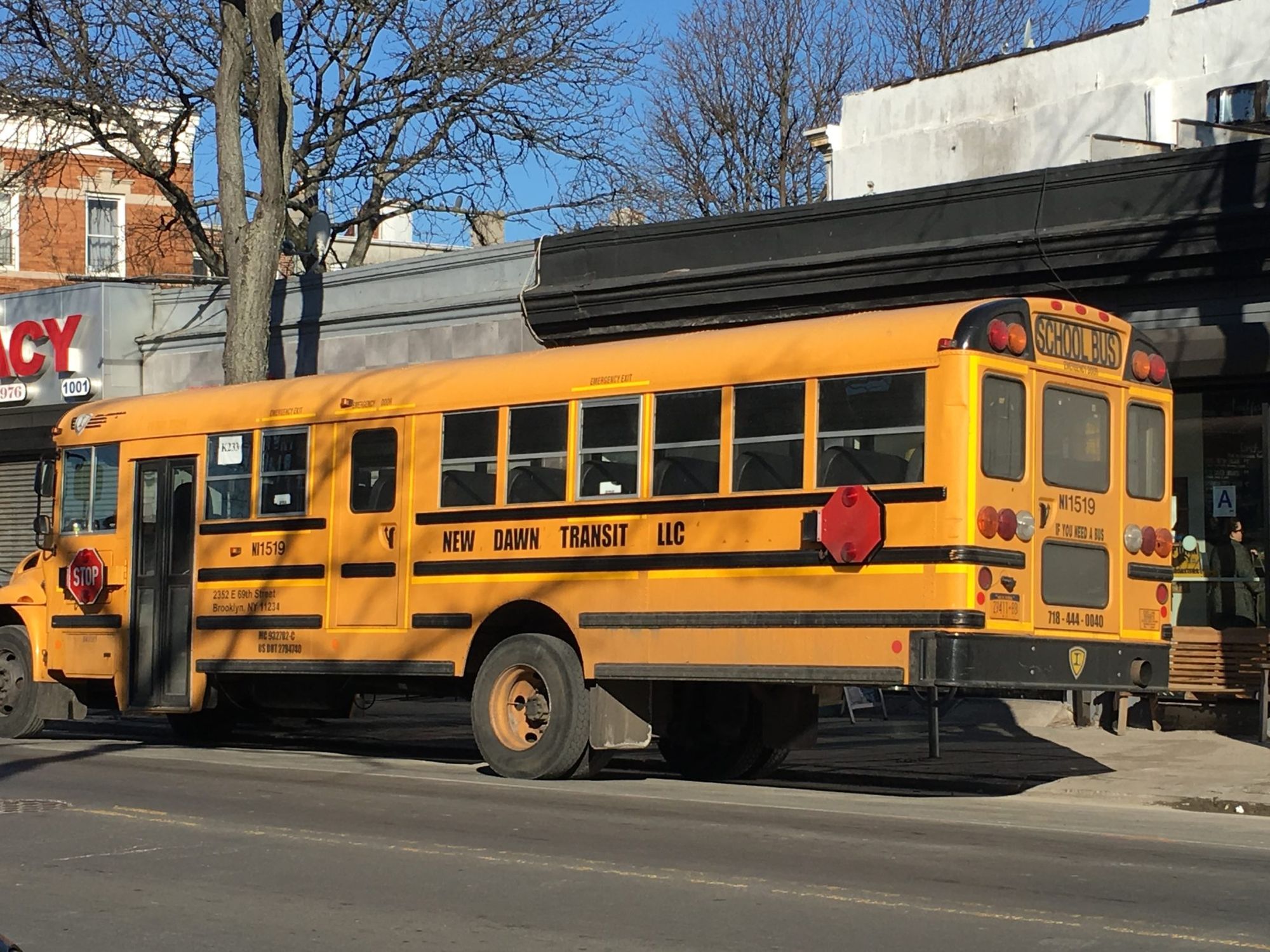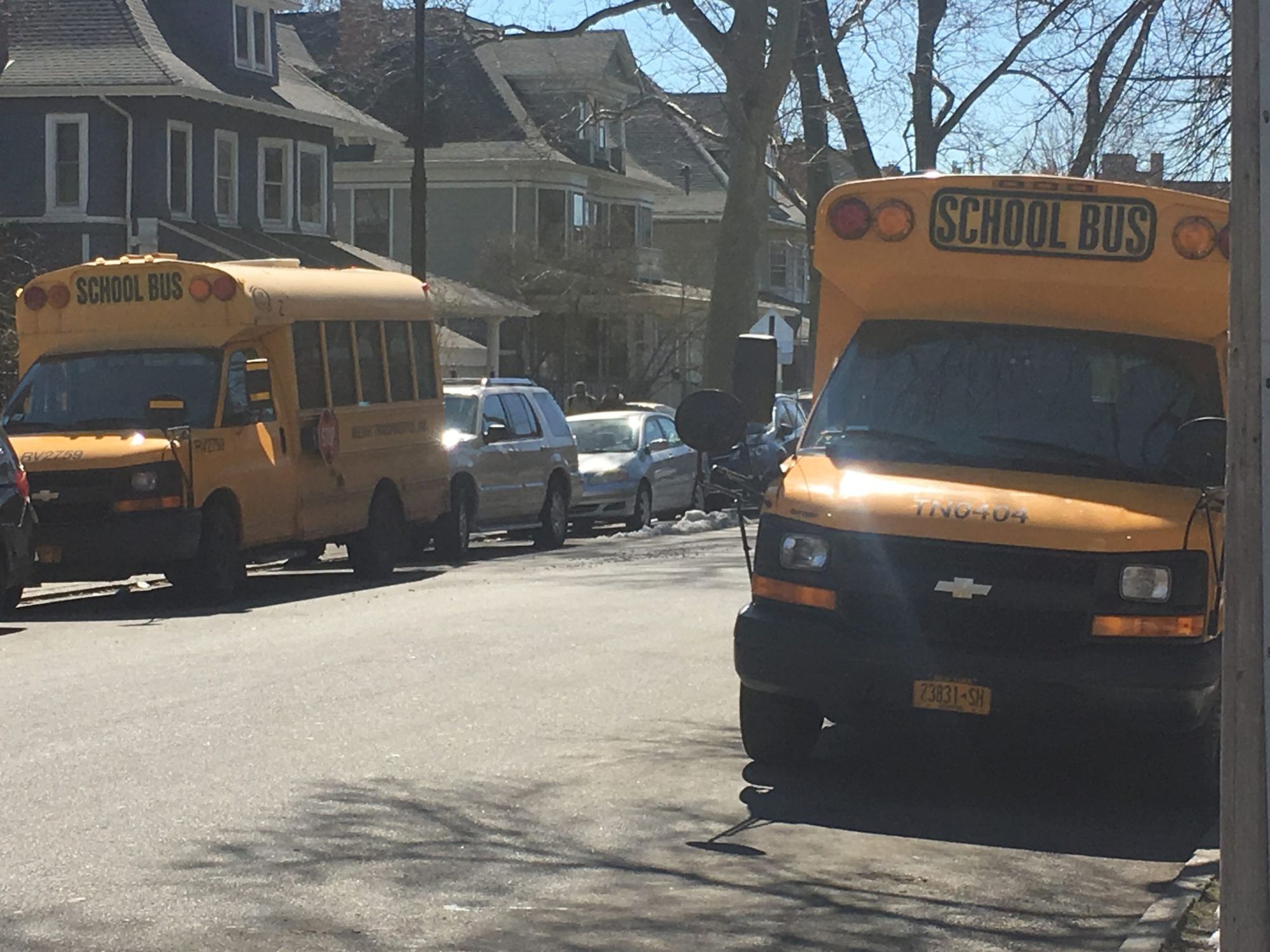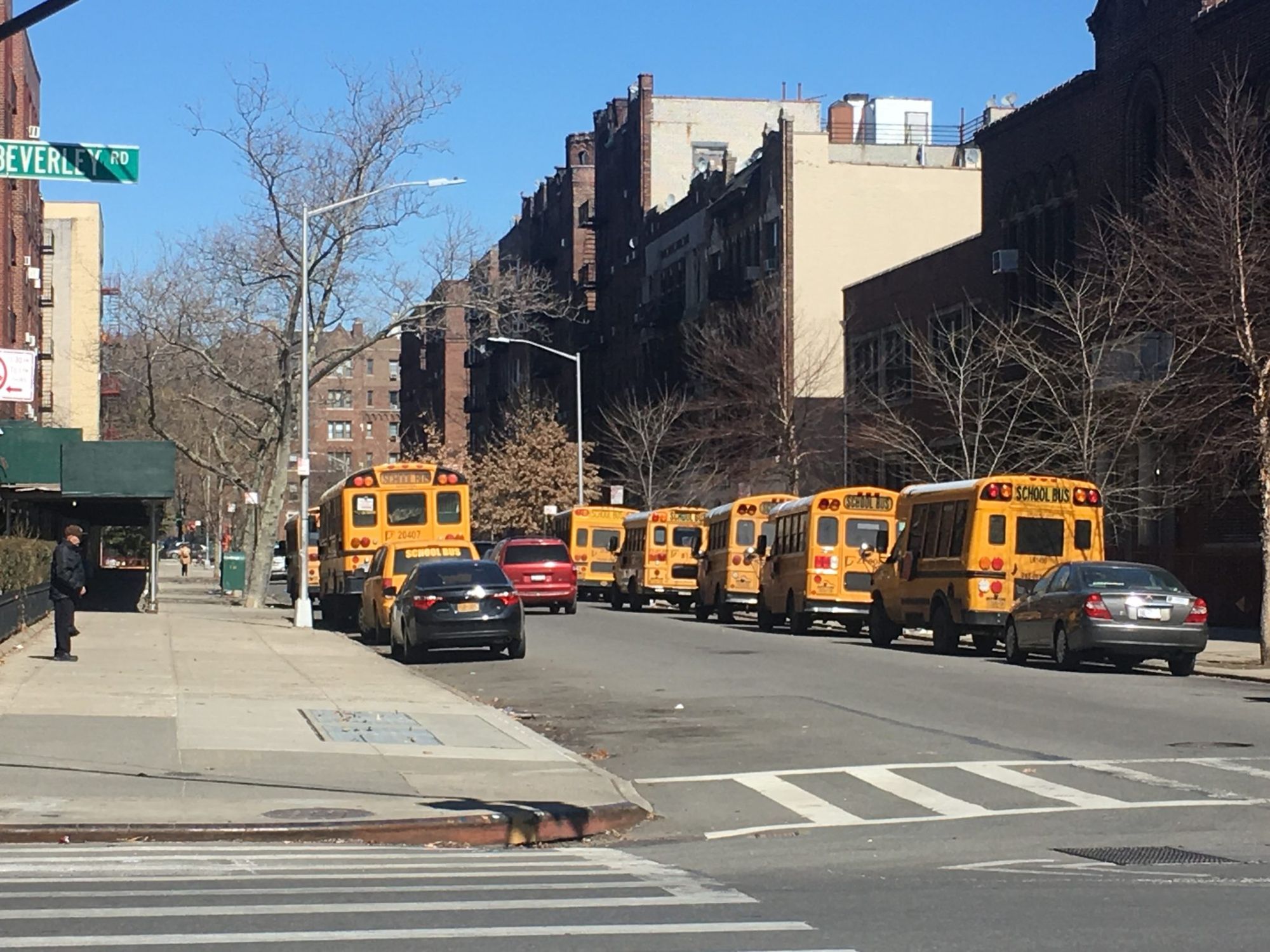 Should buses be allowed to park on your block?
One reader wrote to us from East 17th Street in Ditmas Park, fed up with buses from P.S. 245 taking up every available spot on the block, double parking, then leaving buses overnight. "They try to be clever by parking in front of the elementary school," said the neighbor, who wished to remain anonymous.
While exploring more neighborhoods, we found many more cases of "clever" buses parking near schools — which, as it turns out, could be their legally designated place.
But just because they can, does it mean they should? Many others told us they're fed up with losing valuable parking spots and inhaling smog from idling buses, or getting stuck on their block day after day.
Many neighbors have taken their gripes to local pols, traffic cops, and community organizations. "I do get complaints and I understand — it takes away spots from people in the community," said Hikind.
"It's a real issue in Borough Park and Midwood because we have so many schools," he said, noting that not all the privately-run Yeshivas maintain their own lots. Finding more large lots — outside residential blocks —  is an "issue we're trying to deal with."
Normally, this responsibility falls on the shoulders of the bus companies who contract with the Department of Education in a public-private partnership, said a DOE rep.
But in some cases, it becomes the driver's problem. North Star Tours bus company has one lot in Canarsie, but sometimes drivers take their buses home. "I don't know how they deal with it," said a rep. who answered the phone.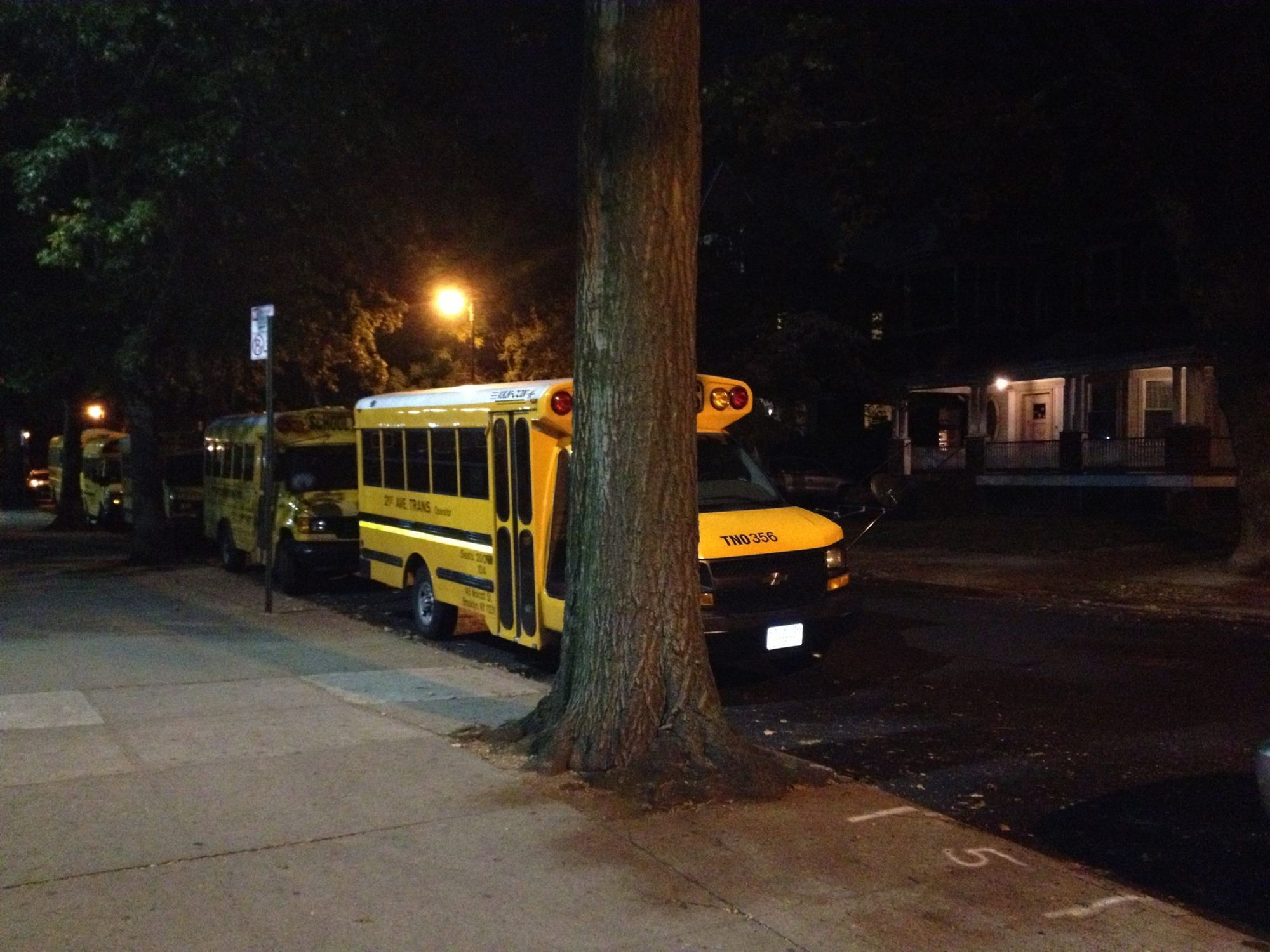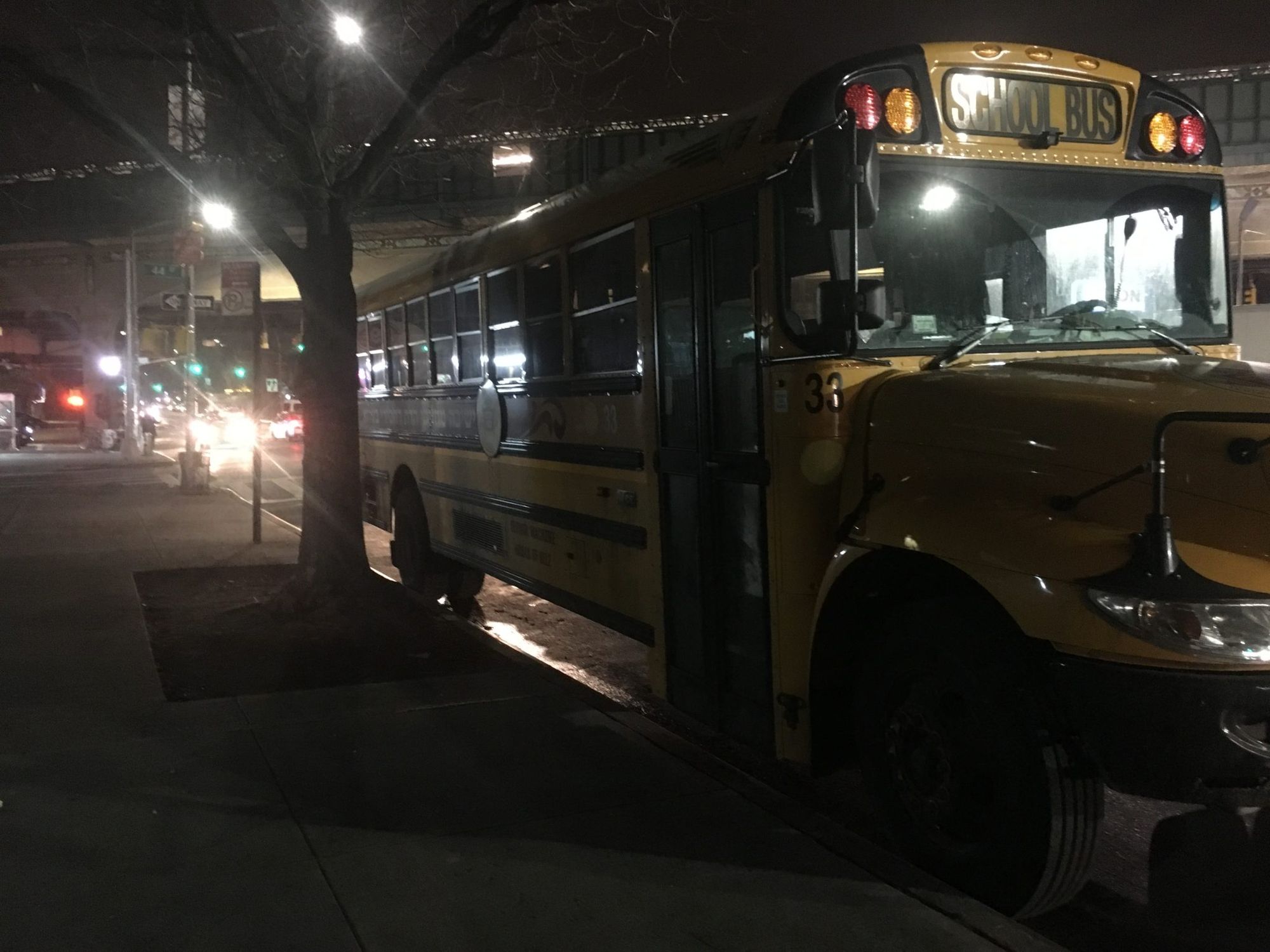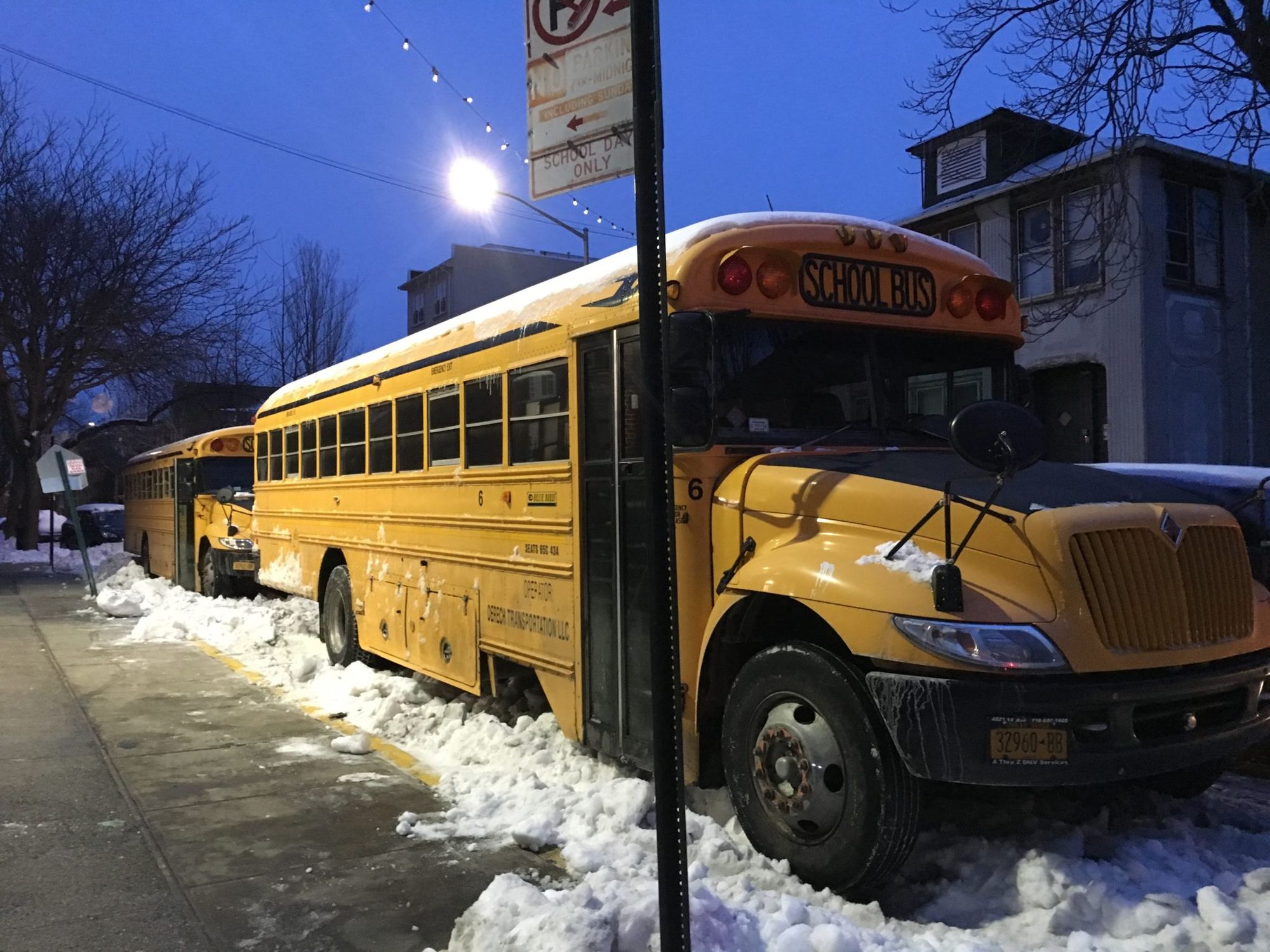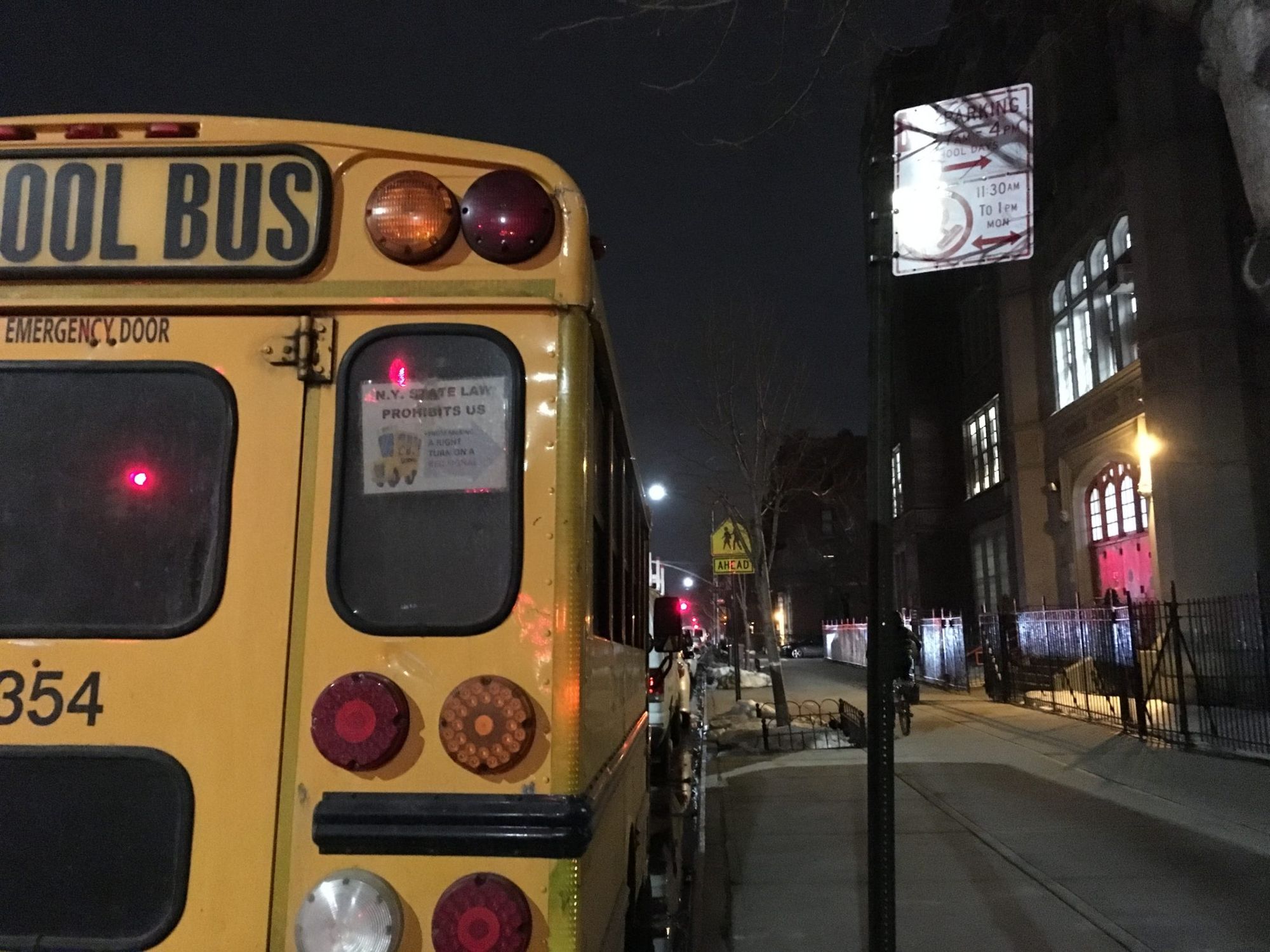 A battle of interests
In 2015, NY State Senator Tony Avella (D-11th District, Queens) introduced a bill to change the law, and block school buses from legally parking on residential blocks in New York City.
Avella told BKLYNER that the bill began with a constituent complaint — on one Queens block, 10 buses consumed the entire street because the bus company didn't have its own lot. "Police couldn't issue tickets because there is no law prohibiting it," said Avella.
But the bill was referred to the Senate Cities Committee, where it faced the wrath of committee chair Senator Simcha Felder.
This year, Avella plans to re-introduce the bill in the committee, but Felder is ready for it. "I would be honored to strike it down again," he said.
"I think the bill was nuts," Felder said, because buses don't have other reasonable parking options. "I understand the parking concerns, but we live in NYC and everyone is juggling for space. It's a fairytale to say that schools shouldn't be able to park their buses in front of schools."
Felder was adamant that the parking squeeze is indicative of a larger problem that permeates the entire city: exponential development without foresight.
"It's very easy to say 'get all the school buses off residential streets' but where should they go?" he said, adding that the city needs to mandate "reasonable" parking areas that aren't 45-minutes away from the school — a place that doesn't seem to exist for many Brooklyn neighborhoods.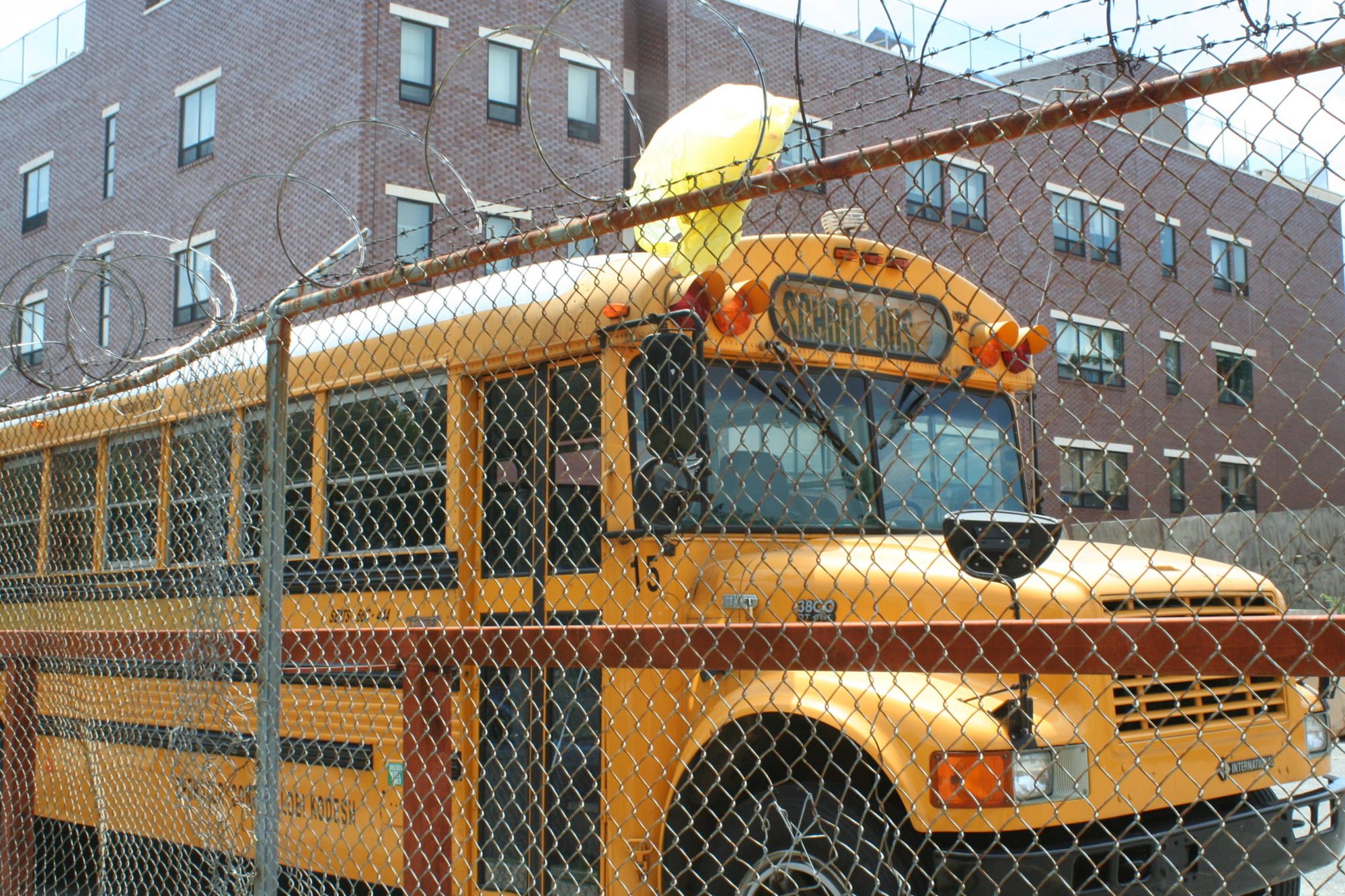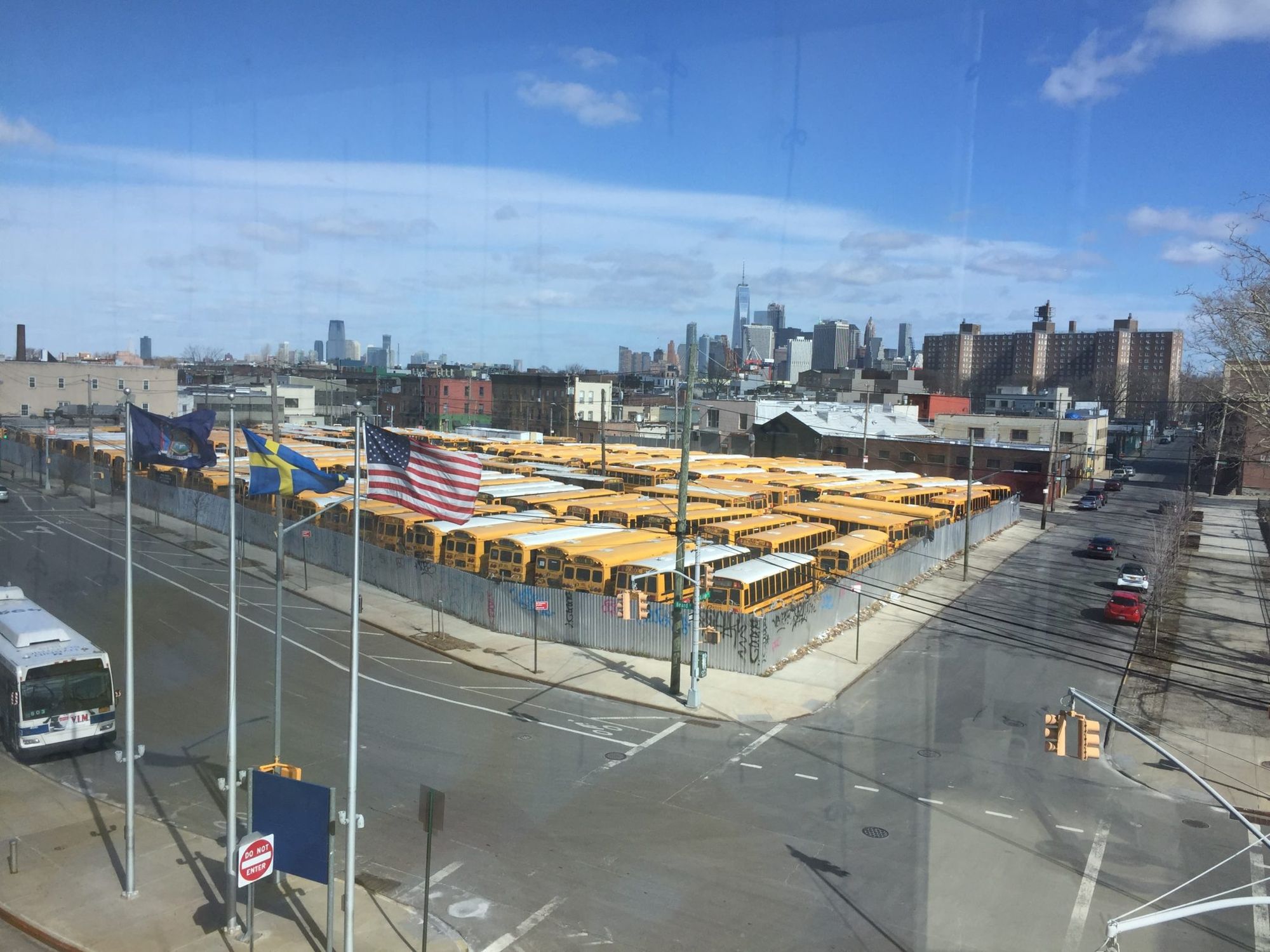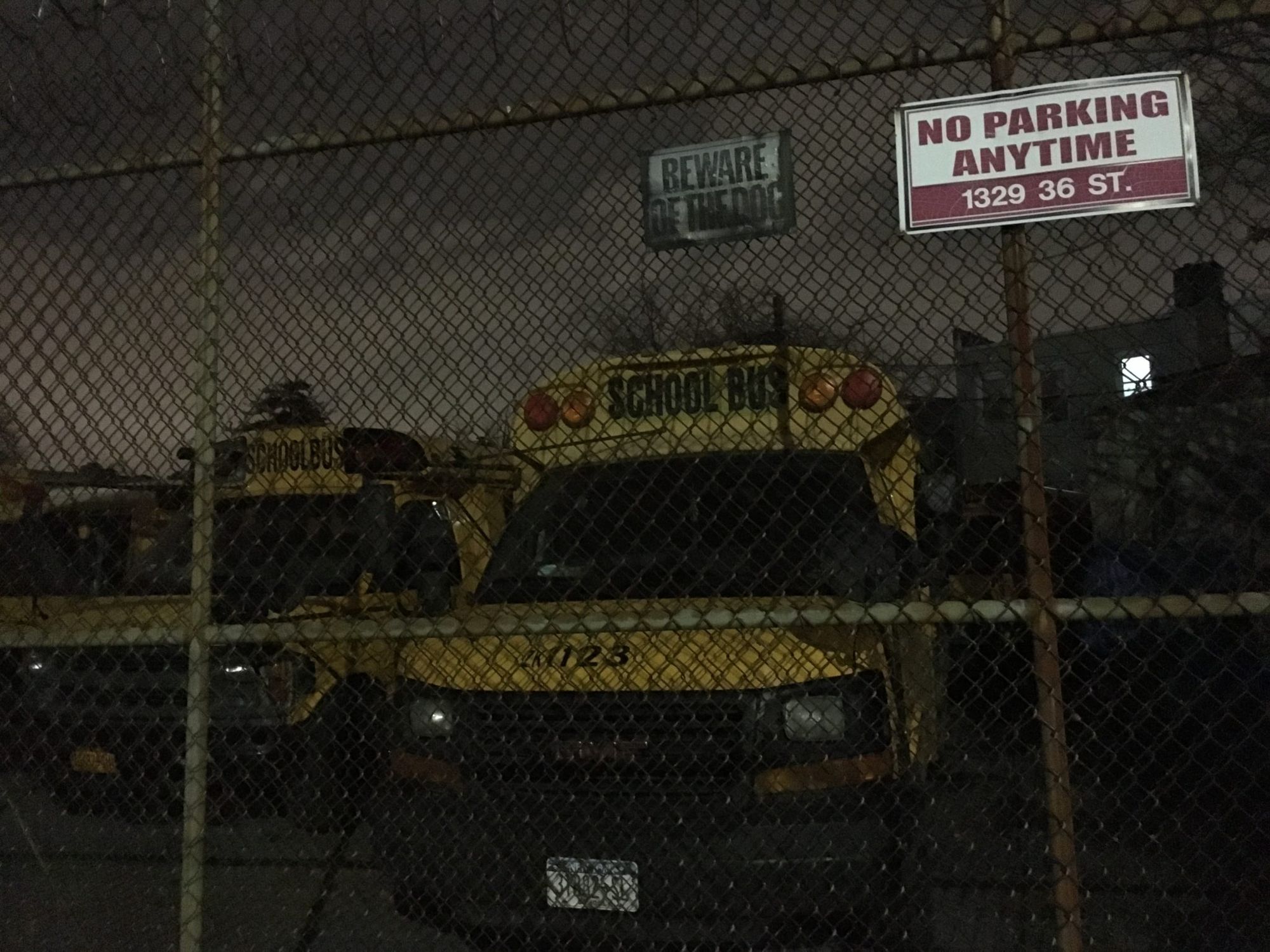 Where do all the buses go?
Parking lots are sprinkled throughout manufacturing districts in Brooklyn, with buses for both public and private schools crammed into a few block-length, gated encampments in mixed-industrial districts.
The buses are often privately owned and contracted by the Department of Education, or some are owned directly by private schools.
When some lots fill up, buses can be seen spilling over onto the street to park cattycorner to the fence edges — like the lot near 36th Street and 14th Avenue.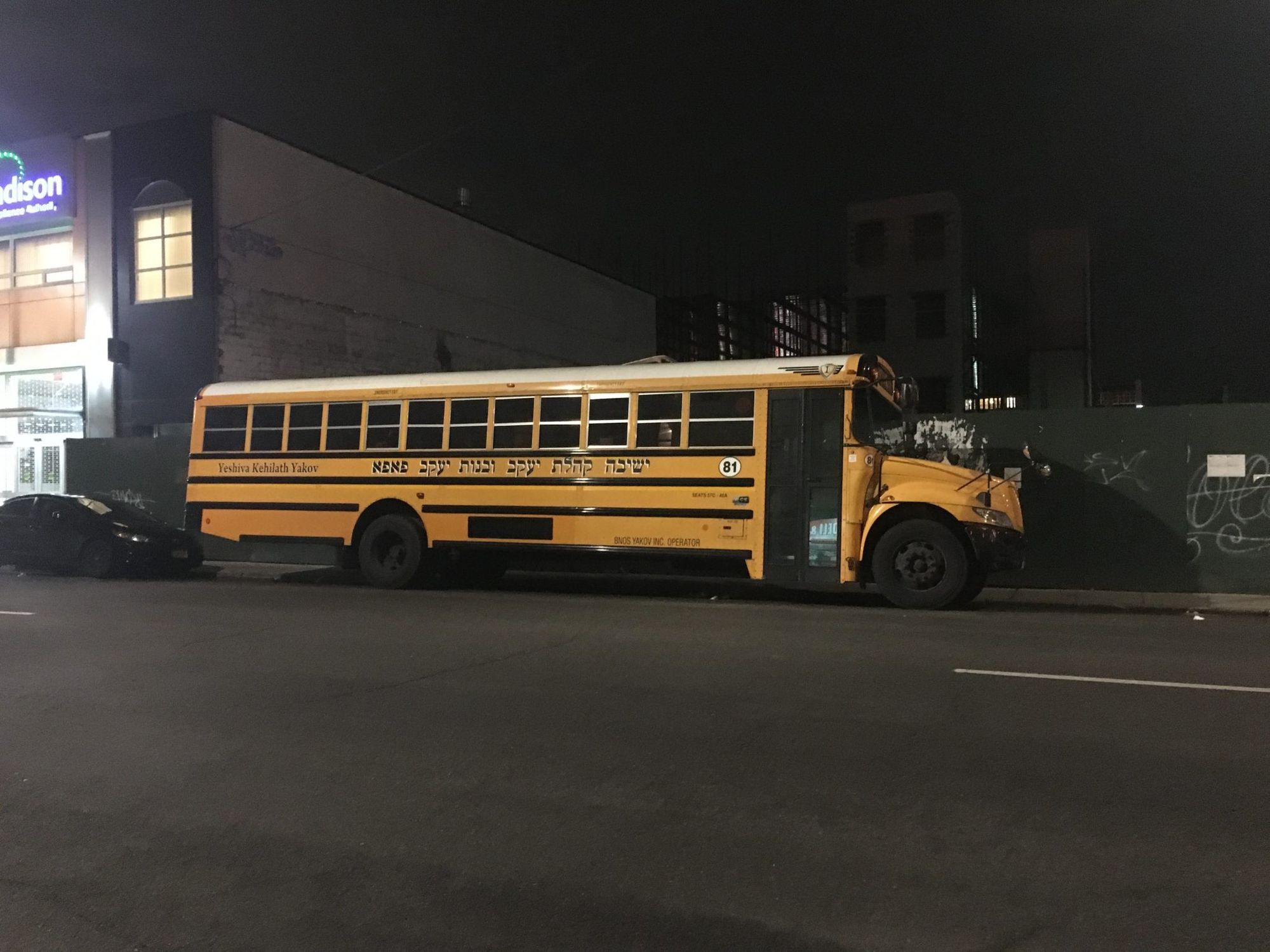 But where is a bus driver to go? As the front-line soldiers of the school transportation industry, they have their own struggles, according to the National School Transportation Association. Some are non-unionized contract workers, and many work in split shifts with the same parking woes as other drivers face mid-day.
Felder threw out an example where a district could be rezoned for street bus parking — the manufacturing strip on McDonald Avenue along the elevated subway line.
We checked out a spot along the strip in Kensington and found that buses are already jam packed into that space (there is a Jewish early childhood learning center on the block, and the district is zoned for mixed industrial and residential use — M1-5A).
Not in my backyard
But lots where hundreds of buses park — and idle — every morning before the crack of dawn also present problems for city dwellers.
In Bergen Beach, an ad-hoc bus lot proved so detrimental that residents created a coalition "to remove the big yellow buses out of our neighborhood, void all the hazards they present, and to keep our community clean and safe."
The nuisance centers around parking lots on Avenue X and East 69th Street, where an N1 manufacturing faces a residential zone — the confluence where a bus company parks 250 yellow school buses.
"They idle engines at 4:30am, releasing carcinogens in the air. They parade out of the lot and start parking on the block in front of the homes," said Kay from the Bergen Beach Community Coalition.
Neighbors posted shocking videos documenting ear-splitting noise pollution, thick clouds of smog, and row fleet of buses idling for hours and blocking 69th Street.
"Do you know what 200 idling buses sound like behind your home?" he demanded. "You can feel the reverberation. The air is so polluted that the snow turns immediately black on the driveways. There are children that live directly in front of these depots."
The civic group is working to get a variance to change the property's zoning and pursue an injunction against the bus company — but momentum has dipped since learning it would cost $30,000, said Kay.
"We can't uphold any rule regulation against these people, our rights aren't being protected," he said. "That's the real issue."
We reached out to several bus companies in Brooklyn but didn't hear back in time for publication — but we want to hear your voices on this issue. Are you a bus manager or driver? Let us know your biggest parking hurdles on the streets or lots of Brooklyn, and if you have suggestions to fix the space issue, at editor@bklyner.com. You can also leave comments below.