Park Slope Weekend Events Spotlight: December 3-6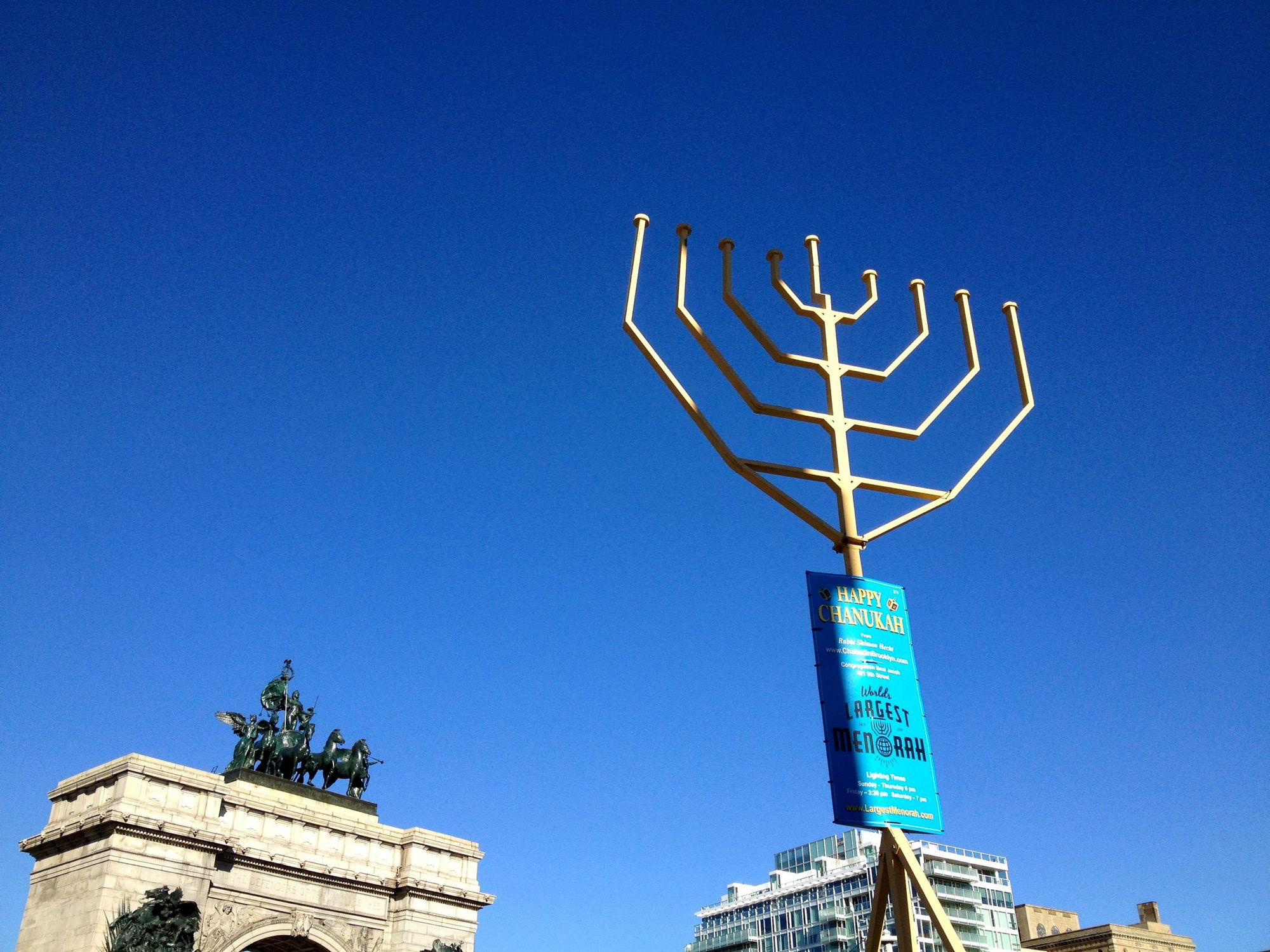 December is in full gear! We have holiday bazaars, the "world's largest menorah," and tree lighting! Don't miss some of our favorite events from around the area:
Bizarre Bazaar, An Art Party Celebrating Arts and Artists in Gowanus
When: Thursday, December 3, 7pm
Where: Littlefield, 622 Degraw Street (between 3rd and 4th Avenues)
What: A night of fun, drinks, entertainment, and a silent auction including art from Gowanus artists and items from local businesses. Come party with us to celebrate a great year! Bid on art and arty experiences from Gowanus artists, plus items from these local businesses.
How much: $10 in advance.
Free Screening of Damnationland 2015: The Way Life Should Bleed
When: Tuesday, December 3, 8:00pm
Where: Halyard's, 406 3rd Avenue at 6th Street
What: A free big screen showing of selected horror shorts from America's spookiest state: Maine. Damnationland: The Way Life Should Bleed is a dark themed film showcase series now in it 6th year. It features short films made by the Maine filmmaking community specifically for the Halloween season. The screening will be in stereo sound on our back room 6'x10′ screen, with director Q & A to follow.
How much: Free.
Atlantic Antic Tree Lighting
When: Friday, December 4, 6-8pm
Where: St. Cyril of Turov Belarusian Church, 401 Atlantic Avenue (at Bond Street)
What: Celebrate the holidays on Atlantic Avenue. To see further details, see this full list of events.
Brooklyn Holiday Book Fair
When: Saturday, December 5, 11am-5pm
Where: Old Stone House, 336 3rd Street (between 4th and 5th Avenues)
What: Honey & Wax Booksellers Presents the 4th Annual Brooklyn Holiday Book Fair. Explore rare, vintage and out-of-print books from independent booksellers from all over Brooklyn. Get to know your local booksellers, jump-start your holiday shopping, and be surprised by books you didn't even know you wanted! At 12pm, graphic novelist and expert Brooklyn chronicler Adrian Tomine will be on hand to sign copies of his new book, Killing and Dying, "a deft, deadpan masterpiece." 2015 participants include: Antifurniture, Archestratus, Arthur Fournier Fine & Rare, Brooklyn Books, Enchanted Books, Freebird Books & Goods, Honey & Wax Booksellers, Joe Maynard, Terrace Books, and Tom Davidson. Faenwyl Bindery will be back as well, offering handmade journals and custom boxes for your favorite books.
How Much: Free
House of Wax: Anatomical, Pathological, and Ethnographic Waxworks from Castan's Panopticum, Berlin, 1869-1922
When: Saturday, December 5 and Sunday, December 6, 12-6pm
Where: Morbid Anatomy Museum, 424 3rd Avenue at 7th Street
What: House of Wax will exhibit a selection of waxworks once shown as part of Castan's Berlin-based Panopticum (1869-1922). The full collection, never before exhibited in the US, will later be installed at the forthcoming Alamo Drafthouse in Downtown Brooklyn.
How much: Regular admission fees: Admission to the exhibition & library is $5. Seniors and students are $3, and children 12 and under are free.
Popup Holiday Market at Halyards Bar in Gowanus
When: Saturday, December 5 and Sunday, December 6, 12pm-6pm
Where: Halyard's, 406 3rd Avenue at 6th Street
What: The market will feature 14 Brooklyn-based artists, artisans, and makers with items on sale for all budgets at prices ranging from $4 to $200. Visitors will find gifts or stocking stuffers, such scarves, bags, totes, jewelry, pins, patches, original art, prints, posters, journals, magnets, skin care products, and soaps, for the most discerning tastes. The market will also offer holiday season staples such as wreaths and hand-printed greeting cards. Those who do not buy into the holiday gift-giving frenzy are likely to take home a lovely find for themselves. The market's host, Halyards Bar is a local favorite Gowanus watering hole, and will have food and drink specials available all afternoon. Music to dull the holiday stress will be provided by special guest DJ Colleen Crumbcake who spins everything from mainstream dance and hip hop to rarities and obscure nuggets.
Smorgasburg and The Brooklyn Flea at Industry City
When: Saturday, December 5 and Sunday, December 6, 10am-6pm
Where: Industry City, 241 37th Street (between 2nd and 3rd Avenues)
What: Smorgasburg has moved down to the booming Industry City, which may be new territory for you. While the move was announced some time ago, Industry City is housing both Smorgasburg and The Brooklyn Flea every Saturday and Sunday until March 27, 2016. Keep in mind that Industry City is big — the entrance address is 241 37th Street. This is just two blocks from the 36th Street D/N/R subway station—only two stops from Manhattan on the D train!—and a short walk from the B35, B38 and B70 bus stops. The 39th Street exit off the Gowanus Expressway/BQE also takes you pretty much to our doorstep (and to the second-busiest Costco in America next door).
Sunday Colloquy: The Sky Is Falling! A History of the End of the World with Jone Johnson Lewis, Interim Clergy Leader
When: Sunday, December 6, 11am-12:30pm
Where: Brooklyn Society for Ethical Culture, 53 Prospect Park West at 2nd Street
What: Christian millennialist and apocalyptic thinking — assuming that the end of the world is coming soon — influenced the American approach to the Iraq war, influences inaction on climate change — and has had significant other impacts of the ages. Some American Christians at the time thought the American Revolutionary War was a sign of end times.  Today, the group called ISIS/ISIL/Daesh can be seen in part as an apocalyptic cult. Rightwing American politics includes influences from End Times ideas.  If you believe that conflict is part of a divine plan and ushers in the end of the world, how might that affect your commitments and actions?
How much: Free.
Jazz Advent Service with Composer/Pianist Deanna Witkowski
When: Sunday, December 6, 11:00am
Where: Park Slope United Methodist Church, 410 6th Avenue at 8th Street
What: UMC welcomes acclaimed jazz pianist/composer Deanna Witkowski in worship this Sunday, December 6. Winner of the Great American Jazz Piano Competition and a former guest on Marian McPartland's Piano Jazz, Deanna has been heralded for her "consistently thrilling" playing and her "boundless imagination" (All Music Guide). Deanna's recordings and sheet music will be available for purchase downstairs during coffee hour following the service. Her 2014 recording, Raindrop: Improvisations with Chopin, seamlessly combines jazz, Chopin, and the music of Brazil in a solo piano session that has been called "breathtaking" (Birmingham Times) and "stunningly beautiful" (Soulandjazz.com). Her 2009 release, From This Place, features her liturgical jazz and led to a second appearance on NPR's Weekend Edition Sunday.
How much: Free.
Lighting Of The World's Largest Menorah
When: Daily at 6pm from Sunday, December 6-Sunday, December 13
Where: Grand Army Plaza, Prospect Heights
What: Chabad of Park Slope sets up their annual menorah, which they claim is the "world's largest." Look out for a free concert starting at 5pm on the first night, plus free latkes and children's entertainment.
How Much: Free admission.