Park Slope Neighbor Designs New Symbol Of 'Dine In Brooklyn'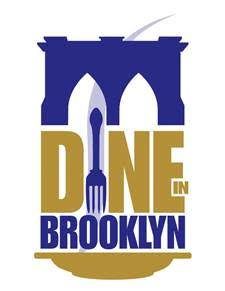 The symbol of Brooklyn's restaurant week will come from our neck of the neighborhood woods.
Park Slope resident Jeffery Rosenkrantz and Pratt Institute alum won a contest to design a new logo for Dine In Brooklyn, a celebration of the borough's renowned food culture that will take place from August 11 to August 22, announced Brooklyn Borough President Eric Adams.
"I wanted a logo to feature an image that unites our community, the Brooklyn Bridge, and that reflects the many cultures that are here," said Rosenkrantz, who took home $1,000 for the designing the winning emblem.
Other Pratt grads have been making headlines lately with their design expertise. Sartorial trendsetter Rihanna recently won acclaim when she donned an 2016 grad's sparkling, subversive garb for a music video.
With Dine In Brooklyn approaching, it's important to remember that Park Slope is home to all manner of culinary prowess. al di la Trattoria (248 5th Avenue) receives a Michelin-recommendation every year. Additionally Wasan (440 Bergen Street) has a sister restaurant that is Michelin-starred, and we think it's good enough to get its own distinction.
Participating restaurants will be offering pre-fixe menus for breakfast, lunch, and dinner, and they'll be identifiable by a special decal in their windows.
Dine In Brooklyn is being held in partnership with the Brooklyn Chamber of Commerce, and it's co-sponsored by Brokelyn, the Brooklyn Reporter, and Yelp, with an additional exclusive partnership from Visa.