Park Slope Library Definitively Set to Reopen September 13th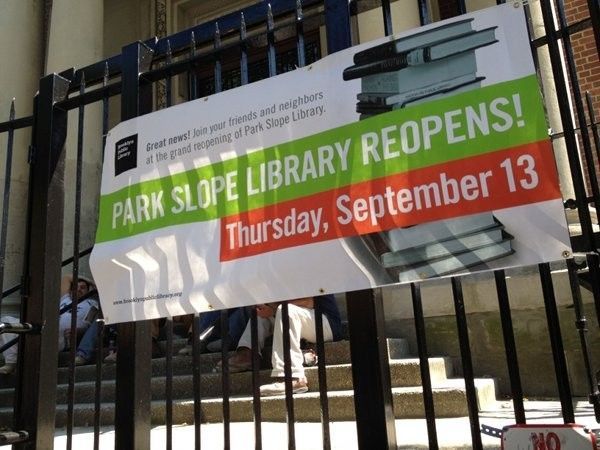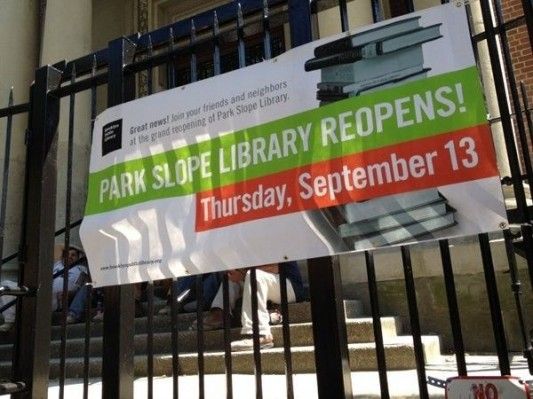 photo via Patch
The Park Slope Public Library (6th Ave and 9th Street) is reopening September 13th. For real. As in, not tentatively, vaguely, or ambiguously. September 13th. Thursday. Let's all take a moment to breath that in, because it seemed like this day would never come. But it has come (almost), and after a year, 18 months, two years, three years, we're gettin' our books back.
According to the BPL website, it's going to be a vast improvement from the 2009 version. What's new?
Installation of a new exterior, ADA-compliant ramp and entry door
Replacement of the existing entrance door
Installation of a new interior, ADA-compliant elevator
Provision of new ADA-compliant bathrooms
New floor finishes
New interior finishes
HVAC upgrades
New lighting
New public service model including self checks
New furniture
Plus, extended hours and expanded programing. Maybe. Hopefully. Probably? In March, FiPS reported that there were plans in the works for longer hours — they were aiming for 46 hours/week over 6 days; the city library average is 43 hours/week — and more public programs. And given that the new-and-improved list is all about the physical features, it seems like there's still hope that the (unlisted) soft improvements are still gonna happen as planned.
You excited about the revamped space? Hopes? Dreams? Fantasy programing? Let us know in the comments! (Or, you know, talk to the newly-forming library friends group. But first, tell us!)