Park Slope Has Some Of The Best Grilled Cheese Sandwiches In NYC
If you're looking for some extra-special ooey-gooey comfort food, you've come to the right place, because according to Thrillist, Park Slope has three of the top 10 gilled cheese sandwiches in the city at the moment.
There is nothing straightforward about these grilled cheese heavyweights, which pack a flavor (and gut) punch. Here's who, and what, Thrillist picked from our area:
Melter Skelter at MeltKraft (442 9th Street near 7th Avenue): It's got Raclette-style cheese, pickled green tomatoes, jalapeño, watercress, and BBQ potato chips (inside the sandwich, yes!) which leads to "an all-time-great grilled cheese experience," they write.
Taleggio, Salvatore Ricotta, and Kale Pesto at BKLYN Larder (228 Flatbush Avenue near Bergen): You'll forget the cliche that is kale when you try this sandwich with its house-made kale pesto, a nice match to two cheeses — tallegio and Salvatore Ricotta, which they note is not only "one of the the world's best cheeses, but it's also made right here in Brooklyn."
Sourdough Grilled Cheese at Pickle Shack (256 4th Avenue, between President and Carroll): The vegetarian- and vegan-friendly restaurant is, naturally, serving up a veggie-loaded sandwich, packed with roasted cauliflower and broccoli, pickled sweet peppers, and your choice of actual cheese (Pawlet from Consider Bardwell) or a non-dairy herbed cashew cream. Don't forget a side of fried pickles!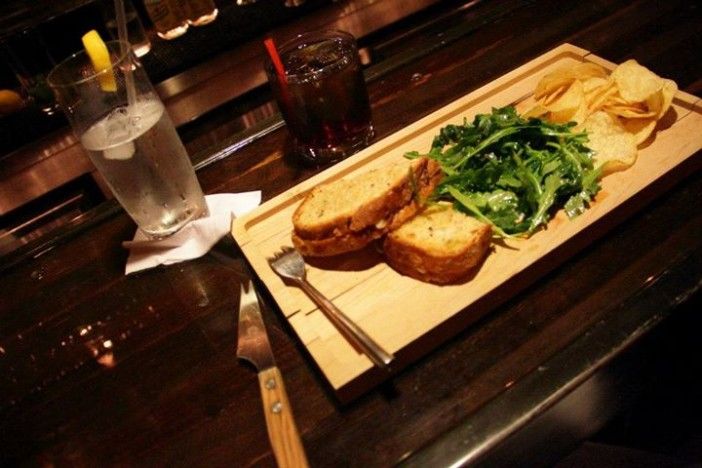 And because we are a cheesy bunch, we can't help but add another few options from the neighborhood that we love:
Truffle Grilled Cheese at Wolf & Deer (74 5th Avenue at St Marks): This one is classed up a bit with a dash of truffle oil — and it hits the spot when you're looking for a snack after having a few drinks, and a lot of the other grilled cheese joints are closed.
Gilled Cheese & Tomato Soup at Flatbush Farm Bar (76 St Marks Avenue near Flatbush Avenue): We can't resist the super-comforting combo of a classic grilled cheese alongside some tomato soup — but this is well beyond the Campbell's of your childhood, with fennel adding an extra bit layer of depth.
Kielbasa & Jalapeño Grilled Cheese at South (629 5th Avenue between 17th and 18th Streets): Worth the trek a bit south (heh), because seriously, where else are you going to find that combo –which is really delicious — in the area? For those looking for even more of an adventure, go with the PBJ&J, which is peanut butter and jelly…and jalapeños!
Diner Grilled Cheese: Finally, we get a bit nostalgic for a straight-up grilled cheese every once in a while, and our local diners never fail us. Belly up to the formica counter for one at: 7th Avenue Donuts (324 7th Avenue), Daisy's Diner (452 5th Avenue), Dizzy's (230 5th Avenue & 511 9th Street), Fifth Avenue Diner (432 5th Avenue), Little Purity (390 7th Avenue), Park Cafe (82 7th Avenue), Purity Diner (289 7th Avenue), Windsor Cafe (220 Prospect Park West).
Anyplace we leave out? Let us know your favorite Park Slope grilled cheese spot in the comments below!