Park Slope Brunch Beat: Alchemy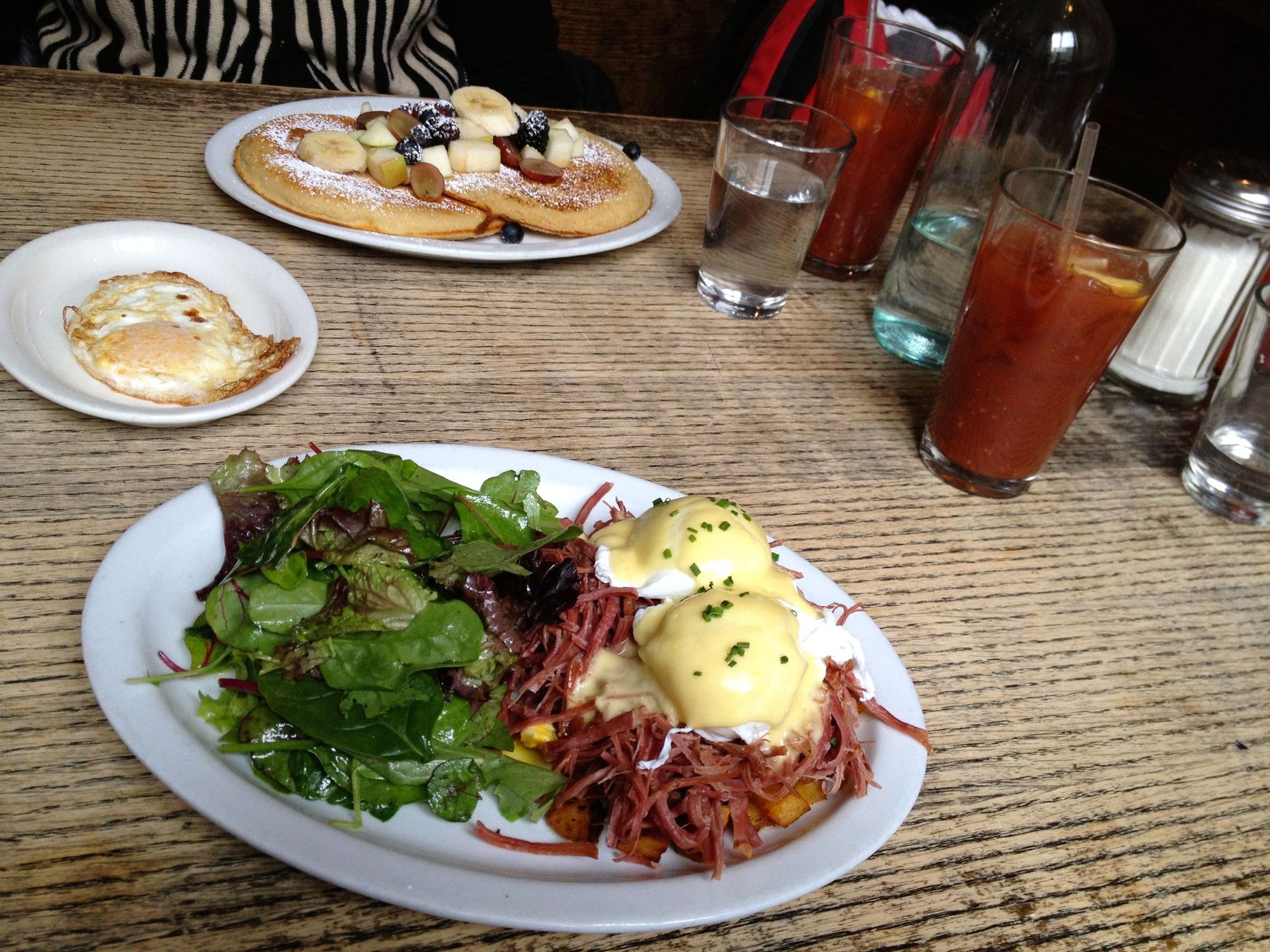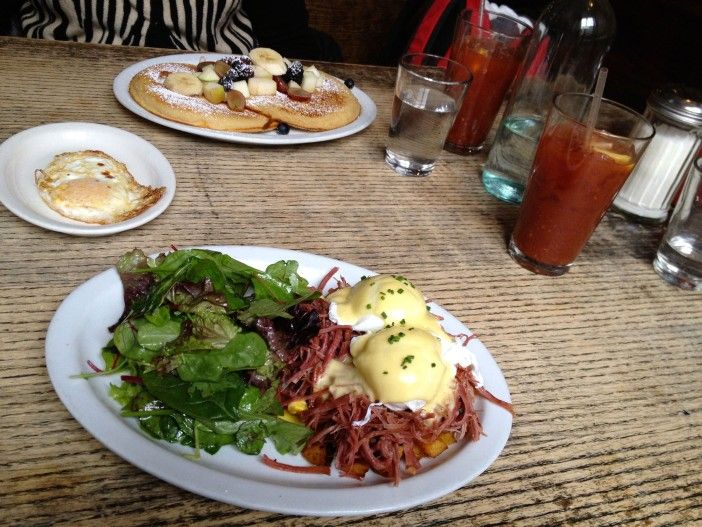 With so many places in the neighborhood to grab a mimosa and a plate of eggs on the weekend, how can you decide which is the best spot to take your visiting in-laws or where you'll want to sit quietly for a couple hours with the hair of the dog? The Park Slope Brunch Beat aims to guide you through the choices — we'll break down the basics, share some special tips, and provide a quick scorecard to help you pick the best place for what you need next Saturday and Sunday.
This week we visited the popular brunch spot Alchemy (56 5th Avenue), which has only gotten more crowded with the opening of the Barclays Center a couple blocks away. Despite the occasional wait for a table if there's an event — watch out around daytime weekend events, like NCAA basketball tournaments — the location is great if you're trying to convince friends from other neighborhoods to come out to join you, since the nearby subway hub at Atlantic can convince people on a lot of lines to make the trip.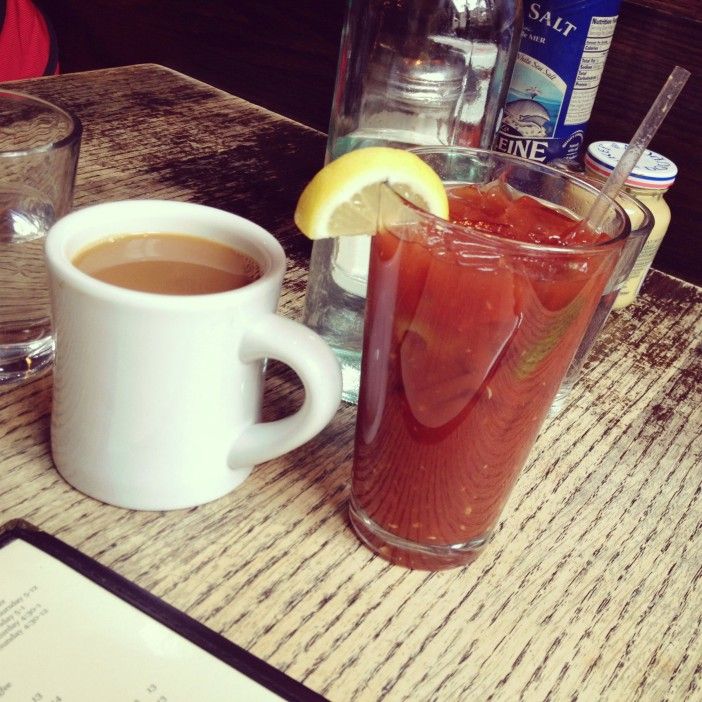 With a long bar — where you can mostly comfortably sit and watch a soccer match or other game on one of their screens (you may be jostled by folks waiting for a table to open) — booths, tables, and a nice back patio that's open when the weather's warm, you might not have to wait too long for a spot, as service is quick and food comes out fast. Even so, you won't feel pressured to leave once you do sit and eat, and with the constant refills of really delicious Counter Culture coffee and a perfectly spicy bloody Mary (we love the cornichon bobbing in the glass alongside an olive), you won't be in any rush to go.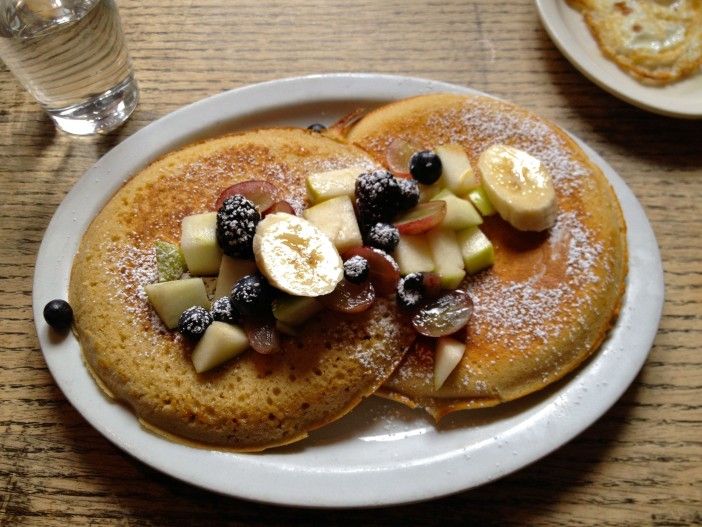 Two of the most talked-about items on the menu are the pub-inspired sweet Guinness pancakes ($12) and corned beef hash and eggs ($12). Don't be put off by the "sweet" in the title — the pancakes, topped with fresh fruit, are not cloying in any way, but are a nice grown-up version of the flapjacks you might get at a diner. A bit crisp on the outside and fluffy on the inside, they're pretty delicious enough even without syrup, but a bit of the sticky stuff does come on the side.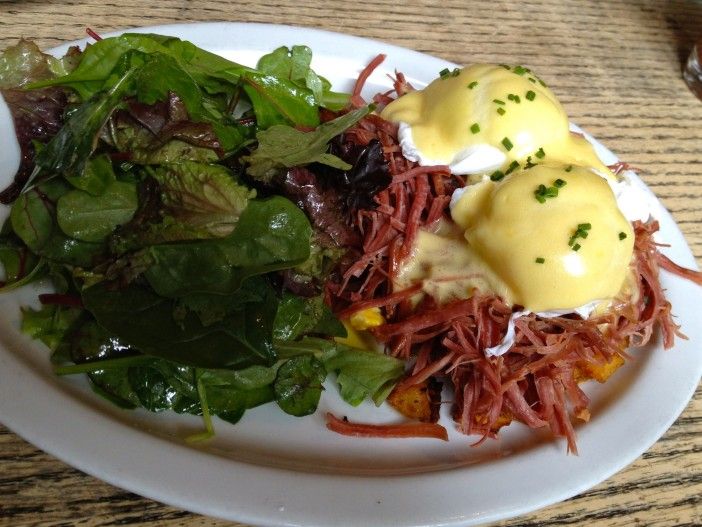 The hash and eggs, doused in hollandaise sauce, piled on top of fried potatoes, and with a salad on the side, certainly looks amazing, and, for the most part, it is. The salad is well dressed and seasoned, the eggs are perfectly poached, and the meat is tasty — the only downside is that we've found the hash to be on dry side, so we'd recommend asking for some extra hollandaise just in case.
If you're at brunch but not feeling the breakfast end of things, they've also got some really good burgers (including turkey and veggie varieties), and the mac and cheese (with peas and bacon!) might make you reconsider ever getting eggs in the first place.
Park Slope Brunch Beat Rundown: ALCHEMY
Where: 56 5th Avenue, between Bergen & St Marks
Brunch Hours: Saturdays & Sundays 10am-4:30pm
Reservations: No
Outdoor Seating: Yes, a nice back patio is open in the warmer weather.
Who To Bring: It's definitely got a bar atmosphere, but kids would do okay here. A casual spot convenient to Atlantic Ave subway hub, it's good for gathering friends from around the city, but maybe not the place to impress the in-laws the first time you meet them. Depending on the time you show up, could be a good spot for larger groups.
Best Time To Visit: Closer to opening or later in the afternoon; can get full around peak brunch time at noon, and beware if events are taking place at Barclays. Great spot to sit at the bar and eat while watching a soccer match on their TV screens.
Best Bites: Sweet Guinness pancakes, corned beef hash and eggs (ask for extra Hollandaise), mac and cheese, coffee, bloody Marys.