[Updated] Parents Frustrated By Bureaucracy At District 22 Rezoning Meeting Last Night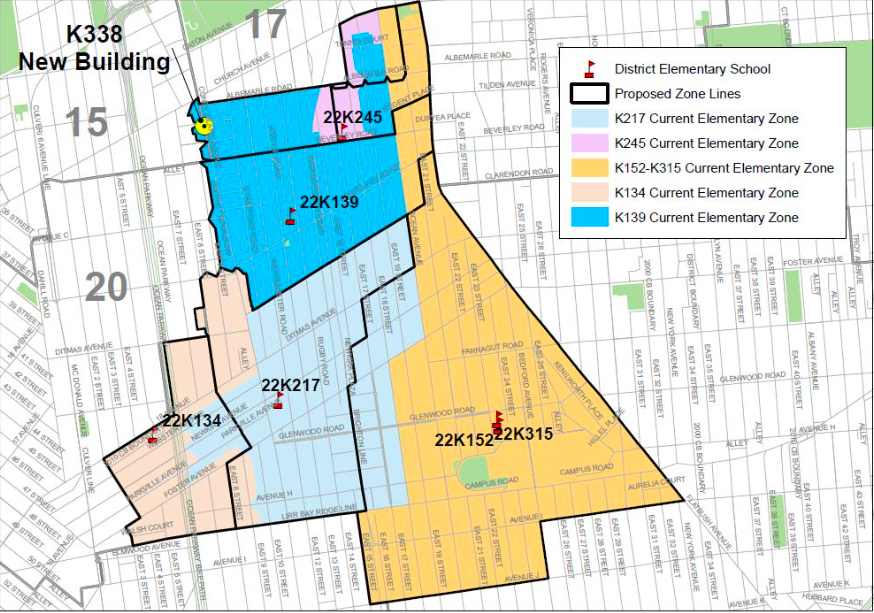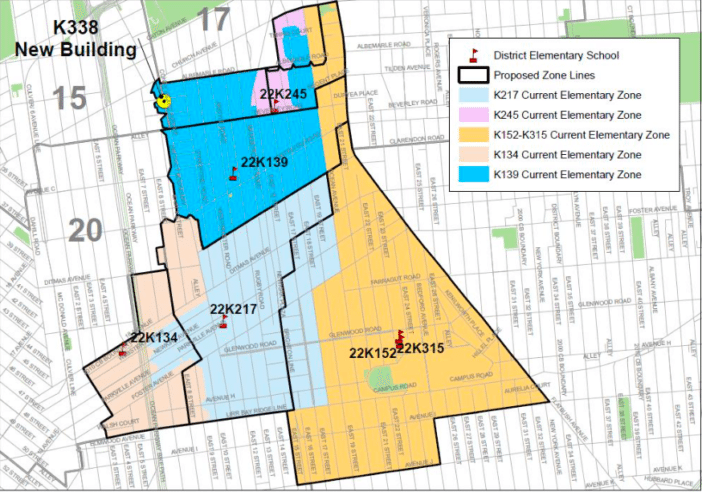 [Update 9/28 at 12:45pm: The NYC Department of Education's Office of District Planning released the full proposal online for the rezoning of District 22 elementary schools. We'll follow up with another article, but in the meantime read the proposal here.]
Last night, the Community District Education Council 22 (CDEC22) held a public meeting about the proposed rezoning of six elementary schools in District 22. The rezoning will affect all elementary schools in District 22, which have all been affected by neighborhood growth — P.S. 139, P.S. 134, P.S. 217, P.S. 245, P.S.152, P.S. 315, plus the upcoming P.S. K338 at 510 Coney Island Avenue.
DOE representatives presented a proposal for District 22 rezoning, complete with research statistics and a new district map, which they projected onto a screen on the auditorium stage. Hard copies of the proposal were distributed to school officials, but were not given to the parents or press.
(Live feed from the PS 217 meeting by Ditmas Park Corner)
The proposal outline
Tyeshia Smith, presenter from the Department Of Education Office of District Planning, grew up attending District 22 schools. She said the rezoning aims to create a new zone for K338, which is slated to open September 2017. Additional goals are alleviating overcrowding from elementary schools across the district due to population growth, and create more middle school seats in District 22, according to Smith.
"We started coming out to District 22 in December 2015, to ask the community what they wanted to see for K338 building. We pulled our own data and heard from the community."
The middle school planned for the K338 building, which has 90 seats, will be a "choice middle school". Pending approval, the new districting will take effect in the 2017-18 school year, but families who have a child already enrolled in a school can be grandfathered in for their currently enrolled students and younger siblings.
According to Smith, the DOE presented a draft of the map in June, after several preliminary drafts and meetings with district principles. This formal presentation was designed to give community members a forum for feedback before the proposal is submitted to the CEC for a vote, scheduled for early October. After the proposal is submitted to the CEC, members have a 45-day window to vote.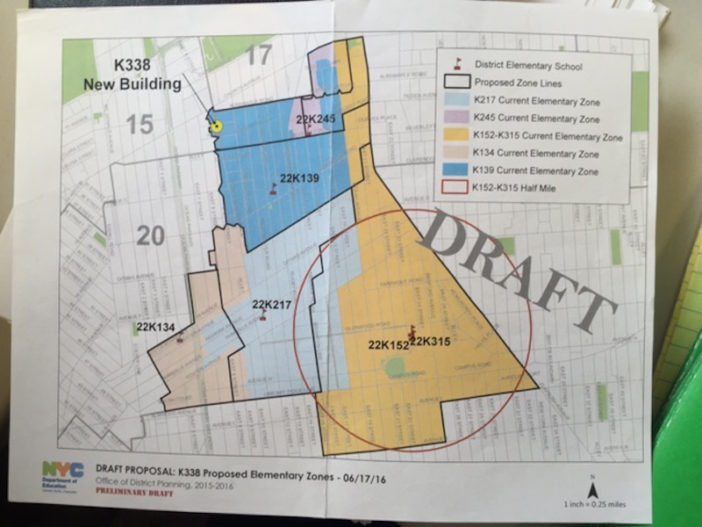 But many parents at last night's meeting were blind sighted by the announcement, and audience members grew frustrated and angry at the dearth of information and transparency shown so far in the rezoning process.
"This map was never sent home!" shouted a distressed audience member. "We didn't know!"
CDEC reps continuously interjected, assuring parents that the information-gathering and feedback process has been lengthy, and their voices matter every step of the way. "We did allow your voice to be heard and we continue to hear you," said Superintendant Julia Bove, who was present at the meeting. "This conversation began last November, and this map was agreed upon by all principles involved."
"Then why haven't we heard about this?" shouted another parent from the audience, interrupting the presenters. He attributed the sparse attendance at last night's meeting to the lack of circulated information.
Many parents and community members said they just learned about the rezoning proposal this week, some only this morning through word-of-mouth, fliers posted in the elevator at 181 Newkirk Avenue and DPC. The meeting announcement on the CDEC website was only posted on Monday morning, eight hours in advance of the evening meeting. [Update: Correction, the previous link is to the District 22 website, where the flier was also posted on September 13 as a courtesy to the CDEC. The Monday morning flier was a re-post.]
"I'm a journalist and a mother of a PS 217 student, but I couldn't find any information online," said commenter Solana during the Q & A following the DOE proposal.
Audience members expressed frustration that they couldn't see the zoning map from the stage, and were never given a copy before the meeting. DOE reps said the proposal would be available publicly Tuesday, September 27.  "The issue is process. This is a public hearing, but the public can't comment on a proposal that will be posted tomorrow," said one commenter during the Q & A.
"How can we comment on a proposal that we haven't seen?" one parent shouted out during the presentation, where the DOE representatives projected a re-zoning proposal map onto a screen that was fuzzy and hard to read. The projected map appeared to be the same as a draft distributed in June, but most parents in the audience hadn't received it.
A steady line of commenters snaked around the auditorium stage, with parents from public schools 315, 139, 152, and overwhelmingly, 217. At least five speakers were from one building at 1818 Newkirk Avenue, a building housing PS 217 parent association members — some who moved there so their kids could attend the much-beloved public school.
But representatives stressed the importance of creating a balance of resources and opportunity for each school within District 22, and the rezoning was constructed with each school in mind, not just PS 217. "As a department we have to look at the bigger picture," said Dorothy Crawford, president of the CDEC 22.
Threat to diversity
Some parents who spoke were convinced that rezoning would upset the delicate ecosystem of diversity thriving in District 22 schools, especially within a historically segregated NYC school system. The proposed rezoning would exclude buildings in the primarily African-American northern section of the district.
"The kids are so proud of this school, my son has friend of all different ethnicities," said one parent. "In a school system overwrought with segregation, PS 217 is where you got it right. It's the lifeblood of the community. Please don't destroy our community and the committed parent support."
"There is no denying that NYC schools are some of the most segregated school systems in the entire country," said Tim Castanza of the DOE. "But we need to rethink the way we talk about diversity…What does a diverse school mean? If this rezoning process results in District 22 having these conversations, we're better off for it."
One conclusion drawn by both parents and administrators is that diversity in District 22 is not merely black and white. "There are residents in this community from all over the world, and this simple breakdown doesn't represent us," said a PS 217 parent.
Communication and transparency speedbumps
Others were appalled at the lack of transparency and communication in the approval process. How could officials expect to reach a community that is 40 percent ESL families, speaking nine core languages, in the short weeks from September 26 (the meeting date) to October 6 (the scheduled proposal submission date), said Hassan, a PS 217 parent.
"It's a multi faceted situation," said Hassan. "The logistics of these proposals are hard to translate into nine different languages. We don't have enough time and manpower," she said.
CDEC members countered that information was submitted to principals, PTA and parent groups in nine core languages, since last November — following the DOE protocol, said DOE rep Tim Castanza. In fact, this is the fourth or fifth version of the rezoning map, and the 12th meeting, said DOE reps.
There was a string of back-and-forth shouting between parents and Education Council reps, revealing that somewhere along the chain, DOE information wasn't reaching community members ears. One parent said he had visited the office at PS 315 last week, where he was told that school administrators were completely ignorant of the entire rezoning plan. "We met with that principle [at PS 315] in June," countered Crawford.
Two parents in the audience, who spoke during the Q & A, stated that there was a previous rezoning meeting that was attended by about 300 people, but the focus of that meeting was a petition to make the upcoming K338 into a middle school only.
Next steps
Commenters also questioned the data presented at the meeting, which cites that enrollment at PS 217 is climbing, despite parents who claimed that enrollment has actually dropped from around 1300 to close to 1100 in the past few years. Many parents were concerned about how the additional student drain would affect the school's budget, which currently supports thriving arts programs and a vibrant, diverse student-base.
Parents demanded more time to educate the community on the rezoning and give everyone a chance to voice their concerns. Smith noted that if a decision isn't made in time for the September 2017-18 school year, K338 will open as an unzoned "choice" elementary school in the District.
Responding to the apparent communication breakdown between DOE officials and the community, Community Board 14 Chairman Alvin Berk said that the CB 14 website would also list the proposal and scheduled meetings as soon as they are published.
Reps from the DOE and CEC urged community members to speak up now, before the meeting on October 6. "Feedback may issue a change in the proposal," said Canstanza. "The protocol is to go to the principle first, then the CEC. Will, Taisha and I will look at this tomorrow, and if more time is needed we will delay the vote."
[Updated] How to speak up:
Where to find information:
Attend the next District 22 rezoning meeting on Thursday, October 6 at 6pm, located at PS 197, 1599 East 22nd Street near Kings Highway. If you need a translator, please email the district office at least 48 hours in advance.