P-LG Greenlight Bookstore Floods After Pipe Bursts
PROSPECT-LEFFERTS GARDENS – Brooklyn's beloved Greenlight Bookstore is recovering after a flood soaked nearly 1,000 titles at its 632 Flatbush Avenue outpost.
A pipe burst in the space above the bookshop at approximately 6pm on Wednesday, sending streams of water down through the ceiling, AM New York reported, causing significant damage to the fiction and the children's picture and board books sections as well as to inventory stored in the basement.
"We're still taking stock of the quantity and value of the damaged books," Jessica Stockton-Bagnulo, the co-owner and Director of Events and Marketing of Greenlight told BKLYNER Friday morning. She estimates damages will likely be over $10,000 she said as she and Rebecca Fitting, Greenlight's other owner, waited for their insurance adjuster.
"Our staff was amazing," Stockton-Bagnulo says in praise of the shop's small team. "The two employees who were there at the time [of the flooding]…sprang into action, contacted all the right folks, and moved many books out of harm's way," she explains. Fitting rushed over to join them and the trio remained at the store mopping up water and salvaging books until after 10:00pm.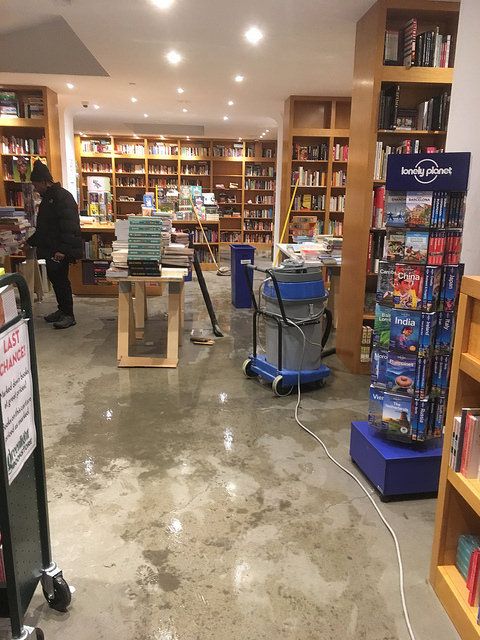 The shop was closed all day Thursday. Instead of clearing away snow from the "Bomb Cyclone," Stockton-Bagnulo and Fitting were joined by several staff members who volunteered to go in during the winter storm and help with cleaning up the store and sorting through damaged books. It was business as usual at the original Greenlight location in Fort Greene (686 Fulton Street) during the storm as the owners do their best to "open during bad weather whenever we can to give our neighbors a place to go and hang out."
Thanks to the Greenlight team's hard work, the P-LG store reopened on Friday with regular business hours from 10am to 9pm. Stop by and pick up some reading material for the chilly weekend.