Owners Of Bogota Latin Bistro On Hand For Presidential Press Conference On Overtime Pay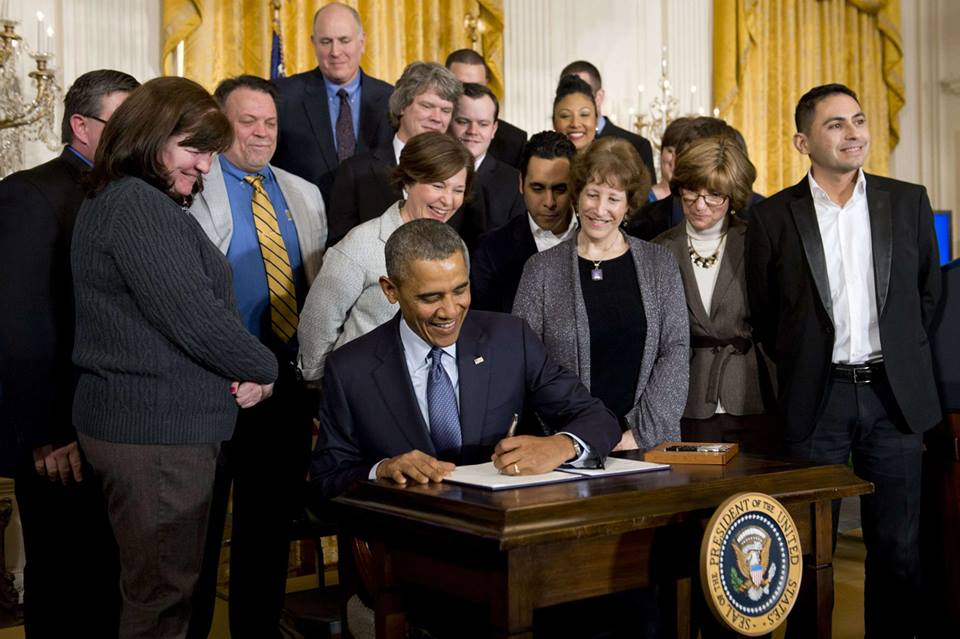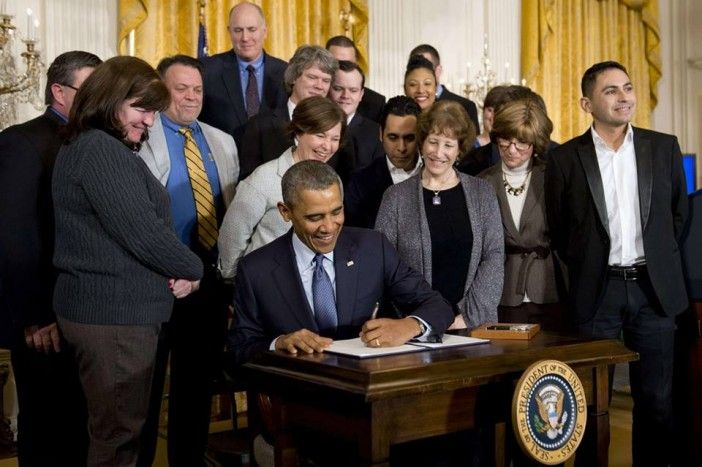 At a press conference on Thursday to discuss his plans for restructuring overtime pay rules, President Obama invited a number of workers and business owners from around the country to stand behind him as he made his speech — including Park Slope's own Farid Ali Lancheros, who can be seen in the photo above on the left, and George Constantinou Fernandez, who is just behind and to the left of the President, the owners of Bogota Latin Bistro.
"It was quite unbelievable when the call came in, but I should not have been surprised," says Farid, who tells us they got the invitation on Tuesday. "We've worked extremely hard at positioning ourselves as industry and community leaders, and we've already received recognition around our high road and ethical employment practices. Being invited to meet the President serves as a testament to all the work we've done."
"We've got a lot of honored guests here," the President said. "We've got middle-class workers who rely on overtime pay. We've got business owners who believe in treating their employees right both because it's the right thing to do but also because it's good for business. And thanks to the hard work and resilience of Americans like the ones who are here today, our economy has been growing for a number of years now."
The President's plan includes changing an exception that doesn't allow overtime for some workers earning as little as $23,660 a year, as well as pushing Congress to raise the federal minimum wage to $10.10 an hour, in an effort, he says, to "share a little bit in that success" of businesses that are doing well. A video of the press conference can be see here.
Farid tells us the opportunity to meet the President was very exciting, and that when he first saw Obama, he was speechless.
"After shaking my hand," he says, "there was a brief pause and the President had to ask me, 'What's your name?' 'I'm Farid from Brooklyn,' was the best I could do considering the circumstances. 'Hello Farid from Brooklyn,' responded the President. Fortunately for me, my partner was there too and offered that we were there representing Bogota Latin Bistro in Brooklyn, and invited him to stop in the next time he's in New York."
Once they all assembled for the press conference, Farid says he was overcome with emotion to be in a position he never would have anticipated.
"I was raised here in Park Slope by a single mother who raised us on welfare until we were old enough to be latch-key children, at which point my mom took a job that paid her, in her first year, $6,000," he says, "which, even back then, was not enough to raise three children by herself, but she managed to do it. Meeting the President is a testament to the saying, 'The harder I work, the luckier I get,' and is definitely the culmination of my career so far."
Bogota has been recognized many times for their efforts in job creation within the community as well as their commitment to ethical values in business management. Since opening in 2005, they've been able to offer their employees benefits such as 401(k), health insurance, and paid time off, and now they're working on a second restaurant where they hope to offer the same.
"This is only the beginning," Farid says. "As many people who follow us know, George and I are full of surprises, and we've got many more surprises coming soon."
Photo by the White House, via Bogota Latin Bistro