Owner Of Former Mary's Bar Holds Fundraiser To Save A Beloved 2,000 Pound Bull
An extraordinary, unexpected thing happened to Ditmas Park resident Sylvia Holden, owner of the former Mary's Bar in Park Slope, while visiting her mom in upstate New York. She fell in love with a 2,000-pound beef cow named Prince.
And at her fundraiser at Sycamore Bar this Thursday, you can help her support local farmers and save this animal's life.
"I'm the kind of person who takes squirrels to Sean Casey, but this is different because it's a 2000 pound animal we associate with food," Sylvia told DPC.
"I've always loved cows, but this particular animal really chose me," she said.  "Most cows aren't interactive, but all of a sudden this tongue came out and kissed my face!"
Farmers told Holden that Prince behaves like a pet because he had to be hand-fed, as a lactose intolerant calf. And she found herself spending more time with Prince, developing a close bond by going into his pen and scratching the great, gentle animal.
But when the farmers told her that they had to bring this beloved cow to slaughter, she saw the pain in their faces and made a resolution to save this animal's life, no matter what it took.
"If you don't succeed, it's heartbreaking. It's a level of emotion you put into something," she said. So she started the save Prince campaign; to raise $4–6,000 to buy Prince from the farmers and transport him to Fountain House, a non-profit alpaca farm with programs that teach horticulture to mentally challenged adults.
"He's the perfect animal for people to handle because he's so gentle that children can sit on him, and his size is extraordinary," she said.
When she first began the logistical journey of getting Prince to a no-kill animal shelter, people thought Holden had lost her mind. "People said, 'She closed the bar and now she's buying a cow?!'" Some people still don't get it, she said. But others are moved by her passion-project.
And for Holden, this project goes deeper than the life span of one animal. "This project has put me in touch with people doing things that are passion-based. From doing the project, I've seen something new in myself — I have a desire to be involved in a non-profit, giving back sector," she said.
Holden's campaign also reflects a larger, more complex mission to engage with sustainable farming practices and support local farmers. "It's alarming to me that an animal is only bred to be a certain weight, and is restricted from moving, and becomes meat — with no life." She says that a lot of the responsibility falls on the consumer and their expectations for lower prices, it makes farming an almost impossible business.
She hopes to buy a property someday where she can foster an animal sanctuary. But in the meantime, her goal is to continue saving animals ala cart.
The fundraiser to help save Prince the Bull will be held this Thursday, October 13 from 8pm to midnight at Sycamore Bar, 1118 Cortelyou Road.
"Sycamore is our favorite neighborhood bar, and they're always down for a good cause. It was easy to know that would be a good environment, they're community involved," she said.
For more information, check out the 'Turn a burger into a therapy pet' video!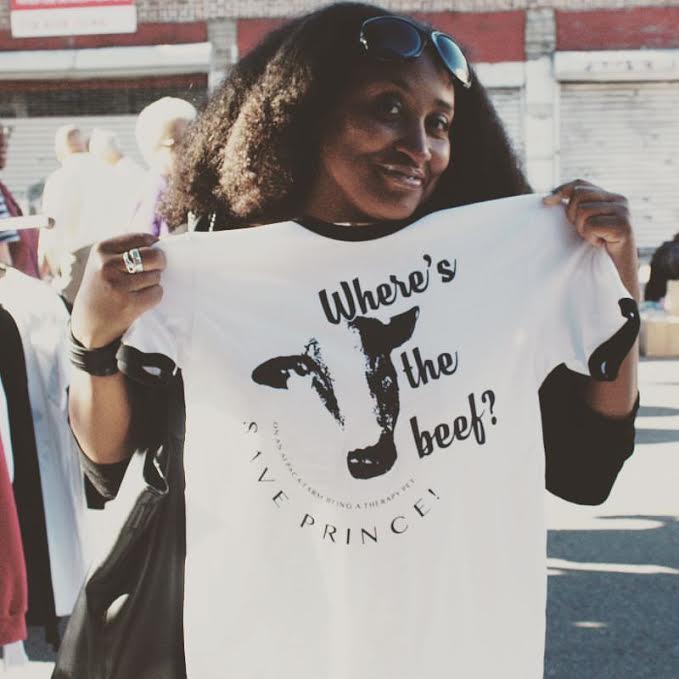 Ways to support the cause:
Come to the fundraiser at Sycamore, where you can buy $5 raffle tickets for a chance to win a $30.00 Sycamore bar tab, a $35.00 tab at J'eatjet in South Slope, a 'Save Prince the Bull' T-shirt and a Sylvia Holden tote from her handbag line. Winners will be announced on the Mary's Bar Facebook page on Friday, October 14.
Buy a 'Where's the Beef' T-shirt online here for $25, designed by artist Davin Che. All proceeds for those shirts go to the cause.
Donate to the gofundme page to help save Prince the Bull, and help reach the goal of $4–6,000 by December.