Owner Cries Foul As Learning Wheel Shuts Down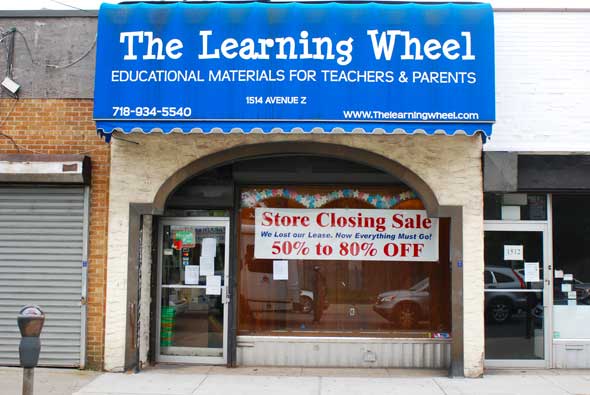 After more than 30 years serving Sheepshead Bay's parents and educators, The Learning Wheel at 1514 Avenue Z is shutting down. The business' owner, though, said it's not by choice: the landlord is pushing them out.
For the first time in recent memory, The Learning Wheel's window display is empty, save for a large "Store Closing Sale" banner, advertising 50 to 80 percent off all goods. Below it is a letter, pointing the finger squarely at the building owner, Waldorf Realty Co. Here's an excerpt:
It is certainly not our choice to leave you, our valued customers, without a store upon which so many of you depend. We can imagine how you feel about it. Can you imagine how we feel? We are bring forced out of our home away from home, and we're all losing our jobs!
If you are angry, sad, or confused, please direct your feedback to our landlord who has caused this unfortunate situation.
Trouble began a year ago, according to Clare Resnick, The Learning Wheel's owner for the past five years. She said she approached the landlord in September 2009 to renew the lease. The reaction was unexpected, she said.
"They told us they weren't thinking of renewing the lease," Resnick said.
The decision was mind-boggling; Resnick said she's been a model tenant who has never been a day late on her $5,000+ rent. The surrounding storefronts, also owned by Waldorf, have been vacated as well, clearing the way for a much larger retail operation to move in.
And the property appears to be in a prime state to do exactly that. According to marketing materials from Massey Knakel Realty Services, who is charged with finding tenants for a new lease, the property spans from 1510 to 1518 Avenue Z – a 7,500 square foot lot. At an asking price of $40 per square foot, the new tenant remains in the same price range as The Learning Wheel.
But the pamphlet also makes a big affair of its proximity to the yet-to-be-built retail development, Station Plaza. According to Massey Knakel's Brian Hanson, the coming of the Acadia-owned development, which may span two buildings with one as tall as 22 stories, is a selling point for high-profile retailers looking for more traffic, exposure and business.
"I use any positive development in any area and I would include that in any marketing material," Hanson said. "It gives another reason why someone might want to be there … there's potentially a big mall coming in and that's going to drive traffic."
Hanson said, though, that it's not indicative of the size of the tenant they're seeking, and he's reaching out to both national businesses and mom-and-pops.
A representative from Waldorf Realty also said they're not looking for a tenant of any particular size, just a new use for the building.
"We're really sad to see that [The Learning Wheel is] closing," the rep said. "It was our decision not to renew the lease for them. I think that, for us, we look at that as an opportunity; with the stores on both sides empty, it's an opportunity to determine what to do with that building next." The rep added that all of the neighbor's leases came up at the same time, except for the Sheepshead Bay Gourmet Market which had already decided to close doors.
Regardless of what they plan to do with the space, Resnick is unhappy with how she's been treated. After being told her lease wouldn't be renewed, she asked the owner to buy out the remaining time. They refused, but offered her space in other properties, including one on Sheepshead Bay Road. But at that point, Resnick was too upset.
"I'd never use them, they're horrible," she said of Waldorf. "I'm a good tenant who never paid a day late, and I pay a lot of money. So, tell me, what was the reason [to not renew my lease]?"
The Waldorf rep insists, though, that it's nothing personal.
"They've been wonderful tenants," the rep said. "I think they're just upset that their business is winding down, and rightfully so. But this is just a business decision on our part … I'd be more than happy to relocate them."
The Learning Wheel's owner is a retired teacher, and she's facing moving her business or a second retirement. Considering the difficulty in moving, and the inability to sell the business if it needs to move, she's decided to shutter doors and spend time with her four grandchildren.
"I'm no youngster," Resnick said. "I'm not going to start with the racks and the books. I do not want to start setting up a store. It's a very difficult thing to get started."
But Waldorf's behavior, she said, bodes ill for the entire neighborhood, and that's why she posted the letter urging customers to contact the property owner. She said that landlords like Waldorf, which owns a great deal of property on and around Sheepshead Bay Road, are a threat to the neighborhood's small businesses who've helped build the community. As soon as property values rise, they're the first ones to go.
Lost in the squabble between tenant and landlord are the customers, who view The Learning Wheel as a neighborhood fixture. Sheepshead Bites received no less than 20 e-mails and phone calls about the closing within days of its announcement, and local teachers waxed poetic about the friendly service they stand to lose.
"As long as it's been here, I've been shopping here," said Ruth Leyden, a retired teacher of 35 years. "It was like a home away from home."