Overnight Closures On The Brooklyn Bridge Until 2014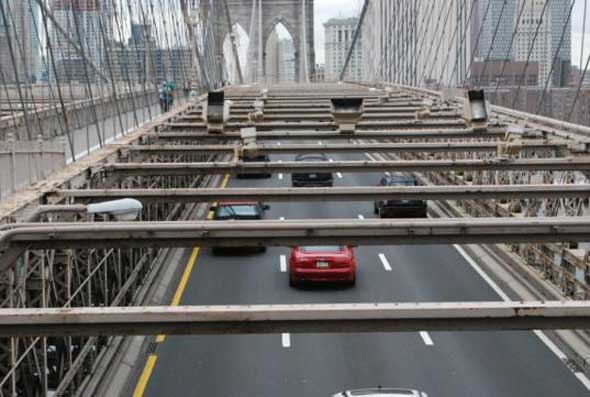 We always wrestle with the decision to bring you news from far outside of our community, but it became clear during some of the recent conversations about commuting and the DOT that a significant number of residents prefer driving into Manhattan over taking mass transit. So the following information may prove very useful to those readers:
The New York City Department of Transportation is performing rehabilitation work on the Brooklyn Bridgeramps and approaches, which are in urgent need of repair. As part of the project, the steel components of the entire span will also be repainted to prevent corrosion. This work started in the spring and will continue until 2014.
To facilitate this work, DOT announces that the Brooklyn Bridge will be closed to Manhattan-bound traffic overnight, beginning on Monday, Aug. 23rd and will continue until the project is completed in 2014. All Manhattan-bound traffic will be detoured to the Manhattan Bridge or other crossings. All Brooklyn-bound traffic will be maintained, and there will be no closure of the pedestrian/cycling promenade. All work will occur during off-peak hours, and the bridge will be reopened for traffic in both directions each morning.
Closure Times
Sundays to Fridays: closures will begin at 11 PM and the lanes will reopen at 6 AM.
Saturdays: closure will begin at 12:01 AM and the lanes will reopen at 7 AM.
Sundays: closure will begin at 12:01 AM and lanes will reopen at 9 AM.
A downloadable brochure showing detour routes and closure dates and times is available at: http://nyc.gov/html/dot/downloads/pdf/brooklyn_bridge_brochure.pdf. During closure times, a construction embargo will be in place on the Williamsburg and Manhattan Bridges, as well as on those local streets in Brooklyn and Manhattan that are utilized for detoured traffic.