Deadline For Jamaica Bay Pipeline Commenting Period Is Tomorrow, CARP Urges Opponents To Object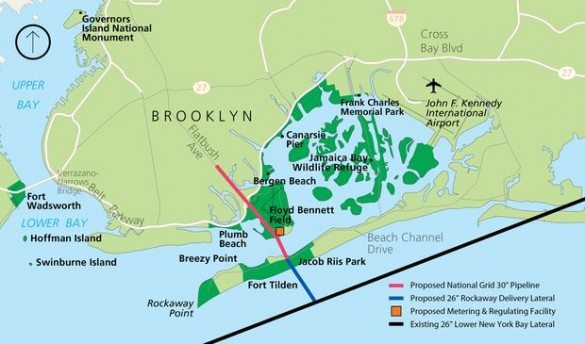 We've extensively covered the evolution of the proposed Jamaica Bay Pipeline, a project which would run a natural gas line through the Jamaica Bay wetlands, underneath Jacob Riis Park and ending at Floyd Bennett Field, where a meter and regulating station will be placed in a hangar, and connected to the National Grid infrastructure. While the legality of the pipeline is no longer in question, Williams Transco, the company looking to build the pipeline, must get the approval from the New York State Coastal Management Program (NYS CMP) before its application can be processed. The Coalition Against the Rockaway Pipeline (CARP) is imploring readers to submit comments before tomorrow to the NYS CMP  to stop the project before it gets underway.
CARP published a list of its own comments that they are submitting to the NYS CMP, expressing their belief that the pipeline represents a dangerous hazard to both residents living near the areas it cuts through and to the environment. One particularly nasty comment submitted by CARP points to the potential radioactivity of the project.
The gas carried in the pipeline will be radioactive. Shale gas from the Marcellus has extremely high levels of radon, the second highest cause of lung cancer in the US.
Scary stuff. To read the full list of complaints CARP has against the proposed pipeline , you can visit CARP's website by clicking here.
The deadline to submit comments is March 15 and if you'd like to send one, email matthew.maraglio@dos.ny.gov.