Opponents Lose Appeal Against Sheepshead Mosque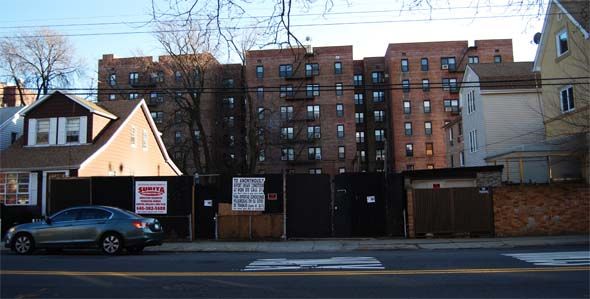 Bay People, the opponents of the proposed Sheepshead Bay mosque on Voorhies Avenue, has lost a zoning challenge that was key to their strategy in delaying or halting construction on the grounds.
The Board of Standards and Appeals, which grants construction variances and determines the merit of zoning challenges, has voted that the mosque can move forward with construction at 2812 Voorhies Avenue, despite opponents' claims that the developer is skirting parking requirements.
In several DOB complaints lodged earlier this year, Bay People contended that the mosque, which is affiliated with the non-profit Muslim American Society, must provide on-site parking because of the number of worshippers expected at the property.
But DOB, which had already approved the project, shot down the challenges, finding the mosque would comply with zoning rules. The BSA voted 5-0 to affirm DOB today and is expected to issue a written decision shortly, according to Howard Goldman, a land use attorney who represented Bay People.
Goldman said the decision would have an impact across the city, allowing any house of worship to design prayer rooms in such a way to avoid providing parking. "Any house of worship can now follow this ruling," Goldman said, adding, "It may require that there be an amendment to the zoning resolution to eliminate this loophole."
… For Bay People, the sticking point is the way the mosque's proposed worship rooms are divided into two separate spaces: a 138-person main assembly room on the first floor and a 75-person secondary room overlooking the main space, according to plans submitted to DOB. (Goldman believes the second space is intended as a prayer room for women.)
New York's zoning code requires that houses of worship — mosques, churches, synagogues, or otherwise — provide one parking space for every 15 occupants of a site's largest assembly room, or 9.2 parking spaces in the case of the Sheepshead Bay mosque. But facilities that are required to provide fewer than ten spaces are, in fact, exempt from the parking obligations altogether.
The Bay People argue that the mosque developers designed the assembly rooms, which they say are meant to be used simultaneously for prayers, to evade the parking regulation. "They manipulated the size of the men's worship room [the main room] to come just under the number that would require any parking at all," Goldman said, "and I think that was very intentional."
If the rooms were counted as a single assembly hall for zoning purposes, he said, the mosque would be required to provide 20 parking spaces, cutting into the size of the building.
The fight is not yet over. Earlier this year Bay People attempted to block the project in New York State court, while the developers fired back with a lawsuit for $56,000, plus damages. A judge dismissed the filings, but both parties have appealed. Bay People previously lost an injunction to halt construction.