Openings and Closings: New Standouts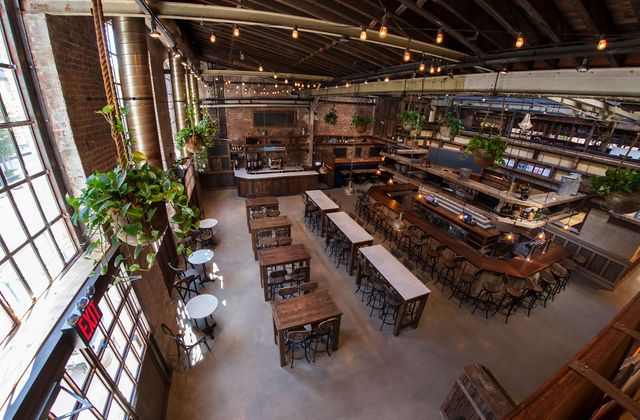 This week's openings and closings are full of new places from old standouts. A restaurant returns after a 15-year closure, Williamsburg gains a new beer garden, but loses a popular chocolate shop.
Clinton Hill
Cap't Loui
413 Myrtle Avenue between Vanderbilt and Clinton Avenues.
The latest location of East Coast chain Cap't Loui is open for business. The restaurant is known for its boilers – big pots of your choice of seafood, and other fried and raw options. They also serve a cocktail list, beer, and wine, and have $1 oysters weekdays from 4:00-7:00 pm. The spot is a classic seafood place, with chalk drawings of crabs and comfy seating inside.
Williamsburg
Ainslie
76 Ainslie Street between Union Avenue and Keap Street.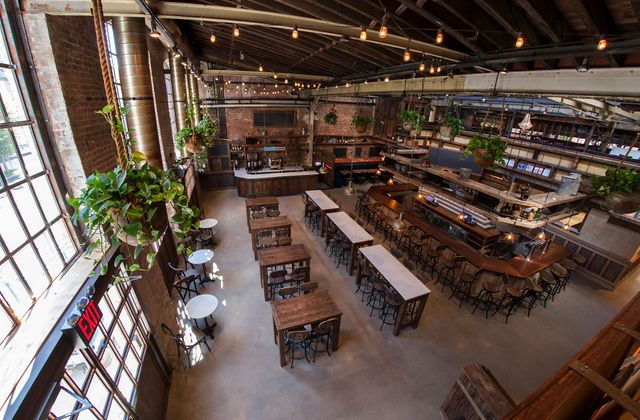 Williamsburg will soon be home to a new wine bar and beer garden. In fact it is opening tomorrow, September 12th. The owners are the team behind several Manhattan restaurants, including Osteria Cotta. Ainslie will have room for 340 people and have multiple levels, including a seated wine bar, an outdoor beer garden, and a rooftop deck and bar. The space features a wood-fired pizza oven, and will also serve classics like housemade spaghetti, crispy artichokes, and New York strip from the open kitchen.
Gowanus
Gowanus Gardens
256 4th Avenue, between President and Carroll Streets.
Gowanus' latest bar will be opening to the public next week. Park Slope regulars at High Dive and Commonwealth can expect a familiar face in long-time bartender Gary Giddens, one of the three partners at the helm of this new spot. The menu features unique bites like musubi and pernil buns, as well as bar classics like grilled cheese, wings, and fries. The space features a large and colorful backyard, and has big open windows to the front for people-watching on 4th Avenue.
Flatbush
Little Ox?
1715 Foster Avenue between E17th and E18th Streets.
A tipster spotted a package at Alan Harding's much-awaited Foster Avenue restaurant marked "Little Ox", potentially giving us a name for his latest venture. Owners and management couldn't be reached to confirm, but we're keeping our eyes and ears peeled.
Carroll Gardens
F & F Pizzeria
459 Court Street between Luquer Street and 4th Place.
The Franks behind Frankie's 457 Spuntino plan to open a pizza shop in early September, The New York Times reports. They told the Times that the Carroll Gardens spot will be more casual than their restaurant, and will focus on the pies. The spot will be between their wine bar and Brooklyn restaurant.
Downtown Brooklyn
Gage and Tollner
372 Fulton Street, between Smith Street and Red Hook Lane.
Downtown Brooklyn's Gage and Toller will reopen this fall after 15 years of being closed, Eater reports. According to their website, the new space will "be inspired by the original oyster and chophouse" concept, but still reflect modern diets. A "rough draft" posted includes mock turtle soup, lobster, and shrimp toast, helmed by chef Sohui Kim of Insa. Before closing in 2004, the restaurant had been open for 125 years.
Crown Heights
Rangoon
500 Prospect Place between Classon and Grand Avenues.
Chef Myo Moe is turning her pop-up Burmese restaurant into a Crown Heights brick and mortar this September, Eater reports. The pop-up, Rangoon Noodlelab, served takes on traditional noodles, stir-frys, and soups, and gained the praise of several critics.
Bath Beach
Gotcha Cafe
1712 86th Street, between Bay 16th Street and 17th Avenue.
This Bath Beach spot opened softly to the public at the end of July. They serve Hong Kong milk teas, bubble teas, waffle sundaes, and "slush" frozen drinks, as well as some small snacks. The interior is sleek, with wood paneling, dark colors, and several tables for guests to sit inside.
Sheepshead Bay
U Bar and Restaurant Vietnamese Cuisine
1114-1116 Avenue U, between Coney Island Avenue and East 12th Street.
Avenue U has been home to U Bar and Restaurant since late August. The spot serves a wide variety of Vietnamese dishes, including cahn chua chay, a spicy soup, ca hap,  steamed whole fish, and many phos. The menu is bilingual, and the space is large and bright, with wooden tables and a long central bar.
Bay Ridge
Iraqi House Restaurant
7215 3rd Avenue, between 72nd and 73rd Streets.
This Bay Ridge restaurant opened in August, and is bringing traditional bites to the area. Their menu includes qoozi lamb and chicken, baba ganoush, pita sandwiches, and dolma. The interior is fairly small, with only a few tables, but cozy and well-lit.
Closings
Mast
111 North 3rd Street, between Wythe Avenue and Berry Street.
Williamsburg chocolate store Mast has closed and moved their factory upstate, Eater reports. According to them, the shop has claimed to have plans to open another Brooklyn store in the future. For now, die-hard fans can buy their chocolate online.
Poke Nom
2145 86th Street, between Bay Parkway and 21st Avenue.
This Bensonhurst restaurant announced its August 31st closing on their Facebook and Instagram page. They wrote that they "loved serving this neighborhood, [and[ loved meeting all the beautiful faces and getting to know everyone", and that the news was delivered with "great sadness". Fans, don't despair- they teased a possible reopen later on, writing "we just might pop up somewhere else in the future". They served poke bowls, teas, and ice cream. The post was met with sadness from customers.