Open Thread Mondays: Time (But Not Much!) Still Left For "Pitch-To-Pitch" Reader Contest Submissions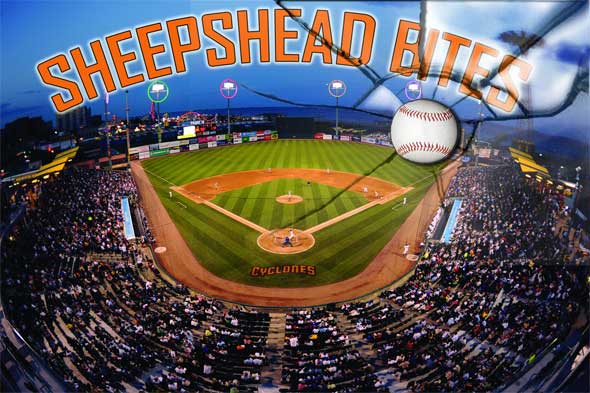 Welcome back to another "Open Thread Monday With Sheepshead Bites," where we can grouse and gripe about how Mondays suck, but we won't, since that's what Facebook's for.
Instead, make Monday — in particular, this Monday — awesome, by joining Ned and some of your Sheepshead Bites pals, friends from the nabe, and 'Your Brooklyn Cyclones,' at Sheepshead Bites Night, August 19 at MCU Park in Coney Island. You can check out all the deets and get your discounted tickets here.
Also, we've received some terrific submissions from readers for the "Pitch-To-Pitch" contest we're holding, on why they think they should throw out the evening's first pitch. We're looking for more submissions before the August 10 deadline and the best part is: You don't need to stress about it. Really. Just tell us in your own way:
It doesn't have to be a good reason, either. It could be funny and ridiculous, or memorably heart-touching, or a Faba-esque rant. It could be good, bad or disgusting – but it has got to make an impression with us.
Here's what you have to do:
Write why you believe you deserve to throw the first pitch. This could be one sentence or 800 words (please don't go over 800 words. We have other things to do!), but it has to stick in our minds.
Send your submission to nberke [at] sheepsheadbites [dot] com.
Put "PITCH TO PITCH" in the e-mail's subject line.
Wait 'til you hear back from us.
Deadline for submission is Wednesday, August 10.
So, as my friends south of the Mason-Dixon Line might say, "Git'r done!" We cannot wait to read more submissions, even if it's something so convincingly simple as emailing us the words: "Because I rule." (Ed. – Actually, we already received that one. Try to be a little more memorable than that.)
Looking forward to seeing everyone again, August 19 at MCU Park!