Open Source Gallery Pairs Spanish Graffiti Arts Group With Local Volunteers, Spreading Indelible Biggie Smalls Love
Tuesday afternoon was humid and the sky was grey and colorless. The corner of 17th Street, however, was vibrant. Paintbrushes and pans were covered in a striking aqua color, and an assortment of painters were working intensely, their clothes splotched with the same aqua paint.
The Madrid-based Boa Mistura, an internationally-acclaimed assemblage of graffiti artists, had come to South Slope to embark on a bold project called Spread Love, It's The Brooklyn Way. A series of walls will transform into murals with quotes by Biggie Smalls, or The Notorious B.I.G.
The artists were brought here by Open Source Gallery (306 17th Street near 6th Avenue) to engage in a collaboration of paint and community. The project fits perfectly within the goals of the gallery's 2016 season which focuses on engaging projects dedicated to collaborative artists.
Even better, the project is far reaching. Pedestrians, cyclists, bus riders, and drivers will have the opportunity to pass by the work day after day.
After Open Source Gallery put out a call for volunteers, neighbors of all ages have come out to help the group of artists with the project.
"This is a partnership with the Department of Transportation," explains OSG Development Director Shauna Sorensen. "It's an exciting opportunity because we've been so interested in Boa Mistura's work."
At Associated Supermarket (615 5th Avenue at 17th Street) Boa Mistura's Pablo G. Mena and Javier Serrano are creating a mural, with their signature usage of text. "Living Without Fear" — a lyric from the Notorious B.I.G.'s song "Juicy" —  serves as the mural's text.
And while the lyrics come from Brooklyn-born Christopher Wallace, Serrano tells us that hip hop is a major influence for the company. "For graffiti fans, Biggie Smalls is an idol," he says. "We chose him. He is Brooklyn."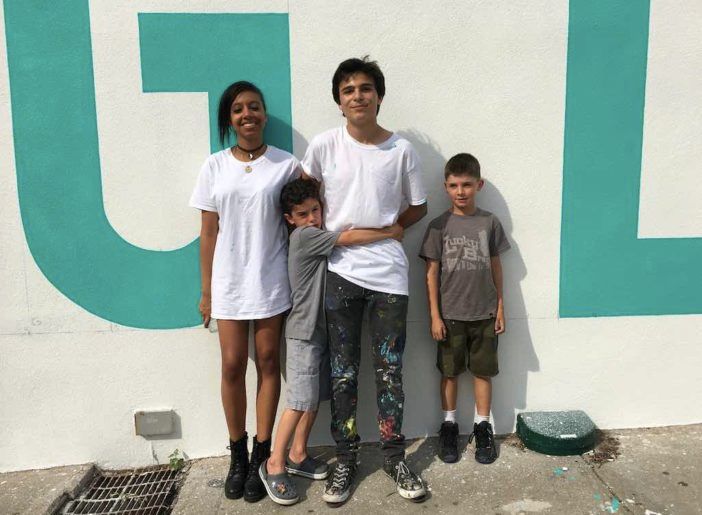 The work of Boa Mistura has another signature — collaborating with volunteers. This project is part of their "Crossroads Series" with the goal of improving public spaces as well as inspiring communities all over the world. Previous to South Slope, Crossroads projects have taken place in Spain, Cuba, Mexico, Panama, Algeria, Georgia, Brazil, South Africa, and Colombia.
"I love Open Source," says Sam, one of the volunteers working at the Associated Supermarket site. "People come from all over to do exciting projects. It's great working with them."
"It's such a nice opportunity to beautify the neighborhood," says Patty Onderko, a neighbor and mother to volunteers Nate and Theo. "My sons will be able walk by here all the time and see their work."
Artist Juan Jaume is working at a location just underneath the Prospect Park Expressway at 3rd Avenue (between 17th Street and Prospect Avenue). On one wall, they are painting the words "We can't change the world unless we change ourselves," a quote by the artist. On the other side of the underpass, the words will read "If you don't love yourself, I will make you see your own heart" from his song "I'm With Whateva."
Jaume says he enjoys traveling the world and leaving each place a gift.
"When we leave, it's not our project anymore," he says. 'It's out present we make for the city. And the volunteers feel proud of what they make. We hope the neighbors feel proud of it, too."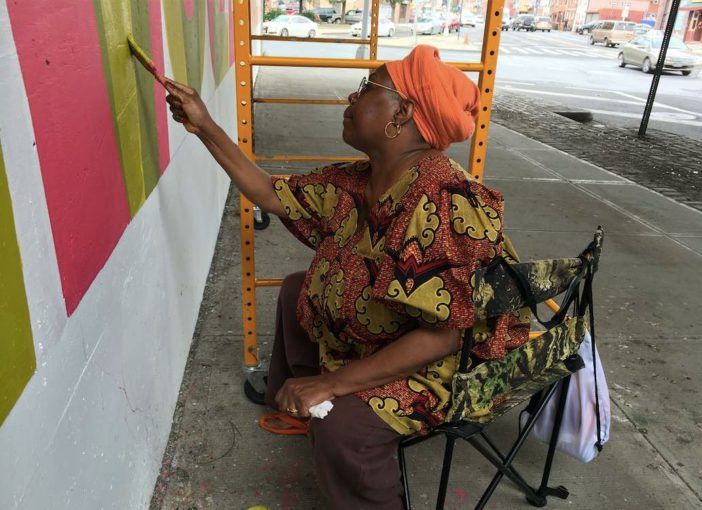 Volunteer Cici Ali came in to paint from New Jersey because a friend of hers was working on the project. "I used to do murals when I was in high school," she says. "This is really taking me back. I feel at home. The project is diverse. I think it's important for what is happening today, what is happening right now. It sends a message."
The murals for Spread Love, It's The Brooklyn Way are located at the corner of 5th Avenue and 17th Street as well as 3rd Avenue between 17th Street and Prospect Avenue. There will be an additional mural at Open Source Gallery (306 17th Street near 6th Avenue).
To view more of Boa Mistura's work throughout the world, visit their website here, and check out what else is happening this season at Open Source Gallery.