One Million Trees = One Million Problems? You Tell Us!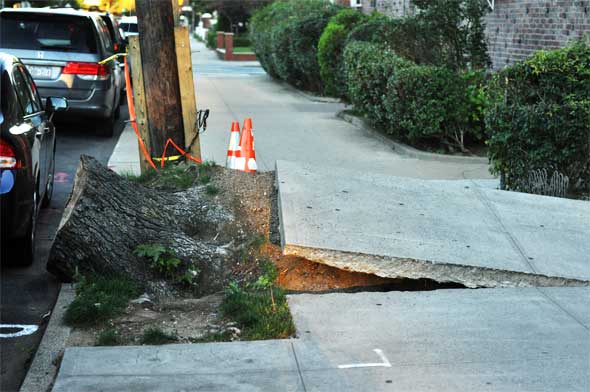 Being green is a tricky thing.
With 500,000 trees already planted throughout the city, some are saying that these trees creating more problems, according to a New York Times article.
MillionTreesNYC, a public-private program, hopes to plant one million trees throughout the five borough of New York City in the next decade. Heavily touted by Mayor Michael Bloomberg, the group believes the trees will be beneficial to New York City, pointing out the environmental boost it would give by providing clean our air, absorbing carbon dioxide, and reducing air pollution that effects asthma victims. But many residents worry that these trees will lead to buckling sidewalks, leaf litter and tree limbs on the floor – violations that could cost homeowners thousands of dollars, whether they wanted the trees or not.
"Most people love trees," said Adrian Benepe, the commissioner of the Parks Department. "But this being New York, you'll always find someone who doesn't want a tree."
Part of the reason so many are concerned is that budget cuts have cause the city to dramatically slash back the pruning cycle for the city's trees. The regular pruning cycle for a street tree used to be seven years, but now it's once every 15 to 20 years; which means there will likely be more fallen branches and unkempt trees throughout the city, and a potential danger to pedestrians.
The article also mentions that, depending on the location, studies that show 7 percent to 11 percent of newly installed trees die within two years of planting.
Have you had problems with trees buckling sidewalks on your block? Have you ever been fined for it? Is this program worth the potential aggravation? Let us know in the comments!