On Church Avenue, Finding A Sense Of Community That Is Stronger Than Ever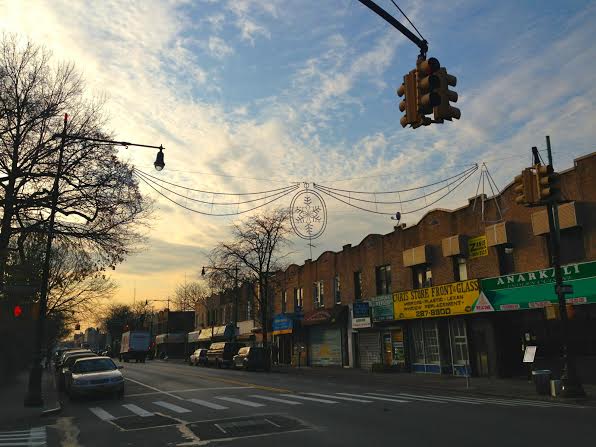 Many thanks to neighbor Nathan Thompson for sending us the following essay. Nathan, among many other hats he wears in the community, is a member of the 70th Precinct Community Council:
As we weather this storm of both the recent incidents and the waves of comments in the blogs, it seems to me that the main concern is whether people will be afraid to go out to dinner and play in this environment. Saturday night I decided to go down Church Avenue to see if people were staying home. The short answer is that every place was packed. Across the street from the commercial side of the strip were two police officers staying under the shadow of an overhanging tree.
In Wheated (905 Church Avenue), the bar was packed with people waiting for a table. The owner said the weekend had been a record turnout. Next door at Am Thai (1003 Church Avenue) business was, as always, great. The owner Amy also told me of an arrest at her restaurant the day before. One person had broken into the restaurant's basement. Because the police were positioned nearby, a quick gesture to get their attention resulted in a prompt arrest. While I was in there, two officers came in to pick up their take-out. They didn't drive away with it. They stood out on the corner eating dinner in the cold. No sign of blue flu here.
Next I dropped in on Hunger Pang (1021 Church Avenue). Almost every table was taken here as well. This place just opened. They don't even have their take-out menu yet. But business was booming. (you've got to try their egg rolls). Everyone of course knew all about the incidents of late. But they were too busy to be sweating it. My next stop was to see Juan at the Stratford Deli (1105 Church Avenue). He has been overwhelmed with support from the neighbors and was in high spirits – and has also felt his detective was pursuing his case aggressively. I asked if he was worried about a repeat of what happened last week. He smiled. "Oh, it won't happen again," he said. I don't know what he has up his sleeve, but he was very upbeat for a guy who got robbed at gunpoint a week ago.
On Sunday, I dropped in at Lark Café (1007 Church Avenue). The owner Kari has also been overwhelmed with community support. She said the weekend also had a record turnout. And there was another writing group there Sunday night. Far from being intimidated, our neighbors seemed emboldened and determined to not be scared into staying home. The sense of community was, if anything, stronger than a week ago. And it felt good.