Officials Announce Completion Of $28 Million Resiliency Project To Prevent Beach Erosion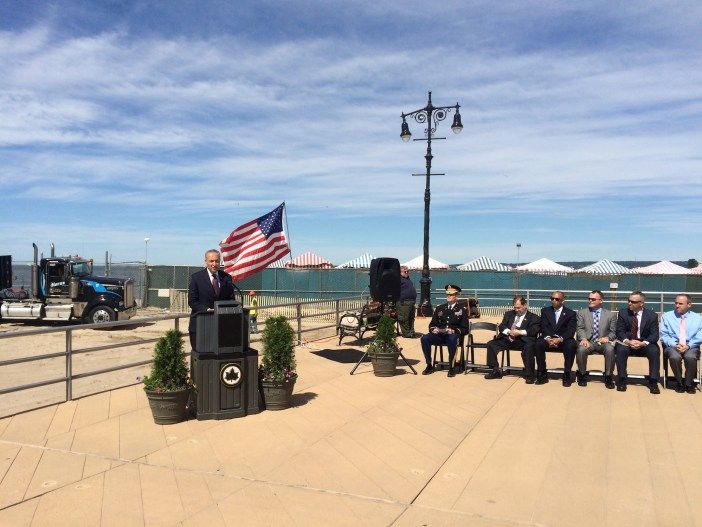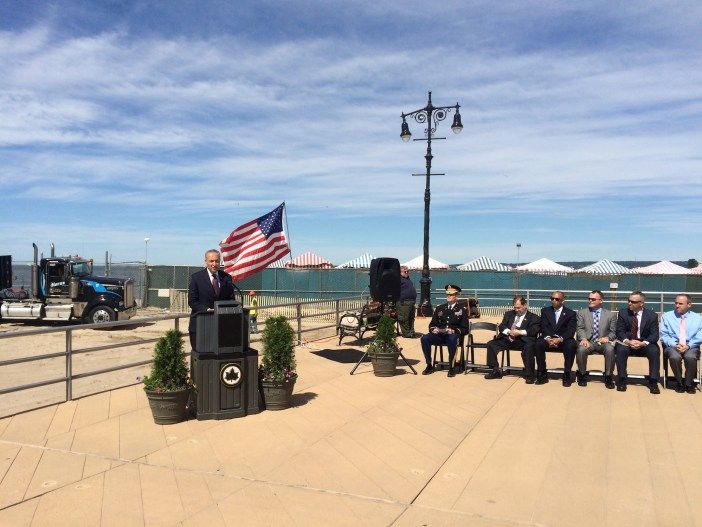 The U.S. Army Corps of Engineers announced Monday the completion of a $28 million resiliency project to restore Coney Island's beaches, prevent erosion and protect communities from future storm surges.
The Sea Gate Reach. the last stage of the two-decade Coney Island Shore Protection Project, involved placing almost 70,000 cubic feet of sand in Sea Gate and building four T-shaped rock structures, each the length of a football field, that prevent further erosion. In total, the U.S. Army Corps of Engineers has now replenished almost three miles of beachfront along Coney Island with sand from Gravesend Bay.
"The Coney Island community, like so many others, experienced major devastation, flooding, and beach erosion during Hurricane Sandy. This project strengthens Coney Island's resiliency, makes it more sustainable and reduces risks associated with severe storm events," Colonel David Caldwell of the U.S. Army Corps of Engineers said in a press release.
Caldwell joined with Senator Chuck Schumer, Congressmen Hakeem Jeffries and Jerrold Nadler, and Councilman Mark Treyger on the Boardwalk Monday to celebrate the project's completion.
"The completion of the Coney Island coastal protection project is great news and will provide desperately-needed security against future storms and floods for the people of Coney Island and Sea Gate," said Schumer. "Making Coney Island's waterfront neighborhoods and beaches more resilient and secure was a very worthy effort, and I am proud to be a part of this terrific accomplishment."
In the aftermath of Superstorm Sandy, Schumer, along with Nadler, Jeffries, and Senator Kirsten Gillibrand secured federal disaster relief funds to cover the entire cost of the project. Coney Island's beaches played a key role in mitigating flood damage during Superstorm Sandy, officials say, and the Beach restoration project is meant to complement other resiliency projects in the area.
The Coney Island Shore Protection Project began in 1992 after another storm caused considerable damage to the beaches. Here are photographs from the U.S. Army Corps of Engineers showing how the beaches looked before and after the project began.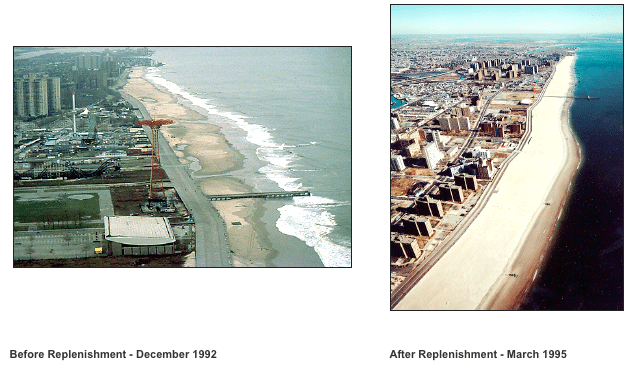 Jeffries and Nadler both hailed the completion of the Sea Gate Reach project as a huge milestone in protecting southern Brooklyn's waterfront.
"The completion of this $28 million project marks a critical step toward our collective effort to bolster storm preparation in Coney Island and across New York City," Jeffries said in a press release. "Superstorm Sandy may have damaged many of the homes and businesses in neighborhoods throughout the district I represent, but it failed to dampen our resolve and commitment to rebuilding our community."
Future phases of this project will include the placement of 30,000 cubic yards of sand every 10 years, according the the U.S. Army Corps of Engineers.