Oceana Hall, Scene Of Recent Violence, Operating Without Cabaret License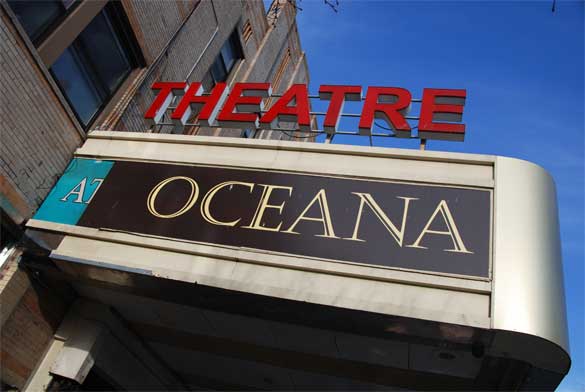 Oceana Hall, a Brighton Beach venue whose late-night events have spurred complaints from neighbors, has been illegally hosting parties without a cabaret license, Sheepshead Bites has learned.
The Department of Consumer Affairs – which issues cabaret licenses – has confirmed that it does not have a license on record for the venue's listed address at 1029 Brighton Beach Avenue. According the department's website:
Any room, place, or space in New York City in which patron dancing is permitted in connection with the restaurant business or a business that sells food and/or beverages to the public requires a Cabaret license.
When we called Oceana Hall for comment, the person in charge of booking, who gave her name only as Jamie, at first said they did not need a cabaret license because they have a catering license, which allows them to host private parties.
She added that parties like their upcoming March Madness or this past week's Presidents Weekend Shut Down were private and usually booked as benefits for schools or fraternities. When we asked which schools or organizations benefited from the Presidents weekend party that ended with violence, she said she would have to check her records.
She did not answer any further phone calls from Sheepshead Bites.
The city, however, has a different take on what constitutes a public party versus a private party.
Though the parties may have been booked as private, the promoters were selling tickets to the general public – which makes it public. And there are plenty of recent videos online that show concerts and parties at Oceana Hall with drinking and dancing involved.
According to a Department of Consumer Affairs press officer, the department's legal team believes this qualifies Oceana Hall as a venue in need of a cabaret license.
"If the event is open to the public, regardless of whether a third party promoter is involved, a cabaret license is required," the press officer told Sheepshead Bites.
Licenses are a matter of both safety and community concern. To get one, the city inspects the facility to ensure it meets fire and electrical codes, and the establishment must also be reviewed by the local Community Board, in theory to ensure it isn't a nuisance to neighbors. (*CORRECTED)
But a nuisance is an apt description for Oceana Hall, according to neighbors. Last weekend, attendees turned to violence as they poured into the street at closing time, with a gunman opening fire and striking two women.
It's an extreme example, but residents and community leaders said they knew it was a matter of time before things got out of hand.
Yelena Makhnin, executive director of the Brighton Beach Business Improvement District, said that things have been getting worse at the club over the past year, with more complaints to her office from neighboring residents and businesses. They say the parties break up late at night, and attendees hit the streets making noise and raising a ruckus.
"I understand it's a business and people need to make money, but the people who live on Brighton 11th and Brighton 12th cannot be victims of people making money," Makhnin said. "I strongly believe if they want to have parties, fine, but they have to obey the laws."
Councilman Michael Nelson's office and Community Board 13 has also been fielding complaints about the venue.
"I get phone calls from the Oceana buildings [across the street] about noise, and that they're having a cabaret at night and have screaming and fighting and disturbing life," said a staffer at Nelson's office.
The councilman's office is helping coordinate with Community Board 13 and the 60th Precinct to meet with the business and ease the problem.
The NYPD is responsible for enforcing cabaret laws, but while the 60th Precinct has spoken to the owners and even issued summonses on other matters, they have not issued any violations for their missing license.
A Community Affairs officer declined to comment on the matter, but Makhnin said that the local precinct has been doing a good job responding to complaints at the venue and is trying to be balanced in their approach.
"It's a very grey area," Makhnin said. "When the city is trying to enforce a law, right away they're blamed for making it difficult for small business owners."
CORRECTION (4:51 p.m.): The original version of this article stated that the establishment needed approval from the Community Board to obtain a cabaret license. In fact, they only need to be reviewed. The Department of Consumer Affairs can and does issue cabaret licenses to businesses that have been rejected by the Community Board.