Ocean View Cafe In Brighton Beach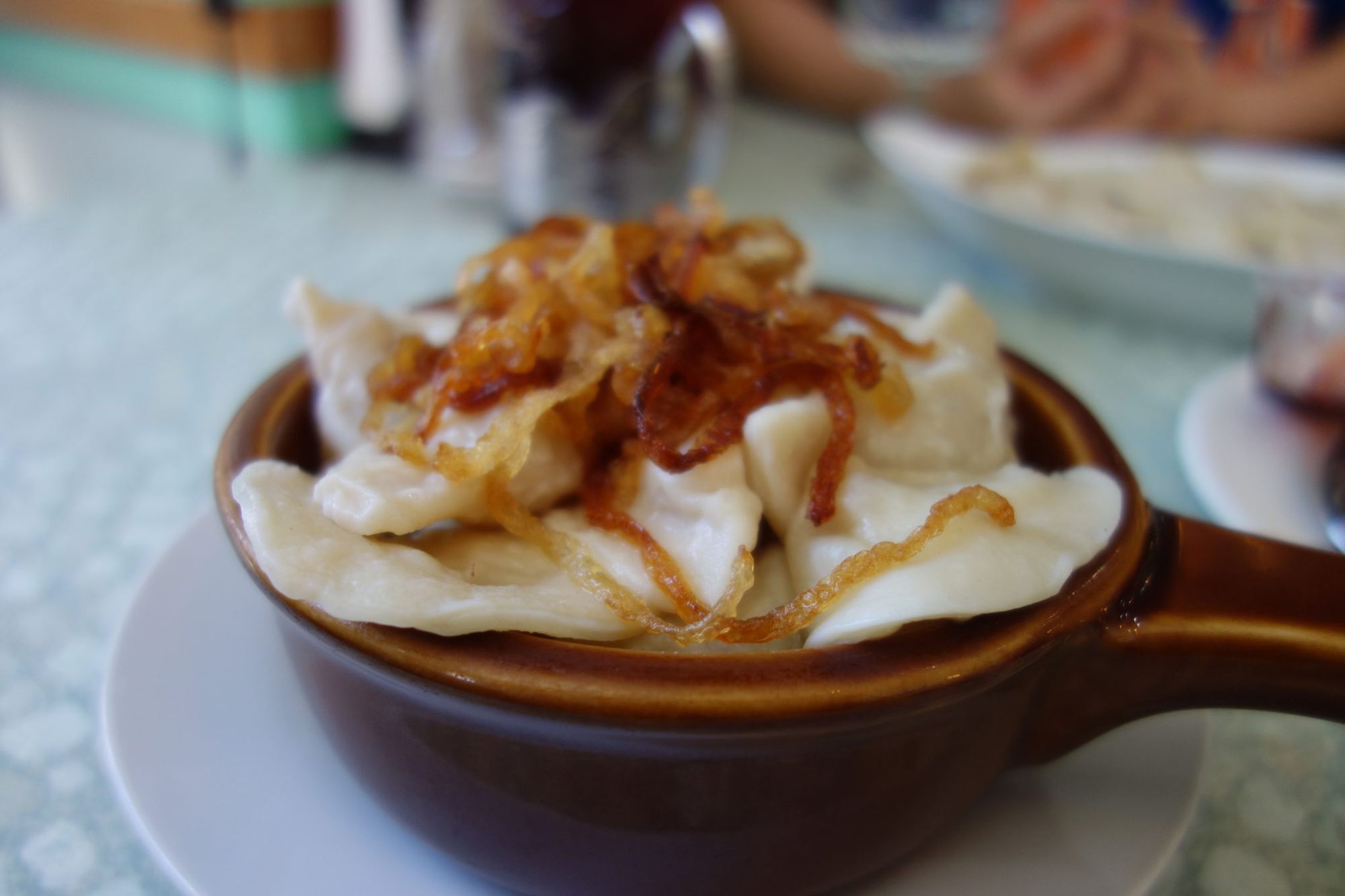 There are not many food places that one returns to year after year to find them as good as the time before. Ocean View Cafe in Brighton Beach is one such jewel.
The unpretentious cafe-restaurant, located at 290 Brighton Beach Avenue, on the corner of Brighton 3rd Street, certainly does not have views of the Ocean. It does, however, offer excellent opportunities for people watching along the bustling avenue under the elevated tracks. And it is two short blocks to the beach.
This place serves comfort food, Easter European way, whether you go for blintzes, vareniki or pelmeni, or opt for one of their more substantial soups or main courses on the menu.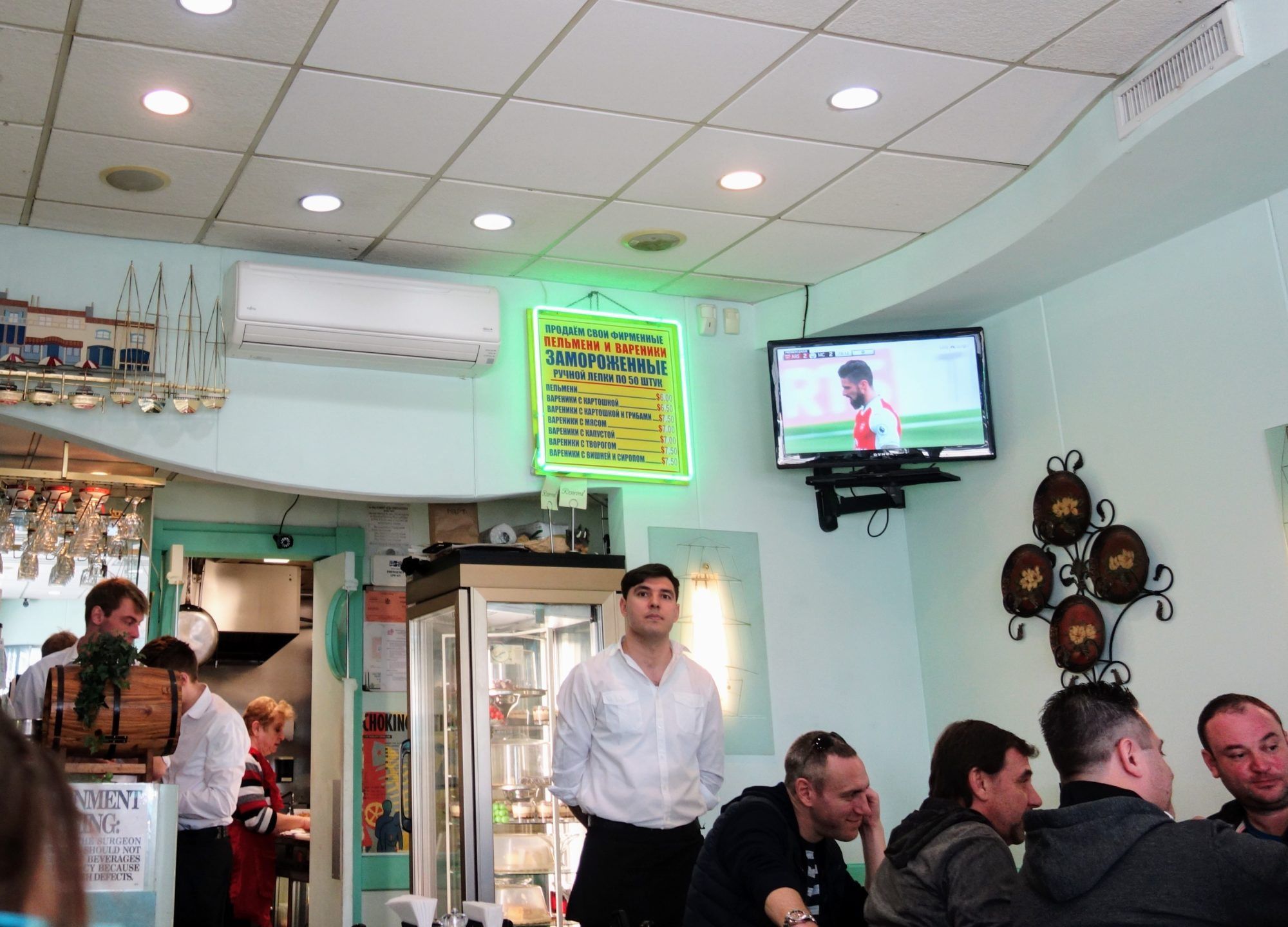 The atmosphere is friendly, there are large screens on the faintly sea-glass colored walls, that were showing a game between Arsenal and Manchester City last Sunday, service was quick, attentive and welcoming.
After a morning wandering along the beach, this is a perfect little stop to warm yourself in the winter or on chilly spring days with a hot bowl of bouillon with meat pirozhki (my favorite). The cafe is equally good in the heat of summer when you can cool down with their excellent cold soups, and really – any time for lunch or dinner.
We were not terribly hungry and opted for a portion of vareniki, some pelmeni, and meat blintzes, as well as the soup with meat pirozhki.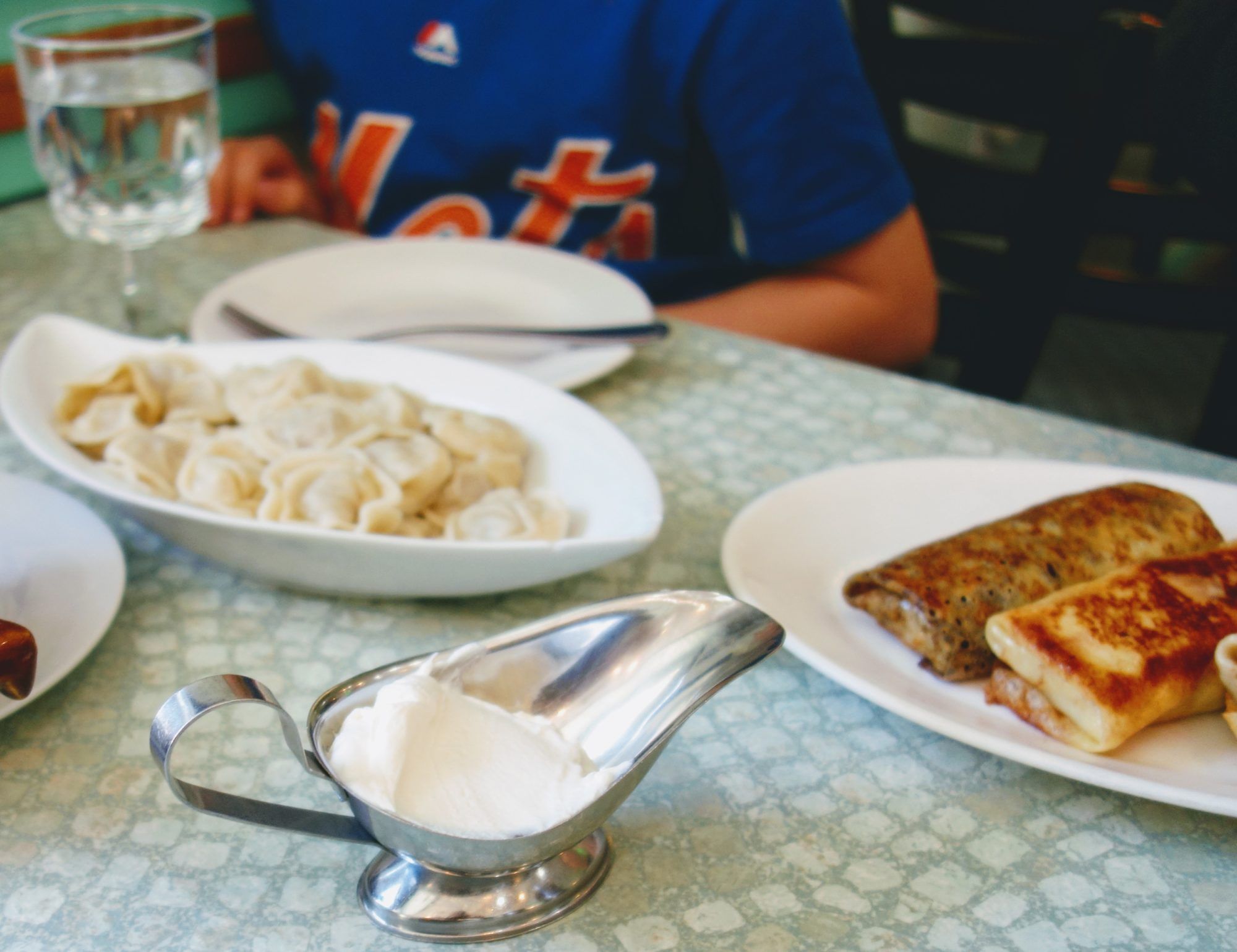 Pelmeni were cooked to perfection and came served with a side of sour cream, that went equally well with the meat blintzes, though I think their cheese blintzes are better.
The total came to $39.83, tax and 10% tip included on the multi-lingual bill. We ordered in a mix of English and Russian and got no attitude from the waiters, who switched easily from one to the other.
All in all – we highly recommend you try this place if you have not already.
The cafe sells their pelmeni as well as vareniki frozen, and the price is $6 for a bag of 50.
We got four bags of their Siberian pelmeni, as they never last long in our house. Equally well liked by kids and grownups, pelmeni makes a quick dinner: boil some water, add salt and a bay leaf, cook for about 10 minutes or so. Serve with sour cream. Or you can add them to chicken soup. Enough said.
Ocean View Cafe is located at 290 Brighton Beach Avenue, Brighton Beach. Open daily 10am -10pm. Call (718) 332-1900.