Ocean Avenue Footbridge To Finally Receive Paint Job After Sandy Repairs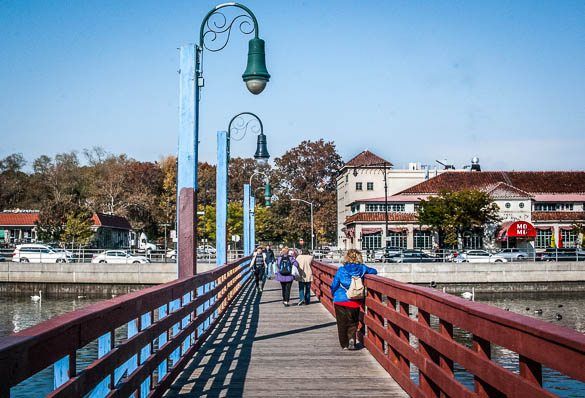 Contractors for the Department of Transportation were at the Ocean Avenue footbridge today, putting a layer of primer down on the 132-year-old span – the first time it's been splashed with paint since the structure was rebuilt after Superstorm Sandy.
It's a welcome sight. Passing that bridge frequently, the unpainted portions wore on my heart, reminding me of how, the morning after the storm, I came to find it in tatters, with railing ripped off and planks long gone. As our Erica Sherman wrote at the time:
Thrashed by a combination of violent waves during the storm's high tide, and the terrifying howl of 90-MPH winds, which sent untethered boats crashing wildly into the bridge's structure, passersby were shocked the next morning to see huge portions of blue wooden handrail either dangling into the water or completely washed away, one of the more high profile symbols of destruction that trounced our area.
Thankfully, an anonymous reader texted me today, alerting me to the fact that the crew was there, working on it.
By the time I stopped by this afternoon and took the above shot, the crew had gone home. But the bridge is almost completely covered in brown primer, which will (hopefully soon) receive a layer of blue paint on top.
Today being the anniversary of the storm, it seemed especially fitting. I'm looking forward to seeing the work completed.