NYPD's New Mental Health Task Force Needs to Add Meditation, Brooklyn BP Says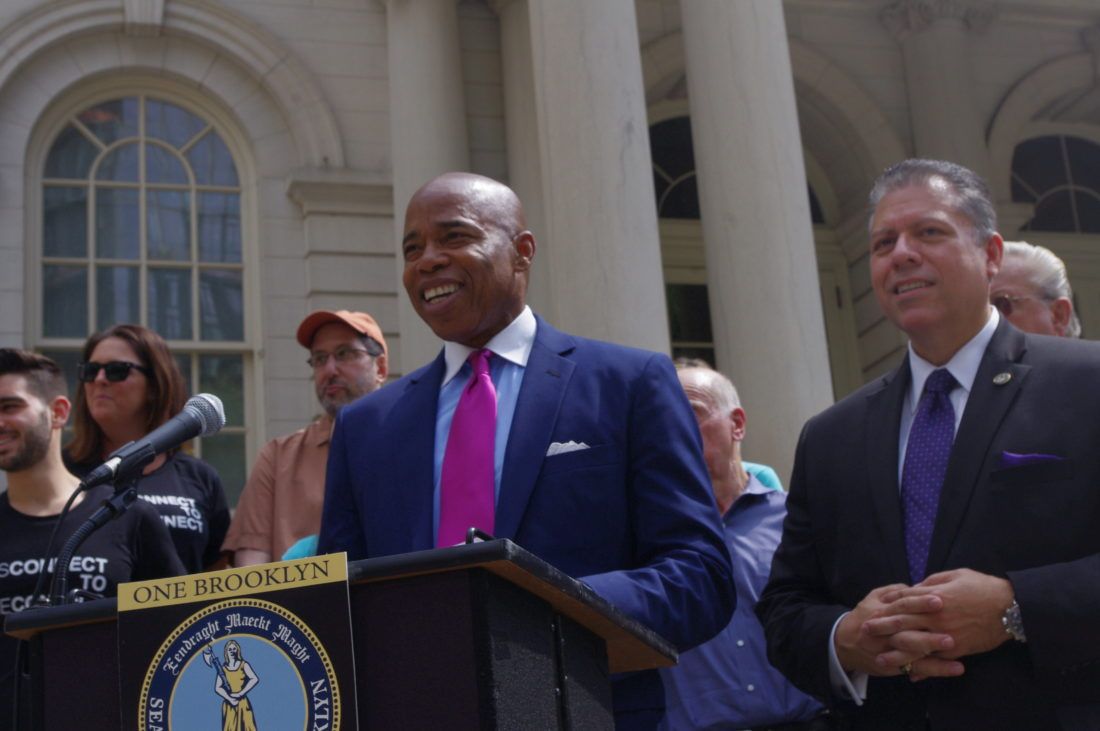 CITY HALL— Brooklyn Borough President Eric Adams says the NYPD's recently formed mental health and wellness task force is missing a key component: meditation and mindfulness training.
In response to the spate of New York City police suicides that have taken place in recent months, the NYPD and the mayor announced on Monday that peer counselors will be stationed in all precincts, and that training will be provided to commanding officers to better equip them to handle the mental health issues that some officers grapple with.
"We developed, as part of this plan, a holistic and comprehensive strategy on health and resilience for our members," explained First Deputy Commissioner Ben Tucker at Monday's monthly crime statistics briefing. "The strategy focuses on … some executive and command level training."
The announcement came after six cops committed suicide this year, including four within a three-week period last month.
Adams said Friday that while he supports the NYPD's recent efforts—and praised Police Commissioner James O'Neill for backing them—they're incomplete without a meditation component, which he is calling on the police department to add to its newly minted initiative.
"We have to go beyond the peer counseling services that the task force is going to put in place," Adams, who is running for mayor, said at a press conference outside City Hall Friday morning. "Trauma is the occupational hazard of law enforcement and we have ignored it."
"This is not TV where you can just go to the next episode. The episode remains with you throughout your entire career."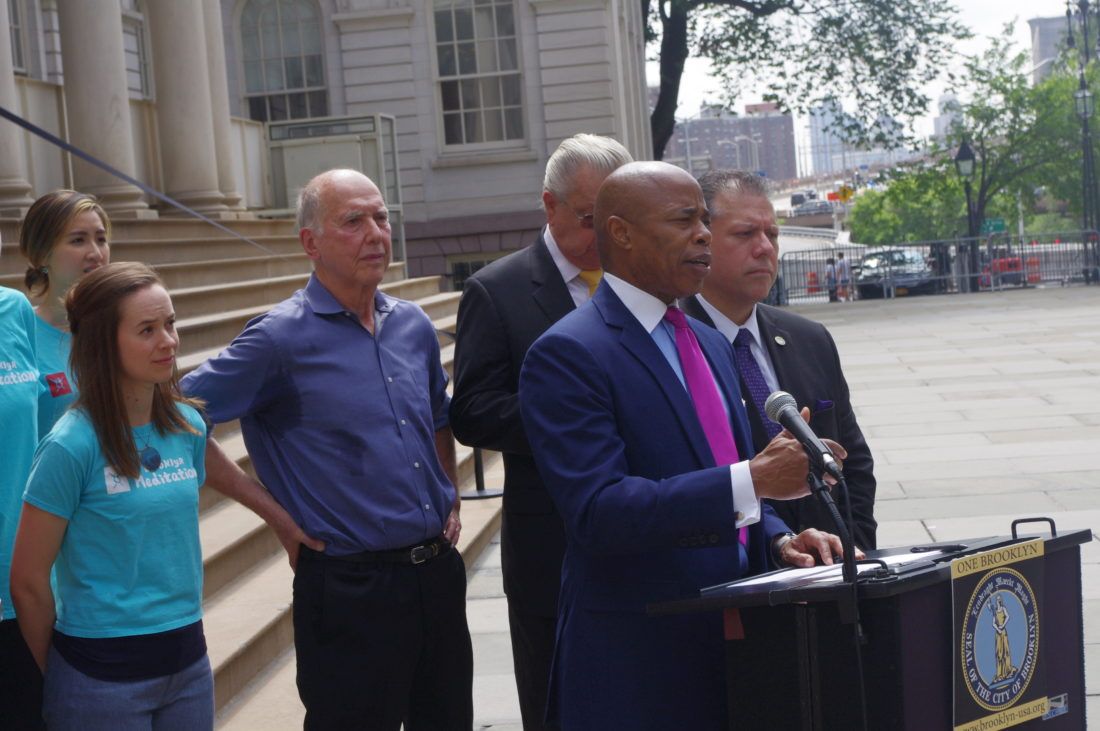 Helping officers with their mental health issues, according to Adams, is a "major public safety issue," because failure to deal with them increases absenteeism, hurts officers' performances and "ability to protect the communities they serve."
Adams analogized officers being instructed on how to meditate to in-service training in which officers participate, like going to the shooting range twice a year, saying meditation is a "tool" cops can use to help themselves be better in their professional and personal lives.
"Not only monks meditate," he quipped. "Let's give our officers these tools."
Adams, a former police officer, said that he meditates 20 minutes in the morning and evening most days, adding that the practice helped him cope with the trauma from his time as a police officer.
"Meditation clearly saved my life, when I left the police department," he said. "You believe that you can just laugh it off, you believe that can just have a quick drink or two, you believe that you can just bury it and it goes away when you take off the uniform, but no, to the contrary."
He went on to note that post-traumatic stress disorder isn't just a product of war overseas, but is something New York City cops need to cope with as well.
"It's not only something that takes place in Afghanistan, it takes place on Alabama Avenue in Brooklyn," he said.
Adams argued NYPD officers suffer from experiencing violence and tragedy, along with "anger from misguided" members of the public.
"You internalize that every day," he explained, later saying that by-the-book steps officers take often spark undue blowback from the general public.
The borough president sent a letter Friday morning, before the press conference, to the police commissioner requesting the department implement meditation and mindfulness into its program.
"I am calling for the implementation of meditation and mindfulness training as part of the new NYPD Health and Wellness Task Force agenda," Adams said in the letter. "Secular meditation and mindfulness-based stress reduction (MBSR) are evidence-based practices that have been scientifically proven to decrease anxiety, depression, hostility, and stress, while increasing attention and focus, ethical decision-making, and even happiness scores. Beyond the vital expansion of peer counseling services, the NYPD should require semi annual in-service meditation and mindfulness training for current officers and new recruits, just as there is diligent training for weapon use."
The mediation, Adams noted at the press conference, is not mandatory and without the support of the police union or the Police Benevolent Association, would not be met with a warm response from the lion's share of police officers.
"Policing is a macho occupation and mediation and self-help is considered almost a sissy response," Adams said.
But with the support of the PBA, officers will be receptive to it, he insisted.
"That's why it's crucial for the PBA to be here," Adams said, referring to the PBA's second vice president, Joseph Alejandro, who attended the press conference to support his recommendations. "If they're here with us, the members automatically are going to switch on the tribal mindset [and think], 'Here are our tribal leaders saying that this is something that is not going to hurt us.' That allows us to [convince] those members who think that 'This is not something for me.' Now, they are going to take notice."