NYCHA Begins $63M Roof Repairs At Red Hook Houses As Part Of Sandy Recovery Project
RED HOOK – At a groundbreaking event Tuesday morning, New York City Housing Authority (NYCHA) officials were joined by Congress Member Nydia Velazquez, Assembly Member Felix Ortiz, Council Member Carlos Menchaca, and NYCHA residents to kick off a $63 million roof construction project at the Red Hook Houses.
The project entails providing new roofs, as well as repairing or replacing old parapets and railings, on all 28 high-rise residential buildings at the Red Hook Houses development, improving the quality of life for the more than 6,000 NYCHA residents living there.
"We are here to mark the official beginning of permanent construction at the Red Hook Houses," said Shola Olatoye, Chair of NYCHA. "Five years almost to the day since Superstorm Sandy devastated our city, we are marking this important milestone. Sandy crippled the city, some 10% of NYCHA's buildings were affected. More than 80,000 New York public housing residents saw destruction to their homes and to their communities," she added.
When Sandy hit, Olatoye said more than 402 NYCHA buildings lost power and 386 lost heat and hot water. Saltwater destroyed buildings' boilers and electrical panels, trash compactors, and playgrounds, among other damages.
"We are moving closer to repairing that damage by announcing the beginning of permanent construction," Olatoye said. "We're building back stronger with storm resilient technology so that NYCHA residents and all New Yorkers will be safer in future storms."
After Superstorm Sandy, NYCHA was given $3 billion from FEMA to repair damages at their 33 public housing developments across the city, according to Olatoye. "Here at Red Hook, we're investing some $500 million to repair all roofs, install a new heating and hot water system, structural reinforcement, flood protections, and full backup power," she explained. "Red Hook Houses will also receive new playgrounds, improved retail spaces, better public spaces for our communities to gather outdoors," and more.
The roof project is the first phase of a nearly $550 million investment in the Red Hook Houses as part of NYCHA's Sandy Recovery to Resiliency program which aims to rebuild the neighborhood to be stronger and more resilient.
The new roofing system will provide better insulation, reduce the amount of heat retained by the roofs, and eliminate water intrusion.
"Today we are starting construction on all 28 roofs," Olatoye said. Work will begin soon to flood-proof the development's basements as well as weatherproof the boiler and electrical facilities. "By 2021, we'll be leaving this site stronger and more prepared for future storms," she promised.
"This is a call to Washington, to our President, to the leaders in both houses—in less than five years, this nation has witnessed three [severe] storms: Sandy, Harvey, and now Irma," Congress Member Velazquez said.
"The federal government has to reauthorize the flood insurance program that is going to expire on September 30," she added. "We [have to] make sure that every family who purchased coverage and flood insurance, get[s] back what they paid for."
"We have to make sure that whatever legislation we pass in the house will protect consumers," Velazquez stated.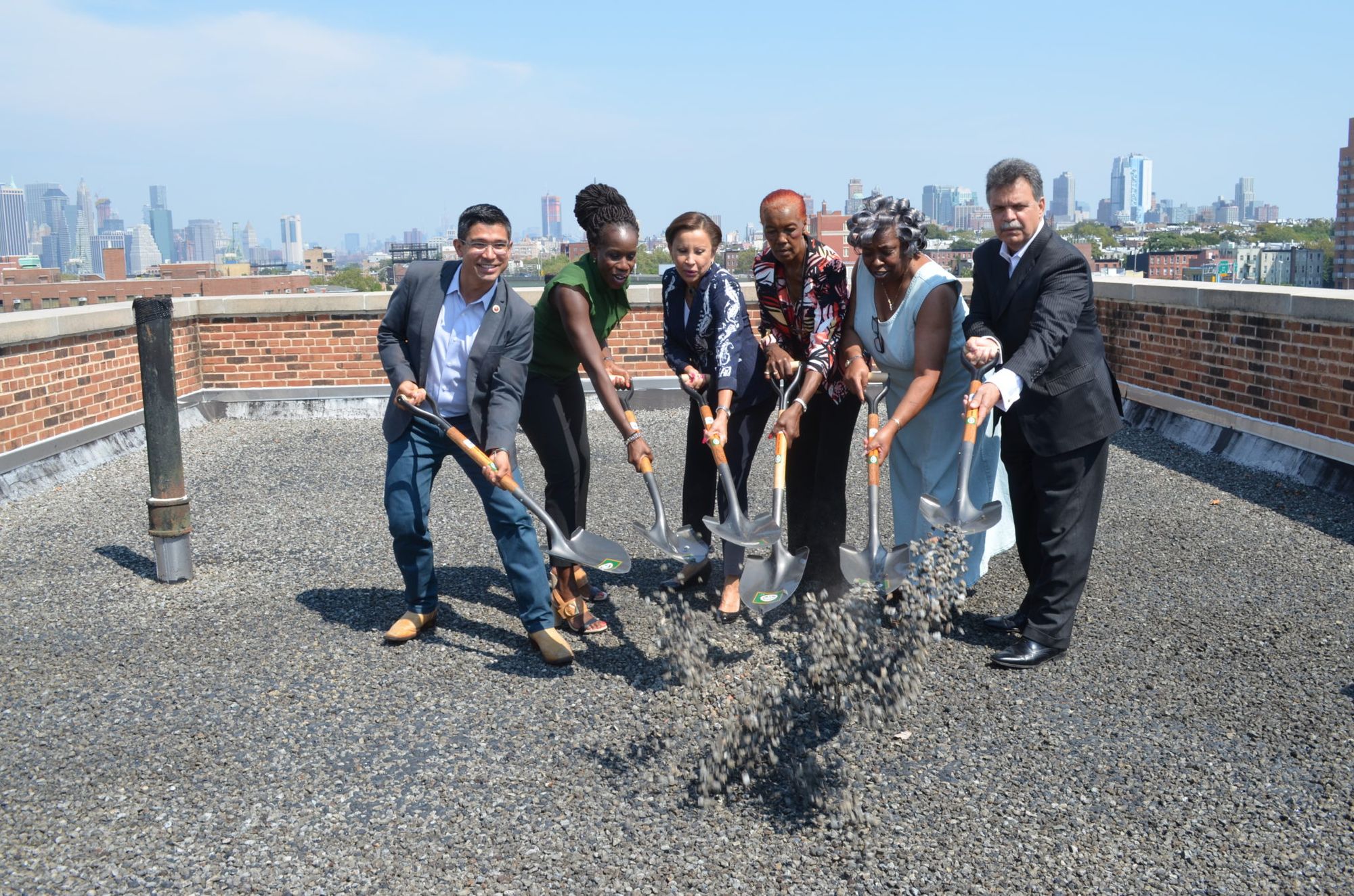 The roof repairs will ensure that "there are no more leaks in the roof, prevent mold from continuing to grow in these apartments, and will develop a better quality of life for the residents of the Red Hook Houses," Assembly Member Ortiz added.
Frances Brown, President of the Tenants Association at the Red Hook Houses, said years after Sandy, residents still ask her when repairs will be made to their apartments. "Their plaster is falling because of moisture that came from Sandy," she says, "A lot of times you plug in something and all your power goes out," she adds.
She notes that Assembly Member Ortiz has helped to get new refrigerators and stoves for all 2,900 units at the development, replacing the old ones that were damaged due to the electrical problems caused by Sandy.
"When we have problems with things needing to get fixed, he's been very responsive," she says of Ortiz. "With help like that, I know things are going to get better."