NYC Parks Breaks Ground On $5M Stroud Playground Project
CROWN HEIGHTS – Last Friday, September 8, NYC Parks Commissioner Mitchell J. Silver and City Council Member Laurie Cumbo hosted a groundbreaking ceremony at Stroud Playground, kicking off the $5 million transformation the park will undergo as a part of the Community Parks Initiative.
Located on the border of Prospect Heights beside the Elias Stroud Middle School (MS 353) on Park Place between Washington and Classon Avenues, the playground received an innovative redesign courtesy of the Prospect Park Alliance who is sharing resources to help improve park spaces in neighboring communities.
The design features brand new playgrounds for children of all ages and abilities, swings, and an interactive spray shower. The basketball and handball courts will be rebuilt and expanded while a new area with synthetic turf will accommodate open play.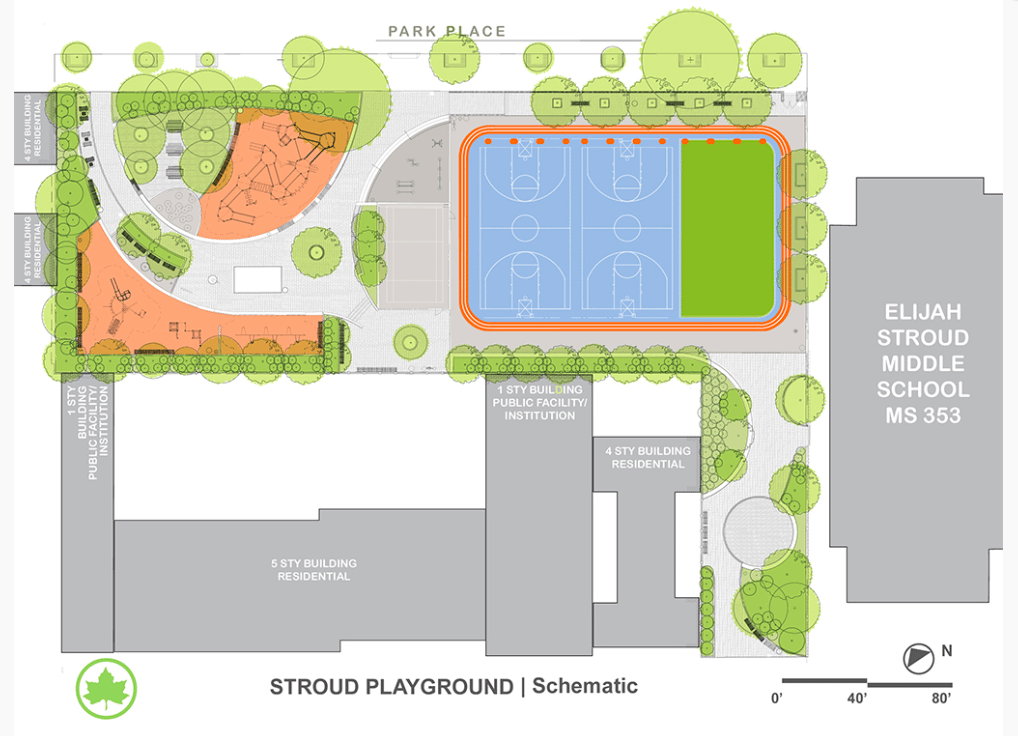 The new and improved playground will also include a new walking track and fitness equipment to help neighbors stay in shape, as well as additional trees to provide shade over the new seating area, benches, and drinking fountains. The project also includes improved landscaping as well as security lighting and lower fences to make the space safer and more welcoming.
The complete overhaul of Stroud Playground was funded by Mayor Bill de Blasio and Council Member Cumbo.
"It was a truly special experience working with the Prospect Park Alliance, Council Member Cumbo, and of course, the many passionate community members who came to our public input meeting to be a part of the design process," Commissioner Silver said in a statement. "As a result, Stroud Playground will be transformed into a place that can be enjoyed by people of all ages."
The Community Parks Initiative was launched in 2014, and is funded through 2019 with $318 million in capital funding going toward renovating NYC community parks in need of significant improvements. All of the parks and playgrounds in the initiative are located in densely populated, fast-growing neighborhoods with an above-average percentage of residents who live below the poverty level. Stroud Playground is one of six Brooklyn parks included in the initiative.
Stroud Playground and the neighboring school are named for Elijah J. Stroud (1923-1972), a NYPD Officer who was killed in the line of duty. The project is expected to be completed by Spring 2019.