NYC Launches Website To Improve Grassroots Organizing, But Can It Succeed?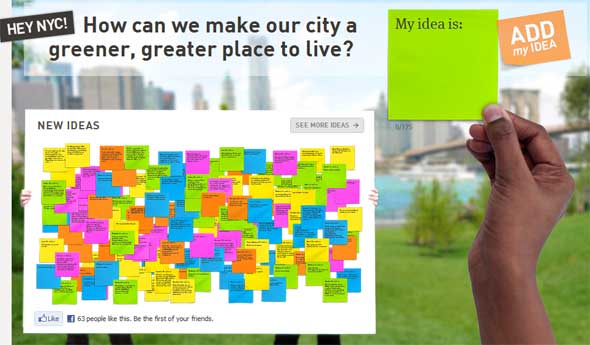 There's no shortage of faults to find in New York City's disjointed online strategy. In sum? Too many agency websites, too much cluttered, unorganized data, too little cross-agency integration. Oh, and way – way – too many navigational menus. However, every now and then the city comes out with a great tool.
That's what we've got with Change by Us NYC, a new website launched today by the Mayor's office in partnership with a slew of non-profits and policy institutes. It's being billed as a "social network for civic activity." Here's how the website describes itself:
Change by Us NYC is a new website created by Local Projects and run by the City of New York. It's a place for New Yorkers to put their ideas into action by creating projects and building teams to make our city a better place to live.
The service provides a platform for city-dwellers to suggest their own ideas for improving neighborhoods across the five boroughs, and allows neighbors to organize and implement action independently of the city. They've also signed on several "influential New Yorkers" to follow the projects and communicate with Change by Us' users. Those New Yorkers include Deputy Mayor for Operations Stephen Goldsmith, Green City Force Corps Founder Lisbeth Shepherd and Cas Holloway, commissioner of the NYC Department of Environmental Protection.
Just hours after the website's launch, there are more than 350 ideas proposed on the site, and 80-plus projects that residents can sign on to participate in. Projects and ideas can be viewed in list format or geographically on a map. So far, the only Southern Brooklyn idea posted is a bike share in Homecrest because, er, "bikes are too expensive to be practical." Okay, they can't all be winners.
That's why we posted our own (well, that, and we wanted to be able to tell you about the site's usability). The current theme on the site is to solicit ideas for building a greener city, so we suggested the impossible: building an east-west subway line connecting Western Brooklyn, through Central/Southern Brooklyn and then on to Queens and JFK, with the ideal route being Kings Highway to Linden Boulevard, reducing traffic on local streets and the Belt Parkway. Submitting the idea took less than two minutes, and only required a valid e-mail address, and can also be done by text message (there's also optional Facebook and Twitter integration). The biggest problems with the process – and they are big ones – are that it doesn't provide a dedicated link for me to show to others or to return to the idea later; there's no commenting capabilities, nor voting capabilities; and the ideas don't seem to be built to be indexed by search engines. Those are all signs that, as ideas flood in, they'll be buried in the database and lost to irrelevance. Hopefully future updates to the site's technology will address those needs.
We looked over the project section – which seems to really be the linchpin for grassroots organization – and it looks almost as easy to use. Add a brief description of the project, a couple of goals, invite members and start a discussion on how to get things done. Project members can also tack on other online resources relevant to the project, giving an organization's members a collective space to bookmark sites and collaborate. Very cool.
The idea behind Change by Us NYC is an ideal leveraging of online tools to help on-the-ground communities improve themselves and coordinate with city government. Being sponsored by the city, it's already got a leg up on similar projects that crowd-source city planning only to have the ideas peter out without the city's cooperation. And the project has deep-pockets, too. The various agencies and non-profits involved have set aside millions of dollars for general neighborhood improvement grants, as well as funds for projects that address specific needs. In the weeks to come, they'll be inviting volunteer-led community groups to apply for smaller grants, ranging from $500 to $1,000 each. That shows great promise for would-be organizers.
But Change by Us NYC still has yet to prove itself. Like the Comptroller's "Suggest an Audit" feature, the service will fail unless users see results from their participation. The city will need to be aggressive in touting the website – and any successful implementations of ideas that emerge from it – if it's to maintain an active and faithful user base. Until it's got a few notches on its belt, the jury's out on whether Change by Us NYC is just a gimmick to make the city look like it's on board with modern technology, or a genuine tool that will successfully organize people and implement neighborhood-level change throughout the city.