NYC Health + Hospitals Opens New Clinic In Bed-Stuy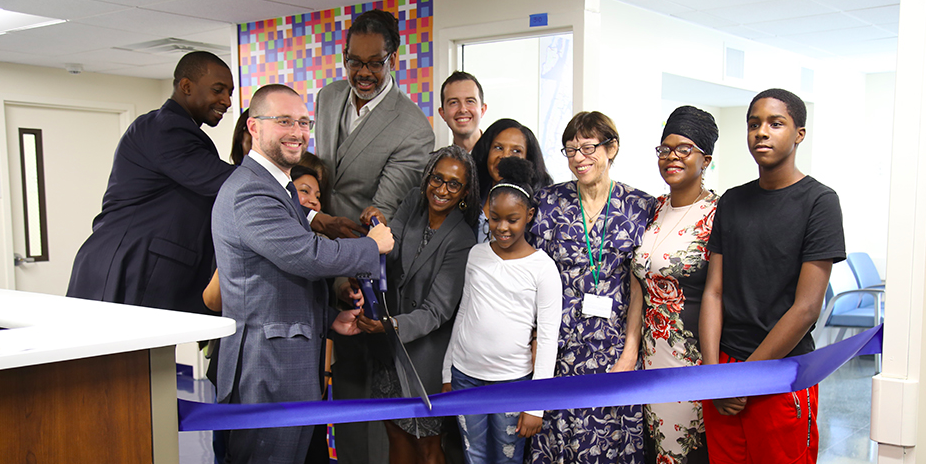 BEDFORD-STUYVESANT – NYC Health + Hospitals held a ribbon-cutting ceremony on Tuesday to celebrate the opening of its new NYC Health + Hospitals/Gotham Health neighborhood clinic located at 485 Throop Avenue (between Madison St. & Putnam Ave.) in Bed-Stuy.
The new facility, "co-located" with the NYC Department of Health and Mental Hygiene, will initially offer pediatric care, adding more services including adult primary care and women's health services beginning in September. NYC Health + Hospitals expects the clinic to serve approximately 3,000 patients during its first year and grow to more than 15,000 visits annually.
The clinic was funded by a $3.1 million capital investment through Mayor de Blasio's Caring Neighborhoods Initiative. Launched in 2015 by NYC Health + Hospitals and the NYC Economic Development Corporation, the program focuses on providing convenient and affordable primary care to residents in underserved communities. The new clinic is the latest addition to the program which has opened or remodeled six neighborhood clinics across the city.
"Mayor de Blasio's Caring Neighborhoods Initiative set out to bring accessible and affordable primary care services to families who are in desperate need of basic health care, and this investment is living proof of that mission," Council Member Robert Cornegy, Jr., whose District 36 covers Bed-Stuy, said in a statement.
"Expanding comprehensive health care services is critical for an underserved neighborhood like Bedford-Stuyvesant, which has endured decades of economic and social disadvantage," added Brooklyn Borough President Eric Adams. "I applaud NYC Health + Hospitals for opening a new clinic in the heart of this community to serve local residents and their diverse health needs, including primary care, pediatric care, and women's health services."